The Democratic political action committee End Citizens United is buying about $250,000 worth of advertisements in support of Conor Lamb, the Democratic candidate in the special election for Pennsylvania's vacant 18th District.
The ad buy will include digital video ads and a 30-second television spot attacking Republican Rick Saccone for reportedly questionable use of his expense account as a state representative.
"Rick Saccone, promised no legislative perks in Harrisburg ― called them lavish, then gobbled them up, spending $435,000 taxpayer dollars on himself," a narrator in the TV ad, "Clean House," intones as black ink splashes a white canvas.
The ad is drawn from a report in The Intercept detailing Saccone's liberal use of his taxpayer-funded expense account since his 2010 election to the state House. Saccone, who won during the Tea Party wave, still touts his fiscally conservative bona fides.
The ad notes that Lamb, by contrast, has refused to take campaign donations from corporate PACs.
"We're committed to making sure voters know Lamb's record of integrity and Saccone's history of exploiting taxpayers," said End Citizens United President Tiffany Muller in a statement about the ad.
The TV ad is due to appear on Monday and continue through March 4. The digital ads, which address similar themes, begin Friday and will continue through March 13, the day of the special election.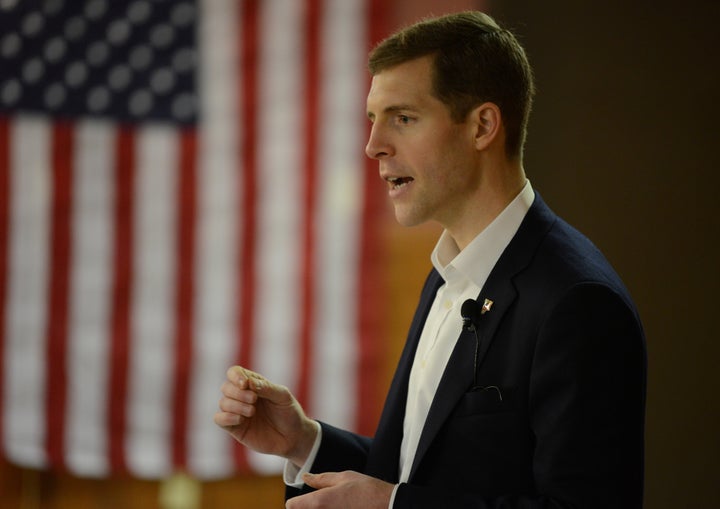 The ad buy makes End Citizens United the only outside group currently taking to the airwaves on Lamb's behalf. The Democratic Congressional Campaign Committee spent $224,000 on a television ad supporting Lamb in late January but has since been off the air.
End Citizens United, named for its opposition to a 2010 Supreme Court ruling that got rid of limits on corporate electoral spending, has also leveraged its sizable email list to raise $175,000 for Lamb's bid. The group said it has 3,700 members in the southwest Pennsylvania district where Lamb is running.
Lamb, 33, needs all the help from outside groups that he can get. Although he has outraised Saccone, a 60-year-old former military intelligence officer and diplomat, GOP-aligned outside groups have poured millions into the race on Saccone's behalf. As of earlier this month, four conservative groups, including the Congressional Leadership Fund, a super PAC associated with House Speaker Paul Ryan (R-Wis.), had outspent Democratic outside groups by a 17-to-one margin. They have tried to paint Lamb as a stooge for House Minority Leader Nancy Pelosi (D-Calif.), whom conservative voters loathe. Lamb has already said he opposes Pelosi as the party's House leader.
However, the level of national Republican attention and resources flowing into the district reflect GOP leaders' anxieties that a solid red district is so competitive.
President Donald Trump, who won the 18th District by nearly 20 percentage points in 2016, is due to campaign for Saccone between now and the election day. The president already plugged Saccone's candidacy at a January visit to the district ostensibly aimed at promoting GOP tax cut legislation.
In a bid to win over swing voters in the blue-collar district, Lamb has mixed a kitchen table-pitch to protect Social Security and labor unions with more conservative stances on issues like gun control and coal energy. Thus far, Lamb has welcomed House Minority Whip Steny Hoyer (D-Md.) and Rep. Joe Kennedy III (D-Mass.) to the district to campaign for him.
Former Vice President Joe Biden is also slated to hold a rally for Lamb in the district before the election.
If Lamb does not win this time around, he will have another shot at a House seat in a more competitive district in November. As a result of the Pennsylvania Supreme Court's redrawing of the state's congressional districts, Lamb now lives in the 17th District, where Rep. Keith Rothfus (R) is running for re-election. Trump won Rothfus' old district by 21 percentage points, but would have carried the new one by just 3 points, according to The New York Times.
Before You Go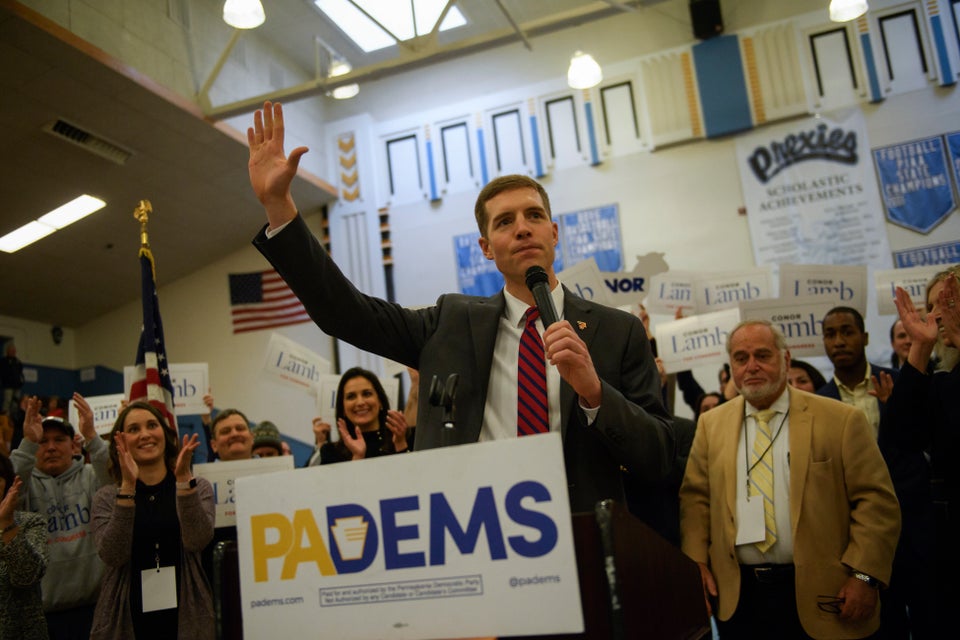 The Special Election for Pennsylvania's 18th Congressional District
Popular in the Community