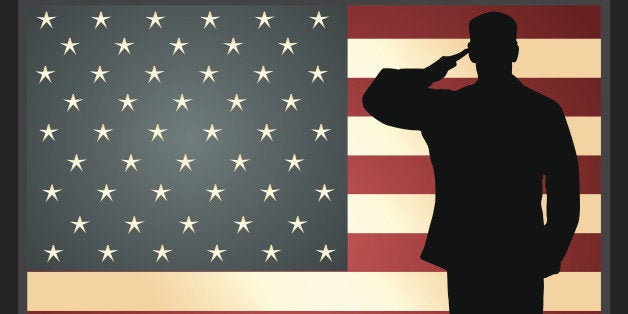 Yancey Farrington, a Marine veteran with renal failure, has one final wish. "My son barely knows who I am," he told Joseph Vitti, a New York hospice worker and a fellow veteran. "All I want--what would be a million bucks for me--is for the Marines to present him with my flag at his fourth birthday, so he will have a little piece of me."
After helping Yancey retrieve lost military records and discharge papers, Joseph worked with the Marines to make sure that together they can make Yancey's final wish for his son come true.
Joseph worked with the VA to help facilitate the application process for Yancey's benefits, making sure that he was applying for all the veterans' benefits he is entitled to, including funeral benefits. He has continued to work with hospice colleagues--and Yancey--to make sure that Yancey has the best quality of life possible at the end of his life.
"There is a culture in common for all vets--we speak the same language," says Joseph, who has been working in hospice care for veterans for the last two-and-a-half years. In September, he joined the Visiting Nurse Service of New York's Hospice and Palliative Care, which has been recognized as a Level Three Partner in the We Honor Veterans program (WHV), a collaboration between the National Hospice and Palliative Care Organization (NHPCO) and the U.S. Department of Veterans Affairs (VA).
In the U.S., approximately 642,000 U.S. military veterans die each year, which accounts for one in four deaths, according to the VA. In the words of We Honor Veterans: "We believe it is never too late to give them a hero's welcome home." The national campaign engages and supports community hospice and other health care providers to better understand and address veterans' end-of-life needs. WHV provides education, resources, and technical assistance to educate those who care for veterans at the end of their lives, including those whose military service, combat experience, or other traumatic events may come to light during their dying process.
"We're educating our staff to know the veteran way of life, why we are the way we are as well as what benefits are available to us," says Joseph. "And, at the same time, we're reaching out to the veteran community to let them know: Hospice does not mean you are surrendering. You're getting team work from fellow veterans to help you and your family."
We Honor Veterans has several objectives for improving end-of-life care for veterans, including: better identifying veterans at intake and understanding their military history; helping them obtain appropriate benefits, including funeral benefits, for themselves and family members; encouraging veterans to share their stories; facilitating ceremonies that recognize the veteran's service, both for the veteran in his or her lifetime and for family and loved ones after death.
Speaking the Same Language
As with much of health care, the path to success often begins with understanding and communication. "You ask which branch they served in, ask their rank, and call them by that rank, if appropriate," Joseph explains. "You understand that some veterans are still suffering from survivors' guilt, or from post-traumatic stress disorder. Some have trouble letting go of a chain of command. We cared for a general who had 30 years of giving orders. We had to learn to communicate with him in a way that worked for him."
Yancey was in a hospice in-patient unit, battling nurses at every turn and refusing help, when Joseph was first called in. "He's a Marine," Joseph explains. "His attitude is, 'I can take care of myself. I don't need anyone's help.'"
Joseph, a former Army commissioned officer, related to Yancey in a way no one else had. They talked about their military background, including Yancey's experience during the 1983 bombing at a Marine barracks in Beirut, sharing memories and a mutual respect. "I explained to him that as a veteran myself, I know we are trained to not give up," Joseph recalls. "But I also said that we were never taught to refuse help. We were taught teamwork. And that's what we're doing now. We're working with him to help him and his family. I told him we were not looking to take away his independence. We wanted to help him put things into place to gain more independence."
Now Yancey is a more active participant in his plan of care, is eating better, and is better able to take care of himself at home. "He's a funny guy, and we all love him," says Joseph. "Now I joke with him, saying, 'As a commissioned officer, I am ordering you to eat your food and listen to your nurses.'"
Recognizing Service
Joseph says veterans and families are moved, often to tears, by recognition ceremonies that are a key part of the We Honor Veterans program. (Download guidelines on Memorials and Salutes for Veterans and Caregivers here.) He recently held a bedside ceremony for a U.S. Army paratrooper from the Korean War, who was one of the first African American paratroopers and now was dying of throat cancer. Unable to speak and too weak to move, he was surrounded by friends and family when Joseph began the ceremony, reciting: "The Visiting Nurse Service of New York shows its gratitude to Sergeant Jeffrey Williams*, who exemplified gallantry and distinguished service to his country, his family and his unit as a U.S. Army Infantry Paratrooper with the 101st and 82nd Airborne Division during the Korean War. Signed, Joseph Vitti, U.S. Army."
The sergeant, who had previously been communicating only by slight movements in one finger, shot up his hand in salute. "With every ounce of energy," Joseph recalls, "he mouthed the words, 'Above the rest,'" the legendary unit's motto. Sgt. Williams passed away over Christmas and received a military funeral in his native South Carolina.
"We're working with the Greatest Generation, those who served in World War II, Korea, Vietnam and beyond," says Joseph. "I cannot fathom a greater way to continue serving my country than to help these men and women through critical times."
*Name has been changed to protect privacy