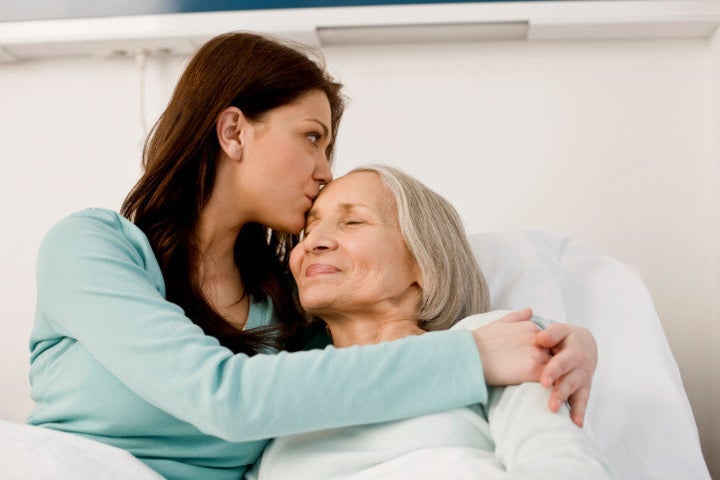 When Teresa Lin's aging father was admitted to the hospital with a condition that could have been life threatening, she suggested he do something tantamount to breaking a millennia-old cultural taboo.
She asked her father, a Chinese American, to talk to his family and his doctors about his wishes for end-of-life care.
"In the Chinese culture, people do not like to talk about death," says Teresa, my colleague at Visiting Nurse Service of New York (VNSNY). "It's a curse. There's the belief that if you talk about it, it will happen."
At first, she says, her dad panicked. "Did the doctor just tell you something I should know?" he worried.
But she put on her professional hat (Teresa is VNSNY's director of the Asian Home Care Program) and talked him through the importance of having an advance directive, or living will, sharing end-of-life wishes with his family and committing those wishes to paper. This includes designating a health care proxy and specifying medical interventions that you do and do not want, such as ventilators, feeding tubes and extreme measures.
As a home care expert in New York's Chinatown -- where thousands of seniors are aging alone at home -- Teresa well knows the confusion and anguish that come when someone is rushed to the emergency room and the gathering family does not know their loved one's wishes. "The E.R. is very chaotic," she says. "Imagine if a doctor or nurse or social worker is asking all these questions about what your parent wants -- and you don't know."
Broaching Difficult Subjects
Across Chinatown, hospice and home care workers strike a delicate balance of observing religious and cultural sensitivities while encouraging families to have vital conversations about end-of-life care. For the better part of a year, VNSNY has held an outreach program at the Chinatown Community Center to educate residents -- mostly seniors, but these conversations benefit people of any age -- about the ins and outs of living wills, health care proxies and Do Not Resuscitate (DNR) orders, and about the importance of starting this family conversation before it's too late. So far, more than 100 Chinatown residents have signed advance directives through the program.
While our outreach features social workers, legal experts, nurses and hospice workers, often the most convincing testimony comes from fellow Chinatown residents who have made the decision to talk to their families about their end-of-life wishes, despite the cultural difficulties. "They talk about what a great relief it was to know that their family, their children, would know what they wanted, and there would be no fighting," says Teresa.
One 75-year-old man said he was inspired to sign an advance directive because he watched a good friend linger in a vegetative state for months. "The man's wife went to see him every day, rain or shine, while he was on life support," said the Chinatown senior. "I never want to be in this state. I never want my wife to suffer in this way."
A Poetic Conversation-Starter
In Fort Defiance, Ariz., doctors and home care workers are reaching out to elders in the Navajo community, where taboos around death and dying are so deep that a dead person's name is never spoken and only certain tribal members are allowed to bury the dead, according to a recent Times article. To introduce vital end-of-life discussions and educate about their importance, nurses, geriatricians and palliative care experts at the Fort Defiance Indian Hospital's home-based care program are using a Navajo poem: "When that time comes, when my last breath leaves me, I choose to die in peace and meet Shi'dy'in (the creator)."
As a result of these conversations, more than 90 percent of patients in the program have signed advance directives -- as compared to fewer than 30 percent of all Americans. "Our goal is not just to change the way people die," says Dr. Timothy Domer, a Fort Defiance geriatrician, "but to change the way dying people live, and how their families experience and will remember the death."
Multicultural Considerations in Multicultural Societies
Cultural and religious taboos around death and dying are not, of course, limited to the Chinese and Navajo communities. Studies have found that members of other Asian communities (Korean Americans, for instance) as well as African Americans and Hispanic Americans, are much less likely to have signed advanced directives than are white Americans of European descent. New York City is a rich cultural, ethnic and religious tapestry, and those in my field must understand a complex set of traditions and beliefs before introducing conversations about death and dying.
A recent editorial in The Lancet, an influential medical journal, extends the conversation to organ transplantation and definitions of death among some of the world's major religions. Among religions that believe in life after death, organ donation can be seen as violating the sanctity of the body. Conflicts abound even within religions. The Jewish religion, for instance, elevates the notion of helping others, and for many Jews organ donation is compatible with the religion. Yet recent debate within orthodox Jewish circles has raised the question anew.
The essay wisely concluded, "With increasingly multicultural nations it is very important that doctors discuss and are educated about the meaning of death and the cultural sensitivities of different religions." I would include all health care and home care workers in this mandate.
A Family Meeting in Chinatown
For Teresa Lin's father, the idea of sparing his wife and children confusion and unnecessary heartache convinced him to call a family meeting as soon as he was discharged from the hospital. "I told him the benefit of talking it through with the family," Teresa recalls, "and he said, 'Oh, it's so true. Let's gather your sister, your brother and your mother. I never want you to be fighting over this.'" In the course of an evening, he spelled out what treatments he did and did not want, he designated whom he wanted to make which decisions and he filled out an advance directive form for his family to have on hand.
"He was so relieved," says Teresa, "and so were we."
Have you faced cultural or religious barriers talking to a loved one about end-of-life care? How have you overcome it? Or what still stands in your way? Share your stories, and together we can build bridges.