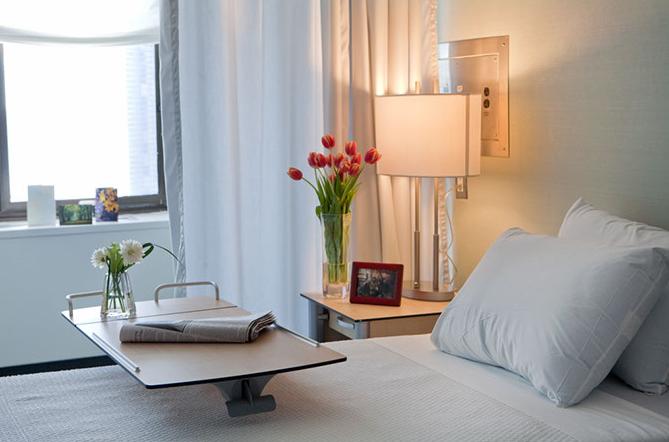 My colleague Mary Winters has heard many different soundtracks playing in the rooms of those nearing the end of life. She's heard soaring jazz music, soothing classical, and the unmistakable exuberance of "The Price Is Right" game show.
Those of us in hospice care see death and dying as a part of living. When a loved one is dying, we encourage families to create spaces that reflect the life that's come before -- bringing comfort and familiarity to the patient as well as friends and family. Mary offers a few guiding principles for shaping an environment conducive to a loved one's final days:
Surround the loved one with familiar and beloved objects. Bringing photographs, a favorite blanket or pillow, stuffed animals, and even the family pet into the end-of-life space provides great comfort for both patient and family. These objects also provide points of connection and conversation among visiting family members and friends and can prompt the sharing of stories -- a therapeutic and comforting part of end-of-life care.
Engage the senses. Senses linger, even after a loved one no longer seems present. Hearing, as well as touch, are the final senses to go. "What was the background noise of their life?" Mary asks. "For someone who loved classical music, the familiarity will be soothing. Same for someone who loved "The Price Is Right." Aromatherapy and incense may provide a sense of calm, but for those for whom it is unfamiliar, introducing a strange sensory element may be jarring.
Respect that it's their space -- guided by their preferences. Take cues from your loved one, in the present if they can communicate, or, if not, from what you know of their lives. Some people, for instance, prefer the calm and cool of a darkened room, while others are uplifted by light. It may be tempting to come into a hospice room and throw back the curtains to brighten things up. But Mary recommends checking with the patient. "I always teach my new nurses: Just because you like a bright room, doesn't mean they like a bright room."
Recently, I, too, have been reflecting a lot on the physical space for end-of-life care. VNSNY just opened HAVEN Hospice Specialty Care Unit, a 25-bed facility devoted to in-patient hospice care within Bellevue Hospital Center, for situations in which someone in home hospice care needs to be hospitalized for a short period of time. Our team had our work cut out for us to create an oasis of calm and peace in the middle of one of New York City's busiest public hospitals.
Push open the doors on the seventh floor, and you immediately feel transported away from the busy acute-care floors of the rest of the hospital. You feel the difference underfoot, with the carpeting that cushions footfalls and overall acoustics. You see it in the beautiful, soothing wall colors and textured finishes. You experience it in the expansive views of the East River, which is visible from every room. The colors throughout are soft and inviting gray-blues, muted yellows and light greens.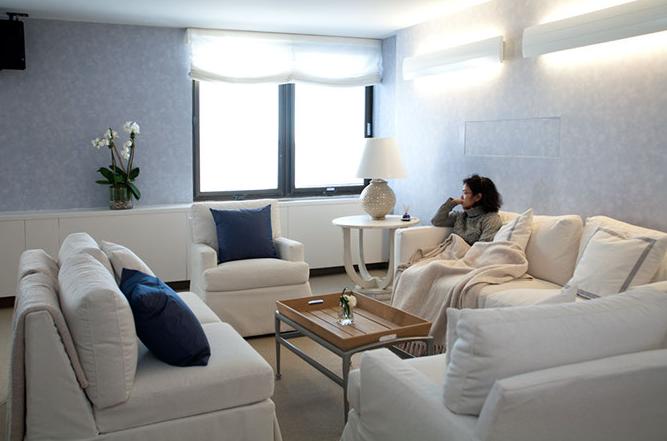 Jonathan Rosen, who designed Haven, said he followed a single guiding principle. "My mantra was: an oasis of calm and tranquility," he explains. "Every time I looked at materials, colors, finishes, I asked myself, What would I want to be surrounded with if I were in that situation."
In researching the project, he says, he found few existing hospice designs that provided much guidance. "The existing hospice model seemed to fall into three categories: the clinical, the 'happy hands at home' patchwork quilts and macramé, and what I'll call 'faux Zen,'" he says. "None of those spoke to what I thought this should be, in the heart of New York City. I wanted people to be surrounded by beauty."
In the first few weeks that Haven has been open, we've been hearing from families that the colors are soothing and the space brings a sense of peace and calm. We've also been seeing what we hoped we'd see: families bringing their lives into the unit. We've seen multi-generational family Shabbat dinners, as well as quiet interludes with family members looking out over the East River. We've seen kids playing computer games and surfing the Internet. And we've seen the beloved family dog or cat bring peace of mind to patient and family.
"People do bring their lives in here," says Mary. "They bring a little bit of normalcy, sharing a meal, children playing on the computer, looking pensively out the window. It's a retreat from the harshness of the illness and so much raw emotion."
Jonathan strived to create a space that would accommodate families' everyday lives, with a generous family meal table at the center of the family room. There are several living spaces, including a living room-type seating area with comfortable club chairs and couches in soothing white. "I wanted people to walk into that room and feel elevated," Jonathan says. "I treated it as residential environment, so it could feel as close as possible to dying at home."
Mary describes a room in which someone is dying as a sacred space. She has always felt a palpable difference in its energy -- from her very first days as a nurse. She still recalls when her first patient died, how she lingered in the room to honor the space -- only to feel jolted when a young doctor came in and said, "I'm ordering Chinese food. Want anything?" She has since spent a career creating just the right energy for those in their final days or hours.
Have you created a space for a loved one's final days at home? Are there questions or ideas you'd like to exchange with others about honoring life and creating a sacred space for letting go? We invite you to share your thoughts and comments below.
All Photos: Janet Charles Photo