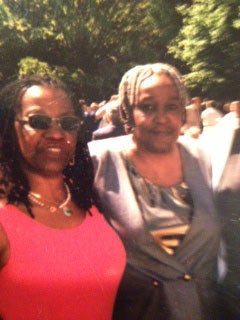 My sister lies in her hospital bed and I am being challenged to set her free. But what I really feel like doing is SCREAMING at the top of my lungs. The doctors have finally stated, "We can make her comfortable." That means the family must now shift gears and face our reality.
I had been managing my sister's emotional care from across the country. In truth, her husband had been her primary caregiver and I was his wing wo/man. I had been criss-crossing the country, trying to help her experience some joy by staying close to her and by helping her heal old wounds with her adult children. The downward spiral had begun in earnest at least 18 months before. However, consistent with our black southern tradition, my family had not taken even one of the AARP recommendations for those preparing for death. Why? Because of religious beliefs and my sister's children and her husband were in denial. Also they really didn't know what to do.
AARP research has found that 46 percent of family caregivers perform medical/nursing tasks for their patients who are suffering with multiple chronic physical conditions. My sister had been suffering from kidney failure and breast cancer among other things. So her husband was indeed a part of this 46 percent statistic. He was also one of the three out of four (78 percent) caregivers who managed medication, including administering intravenous fluids and injections. He performed these tasks to avoid institutionalizing her because their financial resources would not have allowed for assisted care or live-in help.
So, as I was saying, there we are in the hospital and clearly we are approaching the end of her life. The sister I know is gone, even though her body is lying in the hospital bed. Technically she is still here, thanks to a ventilator -- but I don't think this could be called living.
And now it is the family's selfishness that insists that the doctors "do whatever is possible" to keep her in this realm. One faction believes that whatever happens is God's will. There are others who feel my sister is gone and it is time to pull the plug. The confusion exists because we, the family, do know my sister's wishes. And between her children and her husband, they cannot agree what should be done. Personally, I don't know if it is escapism or what. But I just want to dance my big sister into the next dimension while Sting sings, "If you love someone, set them free."
I learned from her husband that she wanted to be cremated. But no one, not E-V-E-R in our Southern Baptist family had ever been cremated. It comes as a surprise to me that these are my sister's wishes. At the same time I also know she would not have wanted anyone looking down on her in a casket. Now in the tension of struggling with our individual rational minds and our emotional responses, the family is facing challenges with each other trying to figure out how to proceed.
Where do I want to die? At home, or in a hospital or medical facility? Surrounded by people who love me, or privately with as little fuss as possible?
What kind of medical treatment do I want?
Who do I want to take care of me? Do I have a preference in terms of male or female, or anything else?
What kind of funeral services do I want? Do I care about an open or closed casket, cremation or donating my body to science?
Where do I want to be buried? Do I have a burial plot? Do I want to use it or be buried somewhere else?
The two most important directives that can therefore be put together and given to your love ones once these questions are:
A Living Will: This document specifies their wishes regarding medical treatment, and particularly the refusal of life-prolonging medication when death is imminent.
A Health Care Power of Attorney: This document allows your parents to appoint someone they trust to act on their behalf and make decisions regarding their medical treatment if they are unable to do so.
What I know is that my sister would not have wanted her children or husband to fret as they worked through their personal guilt in giving her permission to leave. And the truth is that only she could have prevented this by making her wishes known.
If you are a caregiver, please visit http://www.aarp.org/caregiving for more information on End of Life Conversation. The website has a wealth of information, online support groups, blogs, experts and other resources.
I am a member of AARP's Kitchen Cabinet on Caregiving. All opinions expressed however are my own.
PHOTO GALLERY
Patricia Patton And Her Sister, Doris
REAL LIFE. REAL NEWS. REAL VOICES.
Help us tell more of the stories that matter from voices that too often remain unheard.