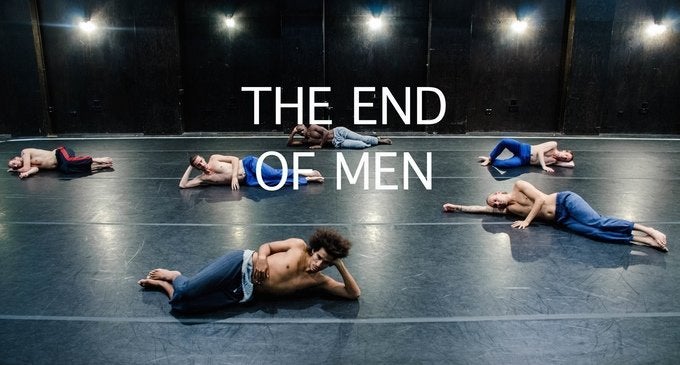 "What does feminist work look like without women as the subject?"
That's the question at the top of choreographer Vanessa Anspaugh's Kickstarter for a new work entitled "The End of Men; An Ode to Ocean." Anspaugh, a lesbian and feminist who says she typically works with women and identifying dancers, decided to take a dramatically different tack for this project: She cast only cis-male dancers in a choreographed piece about masculinity and cultural tropes. 
So what does a feminist dance look like without women onstage? In an email to The Huffington Post, Anspaugh seemed more coy about the question than on her Kickstarter page. "I didn't begin working on the piece by setting out to illustrate a feminist perspective, per se," she explained. "Rather, the question was there in the room ... if I switch up who I work with and that who is a group of all cis-men, then what kind of work do I make? Is it still queer and feminist work because of my own subject position?"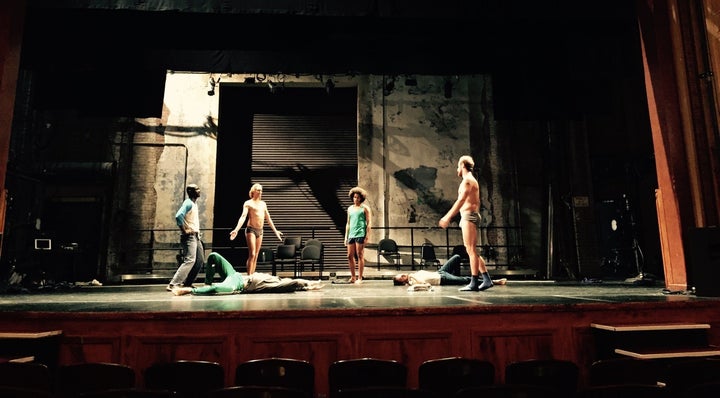 She pointed out that choreography has traditionally been a male-dominated field, with men imposing their performance vision on female dancers. Anspaugh wrote that she saw the casting as "playing with power structures by being a woman director/choreographer, reversing the more standard paradigm. In a female-dominated form such as dance, still the male choreographers are the most well-known, well-funded, and the ones teaching all the young women how to be pretty dancers."  
An all-male cast hardly seems to scream "feminism" to the casual viewer, but the patriarchal structures of dance have long rested on all- or mostly-female troupes of willowy girls in tutus, their movements decided by a male choreographer with his own vision that, unlike an individual dancer's performance, can live forever. In "The End of Men," audiences will only see men onstage, but the more powerful force -- the guiding consciousness -- will be that of Anspaugh. 
This particular project, a departure from Anspaugh's usual approach, sprung from her quest to become pregnant around a year ago. "As a lesbian who was trying to have a baby I found myself in a predicament not having a very crucial ingredient to make a baby -- sperm, obviously. I had gone so much of my life not needing much from men, and here I was REALLY needing something important from them," she recalled.
Her infant son, Ocean, who is referenced in the title of the piece, offered further motivation to explore masculinity. "It's both a critique AND a celebration of these masculine archetypes and also an inquiry into what it is that my baby is stepping into if he chooses to identify as a man in the world," she explained. "Like, what is the legacy of maleness he will be contending with?" Working closely with the dancers she cast, Anspaugh says she sought to explore their masculinity both in archetypal ways and in "more tender and vulnerable, less expected expressions." 
As the daughter of David Anspaugh, director of such cinematic explorations of masculinity as "Rudy" and "Hoosiers," Anspaugh says that, in retrospect, she sees parallels between her father's films and her new piece. Her father's movies, she told HuffPost, were "hyper-masculine manifestation[s] of maleness but with these very emotional cathartic endings that can cause the most tough and stoic of men to cry their eyes out." Her "End of Men" dance also draws out the sensitivity behind the male bravado.
"I've been reflecting on that recently ... how I might have just accidentally made a contemporary dance version of 'Hoosiers' or 'Rudy.' Whoops! Or, maybe 'The EOM' is a kind of response, a continuation, and a feminist counterpoint to my father's film legacy," she said. "The piece embodies a great deal of masculine vulnerability, which I also think is a rare affect for people to experience," she said. 
When it comes down to it, despite that provocative question on the Kickstarter page, Anspaugh said, "for me the success of the work doesn't lie in if it's read as 'feminist' or not. To me the success of the work is dependent on if it moves you in any way, if it ruffles your feathers, stirs conversation, breaks your heart, confuses you because you could never pin it down. Any of these responses will do for me to call it a 'success' or not."
REAL LIFE. REAL NEWS. REAL VOICES.
Help us tell more of the stories that matter from voices that too often remain unheard.
BEFORE YOU GO
PHOTO GALLERY
Dancer Photos