At the end of each summer, Angelenos satiate their inner foodie with two incredible food festivals. This year's Los Angeles Food and Wine Festival landed on the last weekend of August, and the LA Times' THE TASTE once again held its event over the Labor Day weekend. I attended two nights of each festival with my staff. Both events featured food demos and wine seminars led by popular chefs.
LAFW took over Grand Avenue (adjacent to the famed Disney Hall) in Downtown LA the last weekend of August. Renowned chef Curtis Stone was the official host for the first night with Tyler Florence taking his turn on Friday night. Restaurants from all over the country gathered to be part of this intense foodie experience.
As always, LAFW celebrated chefs by featuring posters of each chef at every restaurant booth. Music was also a part of the festival with well known DJs spinning throughout the night and special guests The Roots (from the Tonight Show) wrapping up the final soiree on Saturday night.
I found some of my favorite local eateries such as La Vecchia, where Executive Chef/Owner Mark Mollica enticed us with his Casareccia all Ragu di Agnello Brasato. This tasty offering consisted of fresh casareccia pasta, braised lamb shank ragu, black truffle buffalo ricotta cheese, and micro mixed basil.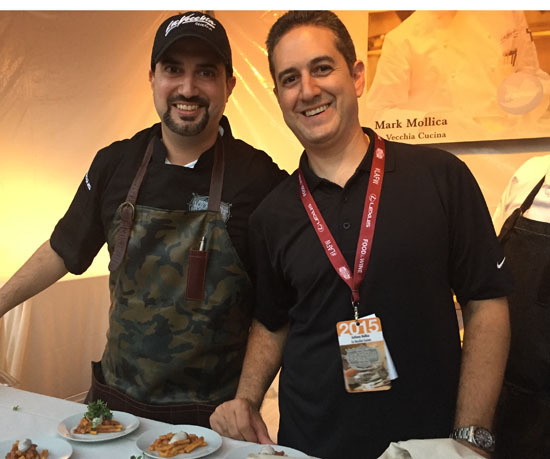 See photo by LAArtParty.com; from left to right, Brothers - Mark Mollica (Executive Chef/Owner) and Anthony Mollica (Director of Operations/Owner)
Wine is a big part of LAFW with wine glasses distributed at the entrance. This year the entire middle section of the festival was devoted to wineries, and the surrounding areas were chock full of fantastic restaurants. SM Wine Group offered a delicious full-bodied 2010 Chianti Classico from Lamole. The Pinot Noir was smooth and flavorful from TestaRossa Winery. Other wines that we enjoyed were provided by: Maisons Marques & Domaines, Jeff Welburn Wine Selectons, Regal Wine Co., Tablas Creek Vineyards, and Kendall Jackson.
"LAFW is always an amazing culinary experience worthy of all of the hype surrounding it," said Chef Nick Shipp from the Upper West...one of my all time favorite restaurants.
The Santa Monica restaurant returned for its fourth year with students from the Art Institute's Culinary Program. Shipp served up a delicate roasted sweet corn with whipped avocado-cilantro butter cotija cheese and smoked paprika crackle. Delish!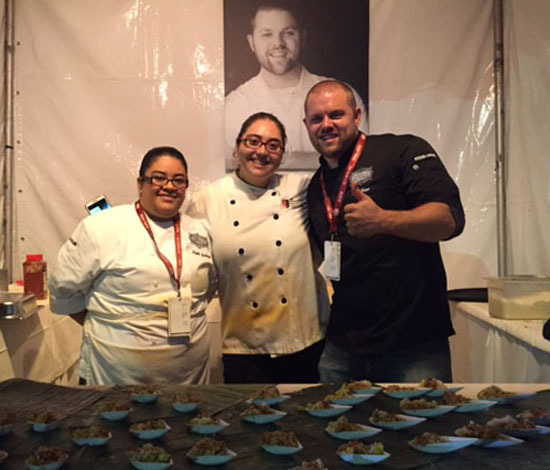 See photo by LAArtParty.com; From left to right, Natalie Gracias, Lizeth Gallegos (students from the Art Institute Culinary Program and Chef Nick Shipp
Shipp added, "It's always an honor to be a part of an event that's filled with so many inspiring chefs and run by a top notch company like Coastal Luxury Management.
Other fabulous cuisine came from Bourbon Steak, Patina Restaurant, Drago Centro, Phorage, Badmaash, and many more.
The overindulgence of last weekend's food festival, did not keep me away from another spectacular food event presented by the LA Times. THE TASTE featured different hosts each night, but Pulitzer Prize winning food critic Jonathan Gold dominated the events in his role host. I ran into him both nights as he strolled the festival - an affable guy who said he was pleased to see that I was having such a great time. The food was scrumptious, and some of my favorite restaurants were also in attendance at THE TASTE such as Chaya, and Joe's Restaurant.
Although THE TASTE did offer wine and beer, it featured more cocktails showcasing hard liquor. No real wine glasses were to be found, which for a wine lover and reviewer was disappointing. On the second day I avoided the plastic cup scenario by bringing my own wine glass (with lasso - around my neck) and had a much more enjoyable evening. Make no mistake - there was always wine to be had, and I managed to do my share of tasting (as the designated drinker...of course).
As always the cuisine was exquisite at THE TASTE. A huge variety was served ranging from falafel by MADCAPRA to bacon wrapped hotdogs from the Village Idiot to tuna hand rolls meticulously prepared by the Artisan House and finally the Coolhaus signature ice cream sandwich.
Gasolina Café served one of its most popular dishes - Patatas Bravas (potatoes, serrano ham, chorizo with brava sauce and aioli). "At the Cafe you get a full plate of those with a sunny side egg on top," explained owner and Chef Sandra Cordero. Gasolina Café opened up six months ago in Woodlawn Hills and serves Spanish influenced breakfast and lunch.
Other mouth-watering standouts came from Akasha Restaurant, the Beverly Wilshire, The Black Cat, Celestinos, Estrella, Hamasaku, Komodo, LAMILL Coffee, Michael's Restaurant, Montage Beverly Hills, Prova Pizzeria, Racion, The Venice Whaler.
I loved the Pinot Noir from Inception (the Santa Barbara County Pinot Noir). I had the chance to speak with the owner, Jonathan Hirsh who was a first time participant in THE TASTE. Inception is a local Santa Barbara County brand. Hirsh explained that he started the company four years ago and is now expanding throughout California and Nevada via his new distribution through Southern Wine and Spirits. When asked what he thought about the event, he exclaimed, "It was absolutely top notch! My favorite part of the event was the last hour or so when many patrons came by our booth to tell us that we had the best wine offerings of the evening!"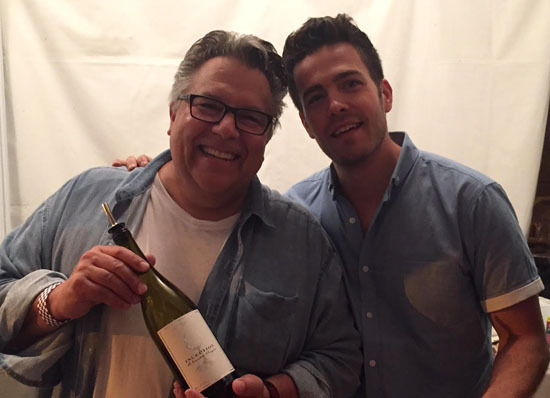 See photo by LAArtParty.com (from left to right) Jonathan Hirsh (Owner and Winemaker) and Thomas McAbee (Director of Marketing)
We enjoyed some additional delicious tastings provided by Deutsch Family Wine and Spirits, Zaca Mesa, and another favorite Prestige Wine Imports (the U.S. importer for Gruppo Mezzacorona).
Needless to say, LAArtParty.com had an incredible time mingling with our favorite restaurants and meeting new friends. If you missed these great food events...there's always next year! Come hungry and celebrate your inner foodie!!! For more info about both of these fantastic food events visit their websites.
Related