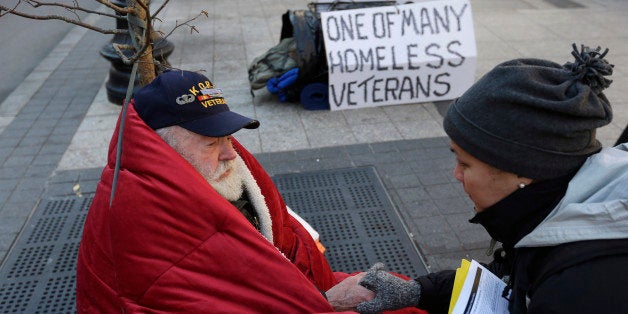 Much to the fanfare of VA officials, a fourth U.S. city announced on Monday that it has ended chronic veteran homelessness.
But while skeptical advocates welcome the progress, they say other cities won't follow suit fast enough to meet the looming deadline.
Since the VA declared in 2010 it would end veteran homelessness by this year, the number of vets without stable housing has dropped by 33 percent, according to Department of Housing and Urban Development (HUD) estimates. Though it's been a celebrated improvement, experts in the industry say it's not feasible to get every homeless veteran into housing by the end of the year.
"The math on that doesn't make sense to me," Steve Peck, CEO of U.S. Vets, a nonprofit that provides housing, counseling and job services, told Military Times. "It was great to have that goal, and putting out that deadline really focused a lot of attention on the issue. But now, my fear is that cities may try to get to get to zero instead of preparing for long-term solutions, and look at the problem beyond 2015."
What's clear, though, is that the government agency is eager to pump money into the solution and that local leaders are eager to see the initiative through.
What naysayers do agree on, however, is that the urgency to put an end to the issue has engendered some effective solutions.
New Orleans, for example, which announced it had ended chronic veteran homelessness in January, demonstrated how using existing resources can solve the problem. There, organizations and agencies that had never worked together before, collaborated to share data and develop a system in which a veteran can be housed within an average of 30 days.
Houston, which declared on Monday that it had wiped away the problem, joined together 35 agencies to help house 3,650 veterans in a matter of three years.
But some advocates are concerned that meeting the deadline is more about appearances, and less so about establishing long-term solutions.
Many veterans are often led to housing situations that are far too expensive for them to maintain.
John "Turtle" Snetselaar joined the Air Force when he was 17, was honorably discharged 15 months later and was homeless for more than three decades, according to Al Jazeera America.
In November, with help from the VA, the 55-year-old moved into a small apartment in Los Angeles where he sleeps on the floor because he doesn't have the funds to buy furniture.
Snetselaar gets $736 a month in medical VA benefits and almost half goes to paying his share of the rent.
Despite the challenging odds, a number of U.S. cities, even those with particularly disheartening homeless figures, say they're on track to meet the 2015 deadline.
But even with the boost in funding and resounding optimism, Peck says he just doesn't see how the deadline can be met.
REAL LIFE. REAL NEWS. REAL VOICES.
Help us tell more of the stories that matter from voices that too often remain unheard.
BEFORE YOU GO
PHOTO GALLERY
Bryan Adams' Stunning Vet Photo Series