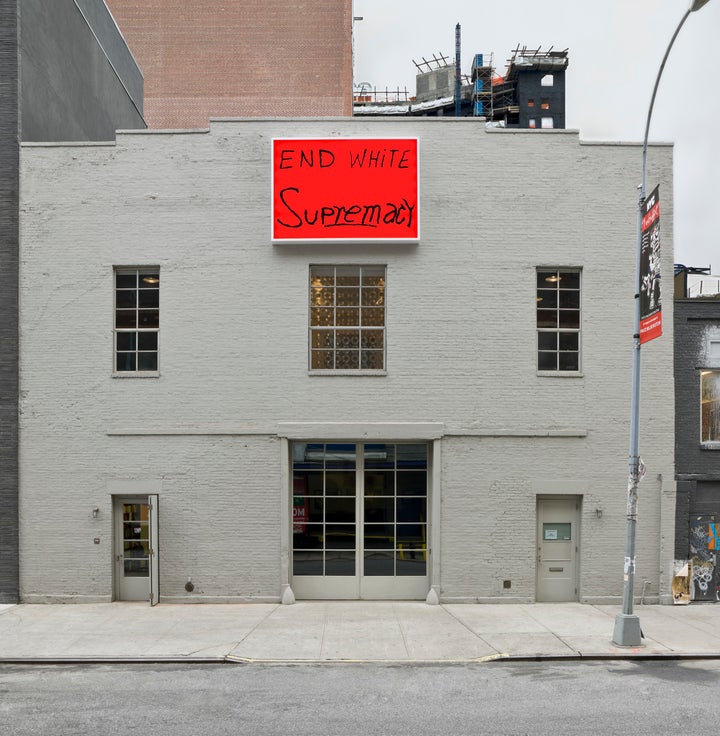 In 1963, a protestor scrawled the words "End White Supremacy" onto a sign and carried it during a civil rights march in New York. Over 50 years have passed and, disgracefully, the message pleading for the most essential of human rights remains just as relevant. 
In 2008, digging through archival photographs, artist Sam Durant found an image of the '60s sign. Durant creates large-scale lightboxes featuring language culled from various protests and demonstrations throughout history, often focusing on the Civil Rights Movement and Black Panther protests. He gravitates towards words whose relevance is not bound up with any one time or event, whose message resounds regardless.
The artist scanned and cropped the sign's language to create one such text-based artwork, which was mounted on the exterior of New York's Paula Cooper Gallery just around the time America elected its first black president until 2009.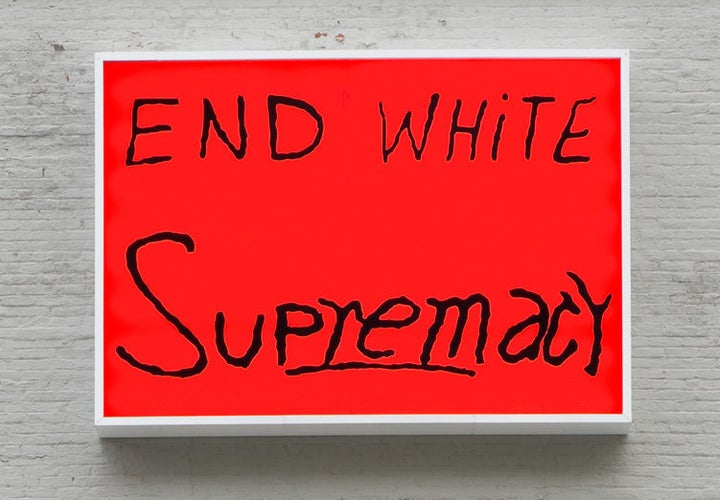 On Nov. 29, however, the piece was restored to the Paula Cooper Gallery facade. The sign's return is a response to the recent election of Donald Trump, who, as a candidate, was widely accused of feeding off the racism, misogyny and xenophobia lingering on the fringes of the American psyche, giving bigotry a platform and ushering it into the mainstream. 
Gallery owner Paula Cooper explained the importance of using skills and resources to fight against the normalization of hate and fear in an interview with Hyperallergic.
"We should, as spaces available and open to the public, do whatever we can to resist and overcome whatever abominations are about to confront us," Cooper said. "How we best do that is the question."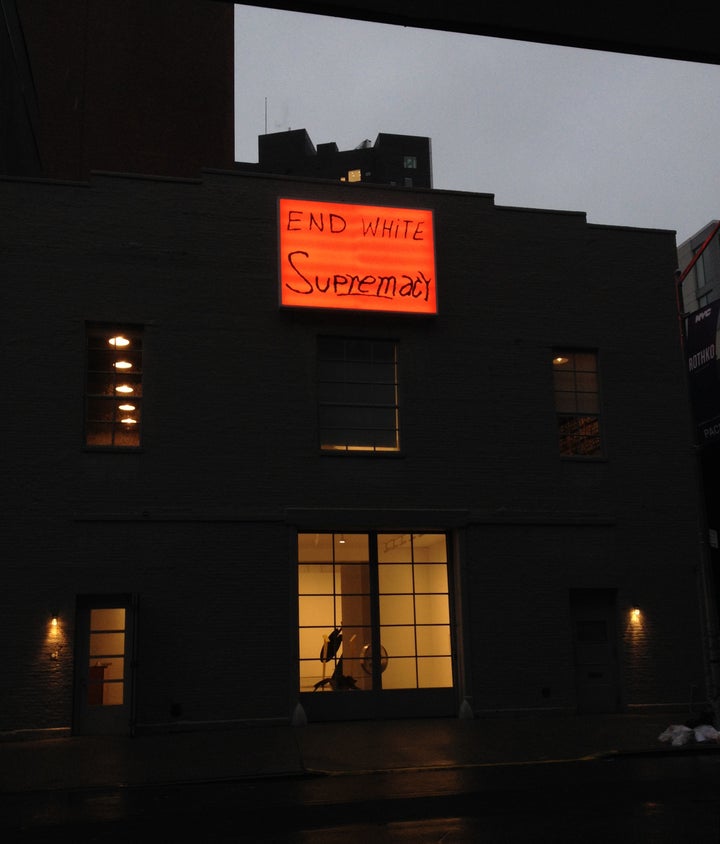 An identical version of the lightbox was also on view ― somewhat surreally ― at Art Basel Miami Beach, courtesy of Blum & Poe Gallery. The uncomfortable juxtaposition of locales highlights the strange space the art world occupies in the election aftermath, with so many artists working to magnify injustice and empower action within a system catering primarily to the wealthy elite. The piece is on sale for $75,000. 
If that's not quite in your budget, stop by Paula Cooper Gallery in New York to see the powerful sign in the flesh. Cooper told Hyperallergic she does not know how long the piece will be on public view, but here's hoping it will never feel quite so painfully relevant again.
REAL LIFE. REAL NEWS. REAL VOICES.
Help us tell more of the stories that matter from voices that too often remain unheard.
BEFORE YOU GO
PHOTO GALLERY
Trump Voters In West Virginia