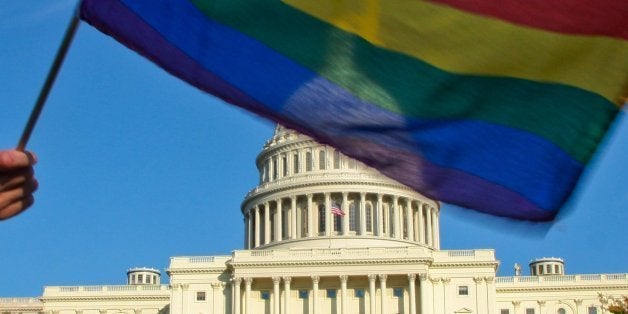 WASHINGTON -- Sen. Jay Rockefeller (D-W.Va.) threw his support behind the Employment Non-Discrimination Act on Tuesday, giving the bill 52 cosponsors. Only four Democrats have not signed on.
"The fact that discrimination is tolerated anywhere in our country needs to be addressed once and for all," said Rockefeller in a statement. "The integrity of our nation, and our ability to be a credible global leader on human rights, means that all people must be treated equally under the law."
ENDA would bar workplace discrimination on the basis of sexual orientation or gender identity, providing protections to LGBT individuals. Majority Leader Harry Reid (D-Nev.) recently said he expects the Senate will "soon" take up the legislation. Jamal Raad, a spokesman for Sen. Jeff Merkley (D-Ore.), who introduced the bill in the Senate, told The Huffington Post last week that they expect a committee markup on ENDA soon after Congress reconvenes following the July 4 recess.
In advance of movement on the bill, Democrats have been rushing to sign on. In June, ENDA has picked up five cosponsors: Sens. Angus King (I-Maine), Heidi Heitkamp (D-N.D.), Tom Carper (D-Del.), Reid and Rockefeller.
There are now just four Democrats in the Senate who are not ENDA cosponsors: Tim Johnson (S.D.), Joe Manchin (W.Va.), Bill Nelson (Fla.) and Mark Pryor (Ark.). Sens. Susan Collins (R-Maine) and Mark Kirk (R-Ill.) are the only Republican backers.
But the issue does not seem to be on the radar of many Republicans. Several GOP senators approached by HuffPost in the Capitol on Tuesday made clear that they weren't focused on the legislation at this time.
When asked about his views on ENDA, Sen. John McCain (R-Ariz.) said, "The who? Honestly, I don't -- I'm focused right now on border security, and that's my issue for the day."
"I don't know, I probably don't even have a comment on it right now," said Sen. Tom Coburn (R-Okla.).
Sen. Jeff Sessions (R-Ala.) said he hadn't "studied the issue lately" but wanted to make sure language in the legislation was written in a way that "effectively allows the marketplace to function."
"Well, I'm not against the theory of it," he said of ENDA, adding, "You have got to be careful how you do it, and sometimes people push agendas for political reasons or other reasons, and you just have to read the legislation, try to make sure that it serves its purpose."
Sen. John Boozman (R-Ark.) said he was concerned about putting too much of a "burden" on employers.
"There is so much burden; it opens them up to lawsuits, things like that -- having to defend themselves if somebody is acting inappropriately in the office and they happen to be this way or that way. Then you've got the ability to come back on them and sue them for discrimination," he said.
When asked whether he believes discrimination against gays and lesbians in the workplace is a problem, he replied, "I think it depends on the workplace. I think in a lot of workplaces, there's not discrimination. I'm sure that there is in some workplaces."
Many LGBT activists have been frustrated that, while ENDA remains stuck in Congress, President Barack Obama has refused to issue an executive order barring discrimination by federal contractors based on sexual orientation or gender identity.
On Tuesday, Kirk seemed to recognize that getting his colleagues to join him in support of ENDA would be an uphill climb.
"Generally, gay rights issues are pretty tough for Republicans," he admitted.
Caitlin MacNeal contributed reporting.
Before You Go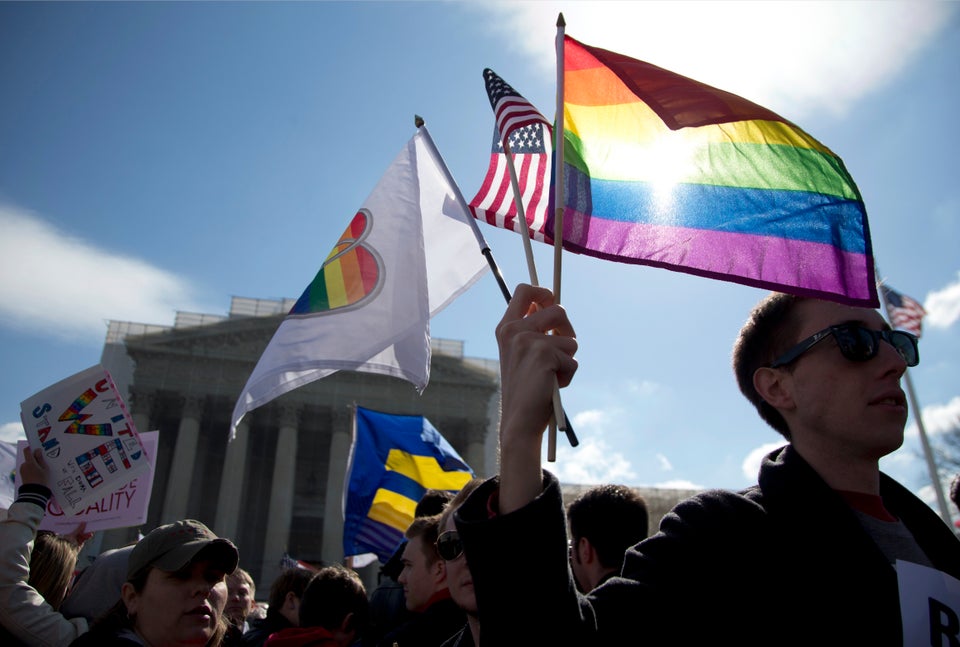 Supreme Court Proposition 8 Case
Popular in the Community