 WASHINGTON -- Sen. Tim Johnson (D-S.D.) became the 53rd cosponsor of the Employment Non-Discrimination Act on Tuesday, leaving just three Democratic senators who have not signed on.
ENDA would bar workplace discrimination on the basis of sexual orientation or gender identity, providing protections to LGBT individuals. The office of Sen. Jeff Merkley (D-Ore.), who is leading the Senate's push on ENDA, confirmed Johnson's cosponsorship to The Huffington Post. Johnson's office did not immediately return a request for comment.
Sens. Joe Manchin (D-W.Va.), Bill Nelson (D-Fla.) and Mark Pryor (D-Ark.) are the only Democrats who have not signed on as cosponsors, while Sens. Susan Collins (R-Maine) and Mark Kirk (R-Ill.) are the only Republican backers.
Former Rep. Barney Frank (D-Mass.), who is openly gay and has pushed for LGBT equality, told The Huffington Post on Monday that there "isn't even the remotest chance" that ENDA will pass Congress while Republicans control the House.
"I do think that the next time Democrats take over, we can do it," he said.
Many LGBT activists have been frustrated that, while ENDA remains stuck in Congress, President Barack Obama has refused to issue an executive order barring discrimination by federal contractors based on sexual orientation or gender identity.
But Frank said he thought issuing an executive order would send a bad signal, as Obama would be accused of bypassing Congress. Obama has used his executive authority to implement important changes on immigration and climate change; Frank argued that those orders had more of an impact than one on LGBT rights would.
"I think the public policy gained is greater on climate and immigration," he said. "When you look at the number of companies that already have anti-discrimination policies and the number of states that have them, and the exemption [for some small businesses] -- I think the public policy is greater."
Tico Almeida, president of the LGBT organization Freedom to Work, disagreed with Frank's assessment.
"The policy gained with President Obama's LGBT executive order is that huge corporations like ExxonMobil will no longer be able to get fat on billions of taxpayer dollars while discriminating against highly qualified gay and transgender American workers," he said. "Freedom to Work has sued Exxon for their anti-gay discrimination in Illinois, but President Obama can moot our case by signing the executive order that will require this corporate dinosaur to join modern American business leaders who support workplace fairness."
This story was updated with comment from Almeida.

Before You Go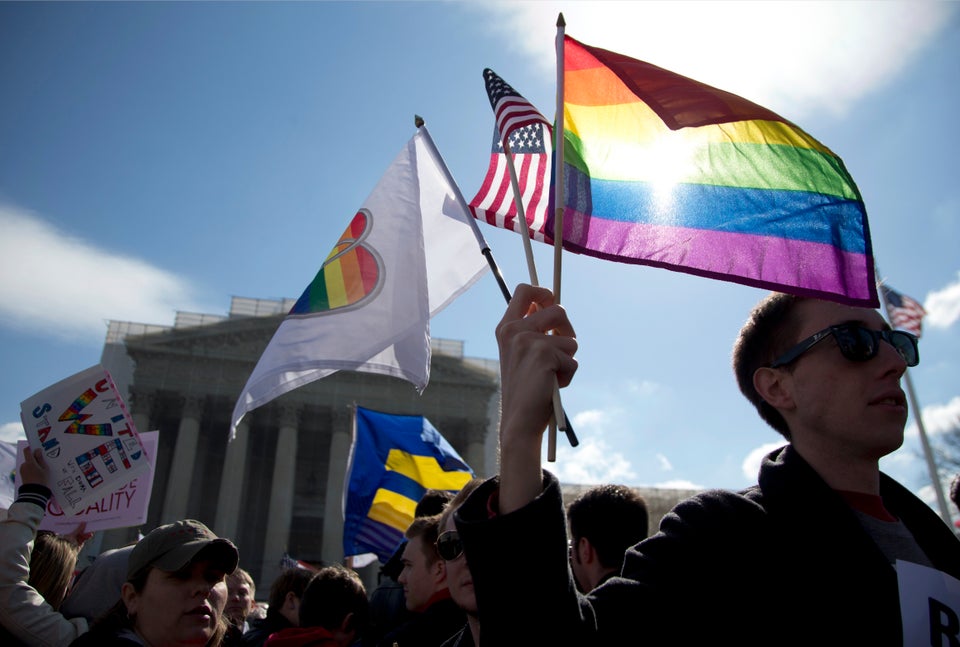 Supreme Court Proposition 8 Case
Popular in the Community