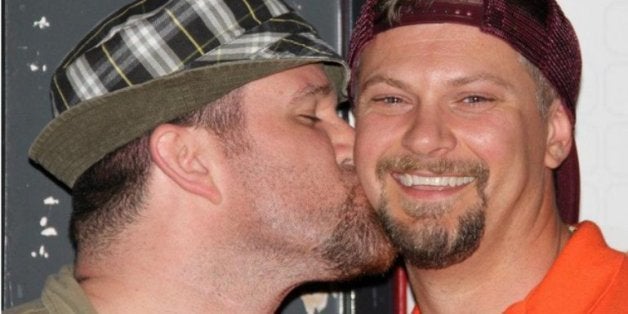 Four years ago, John Brown University, a private Christian college in Arkansas, forced an assistant professor named Jason Hough to resign after learning that he was gay.
This week, the Senate is expected to pass a bill aimed at protecting LGBT employees like Hough -- and yet Hough is among many gay Americans who are tempering their applause.
That's because the Employment Non-Discrimination Act, or ENDA, contains a clause stating that the law won't apply to religious institutions like John Brown University.
This "religious exemption" would cover a wide range of employers, from churches to schools to non-profit groups, allowing those employers to discriminate against any employees or applicants, not just clergy.
Even if ENDA is passed, churches will still be able to fire gay janitors. Catholic hospitals could still refuse to hire gay administrators. And Christian colleges will still be able to pressure gay professors to resign.
"What happened really sucked and was really unfair," Hough said in a recent interview with The Huffington Post. "The way the current law is formed, we're actually helping perpetuate this sort of belief system."
John Brown University, for its part, claims it did not initiate or force Jason Hough's resignation. "Out of respect for his family and Jason's own privacy, it would be inappropriate for us to comment further on any specifics," Lucas Roebuck, director of university communications, said in a statement to HuffPost. Roebuck did confirm, however, that the university does not employ "practicing homosexuals," and if someone were to try to come out as a gay person -- who is not celibate -- during their time there, that would be cause for termination. "The university does take the position, informed by our Christian faith, that sexual relations are only appropriate between a man and a women in the covenant of marriage," he said.
The gay-rights advocates who authored ENDA decided to adopt the religious exemption in an effort to mollify conservative congressmen -- and constituents like these -- who worried that the law would infringe on religious liberties. Opponents of ENDA adopted the argument, as the Family Research Council, an influential conservative Christian lobbying group, wrote, that the bill would "encourage" discrimination "against anyone with a traditional view of morality." A voice vote in the Senate on Wednesday further strengthened the exemption by approving an amendment that would shield religious organizations from retaliation by government agencies.
LGBT advocacy groups are sharply divided over the clause, with some arguing that it essentially undermines the law.
Although these groups have stopped short of telling senators to vote against the bill, they've encouraged supporters to speak out against the exemption before voting for the law. Sen. Sherrod Brown, a progressive Democrat from Ohio, told the Washington Blade that he believes "the religious exemption in ENDA should be consistent with the federal law that currently protects people against discrimination."
Some advocates say that religious institutions are responsible for many acts of workplace discrimination against gay people, though there's no hard data to support this claim.
"There is no doubt about it, LGBT workplace discrimination happens every day, across the country in all kinds of companies, in all kinds of institutions, and ENDA is useful and it is needed," said Heather Cronk, the co-director of GetEQUAL, an advocacy group that opposes the religious exemption. "But the problem is, these broad exemptions provide some protections for some people, but not the people who need them the most."
Clearly, Hough's situation is not unique. Here are four other examples of workplace discrimination that wouldn't be covered by ENDA:
This summer, a teacher was fired from a Catholic girls school in California after photos of his wedding to his partner were published in a local newspaper. And this spring, a teacher in Ohio was fired from a Catholic school after her mother's published obituary included the name of the teacher's partner. Back in 2010, an administrator at a Catholic university in Illinois was fired for getting married in Iowa, and in 2005, a security guard at a Christian university in Florida alleged that he was fired because his employer suspected he was gay, among many other examples.
"People don't have a good understanding about the incredible breadth and scope of the existing exemption and the types of position that could fall under that if it becomes law, people like a janitor at a religious affiliated hospital," said Ian Thompson, a lobbyist with the American Civil Liberties Union who focuses on LGBT issues. "We think it's entirely inappropriate that that person would not be protected by workplace discrimination. Their job doesn't have anything to do with carrying out a religious mission."
This story has been updated to include comment from John Brown University.
Popular in the Community