WASHINGTON -- Gay rights groups are jumping ship on legislation they previously hailed as one of their biggest priorities of the year: the Employment Non-Discrimination Act.
The American Civil Liberties Union, Gay & Lesbian Advocates & Defenders, Lambda Legal, the National Center for Lesbian Rights and the Transgender Law Center announced in a joint statement on Tuesday that they are withdrawing support for the Senate ENDA bill because of its sweeping religious exemption.
The exemption "allows religious organizations to discriminate based on sexual orientation and gender identity," reads the group statement, calling the matter something that "has long been a source of significant concern to us."
Civil rights groups have long trumpeted their support for ENDA, which would make it illegal to fire or harass someone at work based on their sexual orientation or gender identity. But some have privately had concerns with an exemption in the current Senate bill that would allow businesses with religious affiliations to fire someone for being lesbian, gay, bisexual or transgender. That language goes far beyond religious exemptions afforded under The Civil Rights Act of 1964 for characteristics like race, gender, religion or national origin.
The groups say last week's Supreme Court decision in the Hobby Lobby case was a factor in why they are flipping positions on ENDA. The court ruled that a religious employer could not be required to provide employees with certain types of contraception. Some faith leaders have since invoked the ruling in calling on President Barack Obama to exempt them from a forthcoming executive order that would ban job discrimination against LGBT employees of federal contractors.
"Given the types of workplace discrimination we see increasingly against LGBT people, together with the calls for greater permission to discriminate on religious grounds that followed immediately upon the Supreme Court's decision last week in Burwell v. Hobby Lobby, it has become clear that the inclusion of this provision is no longer tenable," reads the groups' statement. "It would prevent ENDA from providing protections that LGBT people desperately need and would make very bad law with potential further negative effects. Therefore, we are announcing our withdrawal of support for the current version of ENDA."
"Frankly, it is becoming harder and harder for me, for us, to tolerate our own moral and political inconsistencies by protesting the Hobby Lobby decision, then advocating for the current ENDA with its broad religious exemption, and then insisting that the president not include a broad exemption in the upcoming executive order protecting LGBT people working for federal contractors," wrote the group's executive director, Rea Carey, in a Tuesday op-ed.
The shift is a huge blow for the legislation, which passed the Senate last year, but has stalled in the House. But there were signs of discontent before the Supreme Court's ruling in Hobby Lobby. The National Center for Lesbian Rights and the Transgender Law Center, along with a few state LGBT groups, dropped support for the Senate version of ENDA early last month.
Sen. Jeff Merkley (D-Ore.), sponsor of the Senate ENDA bill, demurred Tuesday when asked if it's time to revisit the religious exemption in his legislation. He redirected attention to Obama's forthcoming executive order on federal contractors. The order wouldn't go as far as ENDA, but is still a top priority among civil rights groups.
"I think all the conversation right now is with the administration over how they forge their action regarding government contractors," Merkley told The Huffington Post. "So I'll be very interested in following that."
Asked specifically about LGBT rights groups pulling their support from ENDA over its religious exemption, Merkley repeated that he's focused on the anticipated executive order from the president. "That is a huge step forward if they're going to act to end discrimination against all those millions of folks with contracts," he said.
Some LGBT rights groups are sticking with the Senate ENDA bill, despite concerns with its religious exemption.
"HRC supports ENDA because for us it's a question of providing those most in need with basic workplace nondiscrimination protections," said Fred Sainz, vice president for communications and marketing at the Human Rights Campaign.
The National Center for Transgender Equality also appears to be standing by the bill, though its executive director, Mara Keisling, acknowledged the religious exemption is not good.
"The National Center for Transgender Equality has been a leader for years in advocating that the over-broad religious exemptions in the Employment Non-Discrimination Act was unacceptable and needs to be narrowed," Keisling said. "Discrimination of any sort cannot and should not be used to hide discrimination against LGBT people -- that is contrary to every American's fundamental First Amendment rights."
The movement away from the Senate ENDA bill fractures a coalition that has been pushing for a vote in the GOP-controlled House, where a more progressive version of the legislation is even less likely to pass than in the Senate. The broad religious exemption in the Senate version was put there in part to attract enough Republican support for passage.
There was a bipartisan coalition formed in January, Americans for Workplace Opportunity, with the specific mission of pressuring the House to vote on the Senate's version of ENDA. One of its members, the National Gay and Lesbian Task Force, is among the groups pulling its support for the bill.
When asked if the group will stay with Americans for Workplace Opportunity, Carey said, "We are part of a number of coalitions with the one you mentioned, with the Leadership Conference on Civil and Human Rights, and also in partnership with other organizations that aren't LGBT-specific organizations. And we will continue to work with all of them to push forward on fair legislation for our community."
Some of ENDA's backers are looking at the bigger picture and see little reason to get upset about the religious exemption.
One prominent LGBT rights advocate, who requested anonymity in order to speak freely, said there's "no doubt" that the current exemption is a problem. But the political reality is that ENDA isn't likely to go anywhere in this Congress, which means the bill will die at the end of the year and its supporters can bring it up again next year -- with new language.
"People will hunker down, ride out this Congress and you'll never see this religious exemption again," said this advocate.
Before You Go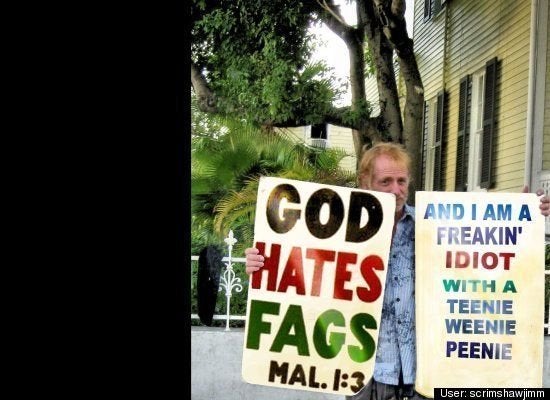 Anti-Gay Protesters Getting Owned
Popular in the Community