WASHINGTON -- The Senate voted Thursday to approve the Employment Non-Discrimination Act, landmark civil rights legislation that would make it illegal to discriminate against LGBT individuals in the workplace.
The final vote was 64-32, with 10 Republicans joining Democrats. The Republican senators backing the legislation were cosponsors Susan Collins (R-Maine) and Mark Kirk (R-Ill.), along with Kelly Ayotte (R-N.H.), Jeff Flake (R-Ariz.), Orrin Hatch (R-Utah), Dean Heller (R-Nev.), John McCain (R-Ariz.), Lisa Murkowski (R-Alaska), Rob Portman (R-Ohio) and Pat Toomey (R-Pa.).
ENDA would outlaw workplace discrimination on the basis of sexual orientation or gender identity. It is already illegal for employers to discriminate on the basis of race, color, sex, nationality, religion, age or disability. Twenty-nine states currently have no laws protecting LGBT individuals in the workplace.
It's the first time in history that the Senate has passed ENDA. The House passed a version of ENDA in 2007, but it did not include protections for transgender individuals.
The late Sen. Ted Kennedy (D-Mass.) first introduced ENDA in the Senate in 1994. Before he passed away in 2009, he asked Sen. Jeff Merkley (D-Ore.) to take the baton and champion the legislation that was near and dear to his heart.
"Today's vote was a historic vote for equality and freedom," Merkley said in a statement after the vote. "Deeply embedded in the constitution are notions of freedom and liberty, and discrimination is the antithesis of those founding values. Everyone should have the right to work hard and earn a living. No one should be fired for who they are or who they love. The Senate said today in a strong bipartisan voice that discrimination is just plain wrong. We are one step closer to equality for our LGBT friends and family."
ENDA's supporters were working until the last minute to shore up support for the legislation, eventually adding an amendment requested by Ayotte and Portman. It clarified ENDA's anti-retaliation provisions to reinforce that religious institutions exempt from the bill will not be penalized or discriminated against.
Perhaps the most surprising vote was from Flake, who, just hours before the vote, said he was still uneasy about the inclusion of gender identity protections and worried about litigation that may result from the bill. A Senate Democratic staffer said Flake didn't commit to supporting ENDA until Thursday.
"As I said in 2007 when I voted for the Employment Non-Discrimination Act in the House, one of the most important constitutionally mandated functions of the federal government is to protect the rights of individuals," Flake said in a statement explaining his vote. "While I had concerns about expanding protections beyond those House provisions, after consideration, I believe supporting this bill is the right thing to do. I am hopeful that the bill moves forward in a way that works for employers as well as employees."
Many LGBT rights advocates have been pushing President Barack Obama to issue an executive order barring federal contractors from discriminating on the basis of sexual orientation or gender identity. While it would not be nearly as comprehensive as ENDA, it would protect as many as 16 million workers in the absence of congressional action.
Human Rights Campaign President Chad Griffin on Thursday repeated the call for Obama to issue an executive order: "We urge the House of Representatives to pass ENDA immediately, and we call on President Obama to send a clear message in support of workplace fairness by signing this executive order."
The White House has repeatedly said the president would like to see the issue dealt with legislatively rather than through executive action.
House Speaker John Boehner (R-Ohio) opposes the measure, and senior aides say it's unlikely to even come up for a vote in the House.
"I think the House is going to have to capitulate," Reid said, "if they have any hope of having a president that can be a viable candidate or they think they can elect some Republicans and they want to hang onto the House."
In a statement immediately following the vote, Obama also called on the House to take up the bill.
"One party in one house of Congress should not stand in the way of millions of Americans who want to go to work each day and simply be judged by the job they do," he said. "Now is the time to end this kind of discrimination in the workplace, not enable it. I urge the House Republican leadership to bring this bill to the floor for a vote and send it to my desk so I can sign it into law."
This is a developing story and has been updated.
Before You Go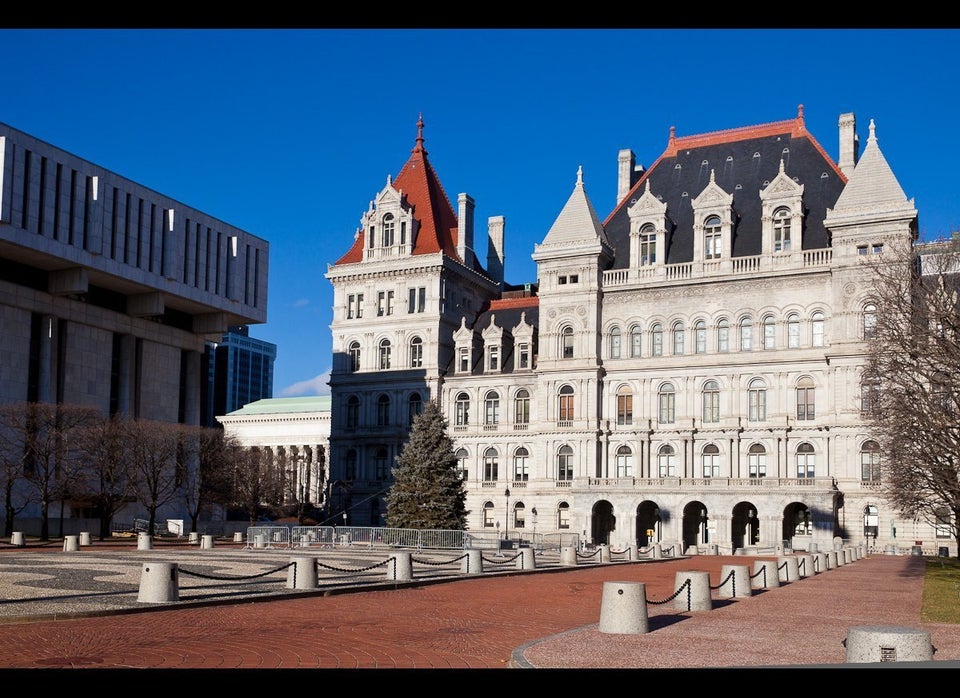 Gay Marriage In The United States
Popular in the Community