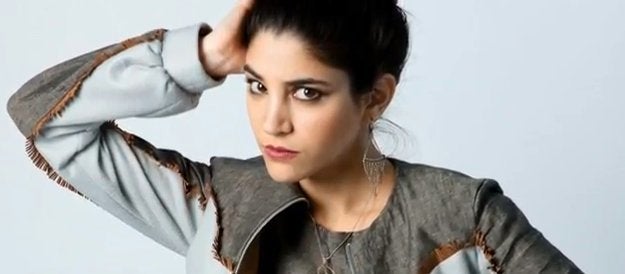 According to the International Union for Conservation of Nature, more and more animals are making it onto the endangered species list at an alarmingly high rate. In fact, many species are on the verge of extinction. With extinction rates at all-time highs, Gabby Wild decided something had to be done and, more importantly, that she was the person to do it.
Born Gabriela Wagner, Gabby Wild is the new face of animal activism. Dubbed the "guardian angel of wildlife," she founded The Gabby Wild Foundation, and has created 12 for 12 in 12, a fundraiser and awareness campaign that has her visiting a new kind of jungle -- the fashion jungle.
12 for 12 in 12 is a simple concept: Gabby is wearing 12 animal-inspired and originally-designed outfits in 12 months for 12 endangered species. Gabby partnered with several Project Runway designers who created the animal-inspired outfits she will wear all throughout 2012. Yes, Gabby is only going to wear 12 outfits for an entire year.
HooplaHa was thrilled to interview Gabby and learn about her motivation behind the 12 for 12 in 12 campaign! We instantly became inspired hearing Gabby describe her love for Asian Elephants, Red Pandas, her own pets and animals of all kind!
Each month, while wearing one out of 12 outfits, a unique animal is featured in Gabby's media interviews, her blog posts and her website to bring about awareness and funds for its conservation and that of its ecosystem.
Through The Gabby Wild Foundation, Gabby travels the world to promote animal conservation through creative fundraising and awareness campaigns like 12 for 12 in 12. Previously, Gabby has conducted competitions, challenges, and travel expeditions to places like Thailand to work with elephants, Africa to study baboons, Alaska to tend Iditarod sled dogs, and Ireland to aid horses.
Gabby is a graduate of Cornell University (2011) with a Bachelor of Science in both Biology and Animal Science and currently attends Cornell Veterinary College in pursuit of a degree in veterinary medicine.
Support 12 for 12 in 12, save the animals, and stay wild! For more information, visit Gabby's website and Facebook page. Share a story about an animal-lover you know at Hooplaha.com!
Calling all HuffPost superfans!
Sign up for membership to become a founding member and help shape HuffPost's next chapter