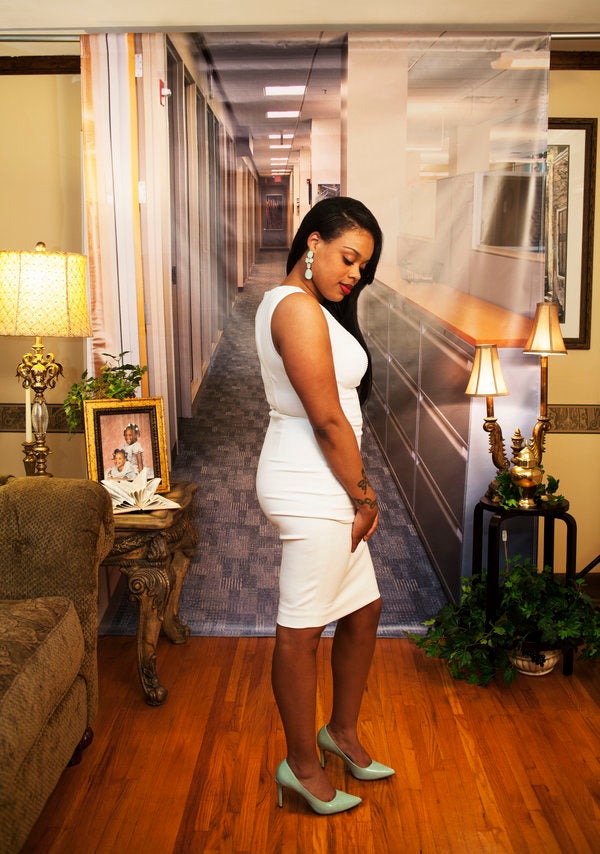 When artist Endia Beal was working toward her MFA in photography at Yale, she took a job at the university's I.T. department. "It felt for me, when I was in a corporate space, that I was performing, kind of a theatrical performance," Beal, a statuesque woman with a voluminous afro, told The Huffington Post. "I knew I was going to get these glaring stares and inappropriate comments from my colleagues."
In her thoughtful new photo series, "Am I What You're Looking For?," Beal transports young black women into her old performance space, the I.T. office, to enact their own corporate personae.
Now an art professor at Winston-Salem State University, Beal began to notice that her own uncomfortable experiences at the Yale I.T. office were being echoed in her young students' job-seeking attempts. "My students were coming to me, and they were like, listen, Professor Beal, I went on a job interview and they told me that my hair was unkempt. Or they told me I needed to change how I looked," she recalled. "Your heels are too high, your skirt is too short, your earrings are too long. This is the advice they're given, and this is the advice I was given."
Realizing how often black women are still asked to tone down their self-presentation to appear "business-like" -- straightened hair, muted makeup, sober dark suits, and low shoes -- Beal embarked on a project that would reimagine what a successful black woman in corporate America could look like.
In the portraits, young women rock platform stilettos, bold body-hugging dresses and bouncy natural hair. In each, the subjects are in a different setting (their own homes), but Beal has the same backdrop unfurled behind them -- a huge photo of the Yale I.T. office.
Her choice of the technique, she said, was inspired by the photography of Harlem Renaissance artist James Van Der Zee, who would use lavish backdrops to transport his subjects to glamorous settings. "He'd put up a backdrop that looked like a beautiful villa in Paris," she said. But Beal's set-up -- a rote backdrop of bland corporate space, set within the visible trappings of the subject's daily home life -- dramatically juxtaposes the reality of these women's lives with the performance they're expected to give at work. "When you think about backdrops, you think about theater," she pointed out. "It's like a practice performance [...] I wanted women to be completely vulnerable, to be themselves, and dress and wear and act. "
To draw this out, she photographed her subjects in their homes -- sometimes several hours from campus -- but the actual process took some experimentation. "Projects evolve with trial and error," Beal said. Her first subject, Kiara, wore a dress Beal provided and began with studied, theatrical poses. But the photo Beal loved came at a moment when Kiara was between poses, standing awkward and uncertain in front of the backdrop. "I appreciated the awkwardness of not knowing what to do, because I feel that awkwardness you feel in front off the camera is the same awkwardness you feel at an interview. You're preparing yourself," she explained.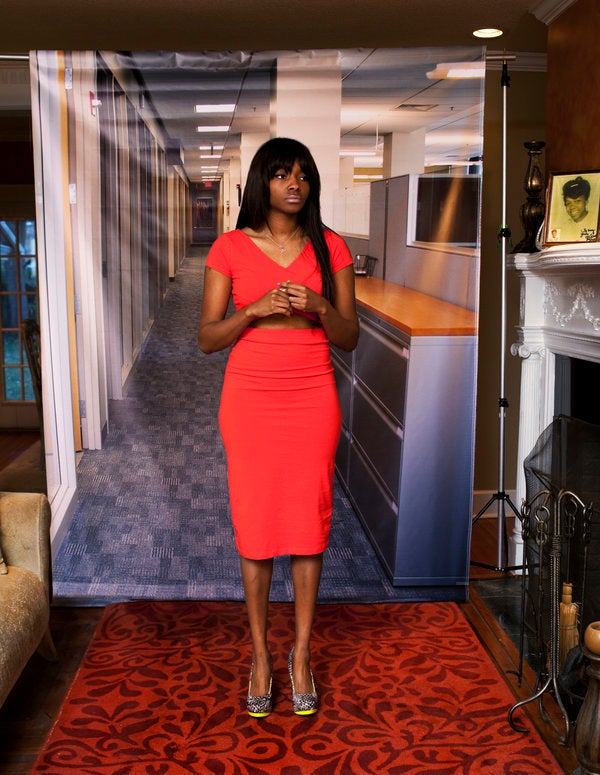 For most of the photo shoots, Beal asked the women to "wear what you would love to wear to an interview." Some are clothed in bright, form-hugging dresses; others in bold separates. There are afros, braids, and relaxed hair. The dull grey suit has been left behind. To elicit an authentic reaction, Beale said, "I asked the women to pretend you're waiting for that moment. You've practiced. You're ready. What do you think in that moment? Some of them were super confident. Others said, you know, I don't know what I'm doing next." Beal saw a sense of anxiety coming not just from the unfamiliar spotlight of the camera, but from knowing that "as a woman of color that these opportunities aren't going to be as available."
Using the I.T. backdrop brings her work back to where this all started for Beal. While at the I.T. department, she learned, her coworkers were discussing how curious they were about touching her hair. To explore the discomfort of the situation, Beal created a video in which her colleagues were actually invited to touch and grab at her hair, then talk to her about the experience. The video inspired her much-discussed series of portraits, "Can I Touch It," of white women wearing traditionally black hairstyles. By directly confronting the unsettling power dynamic at play, she said, "It made the comfortable uncomfortable."
For the new photo series, Beal turned her gaze more directly on the effects of the unthinking white privilege and solipsism examined in "Can I Touch It." Again, it started with a video, "9 to 5," in which she interviewed black women who worked in corporate settings. "I was looking for women who were more seasoned," she explained. "I found that each woman had the same story, despite the fact that they came from different fields. They had the same story, which was amazing to me."
While the young women she photographed have had different experiences and have different expectations, it's clear that they're still operating within the same limitations. Beal noticed this even within the comments of a blog that shared the recent New York Times feature on the series. "Normally I don't read comment sections, but it was interesting to see how people were like, 'These outfits are all inappropriate!' or 'These heels are too high!' -- even though these women were wearing what they loved to wear and being their authentic selves," she said. The reaction to her photographs makes the underlying pressure faced by these women explicit:
"We're looking at their resumes, but we're also looking at them. How they look," explained Beal. "What I found as a woman of color was even if I straightened my hair, put on no makeup [...] in many cases it still wasn't good enough."
"In this particular series," Beal said, "I'm asking people to question that more."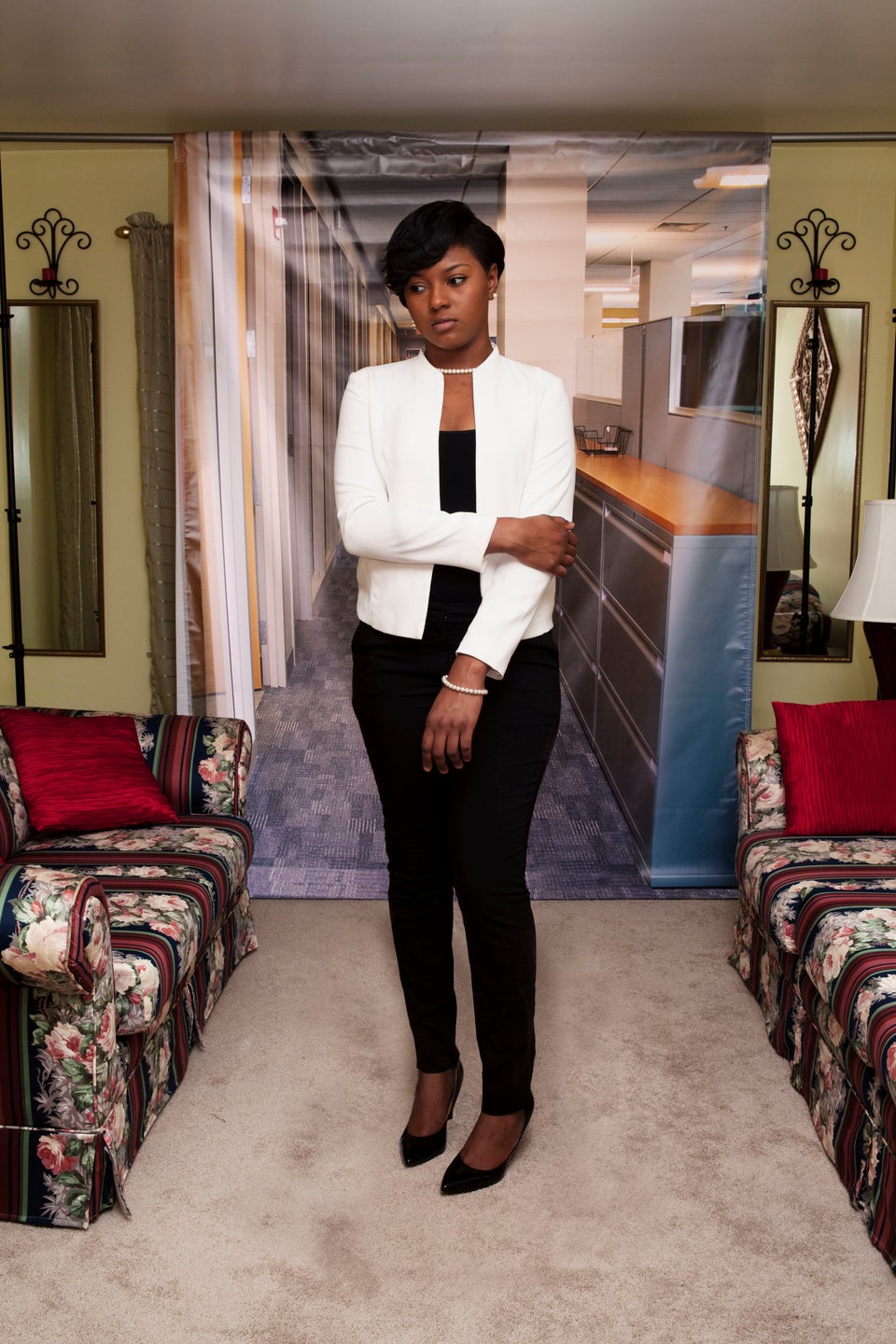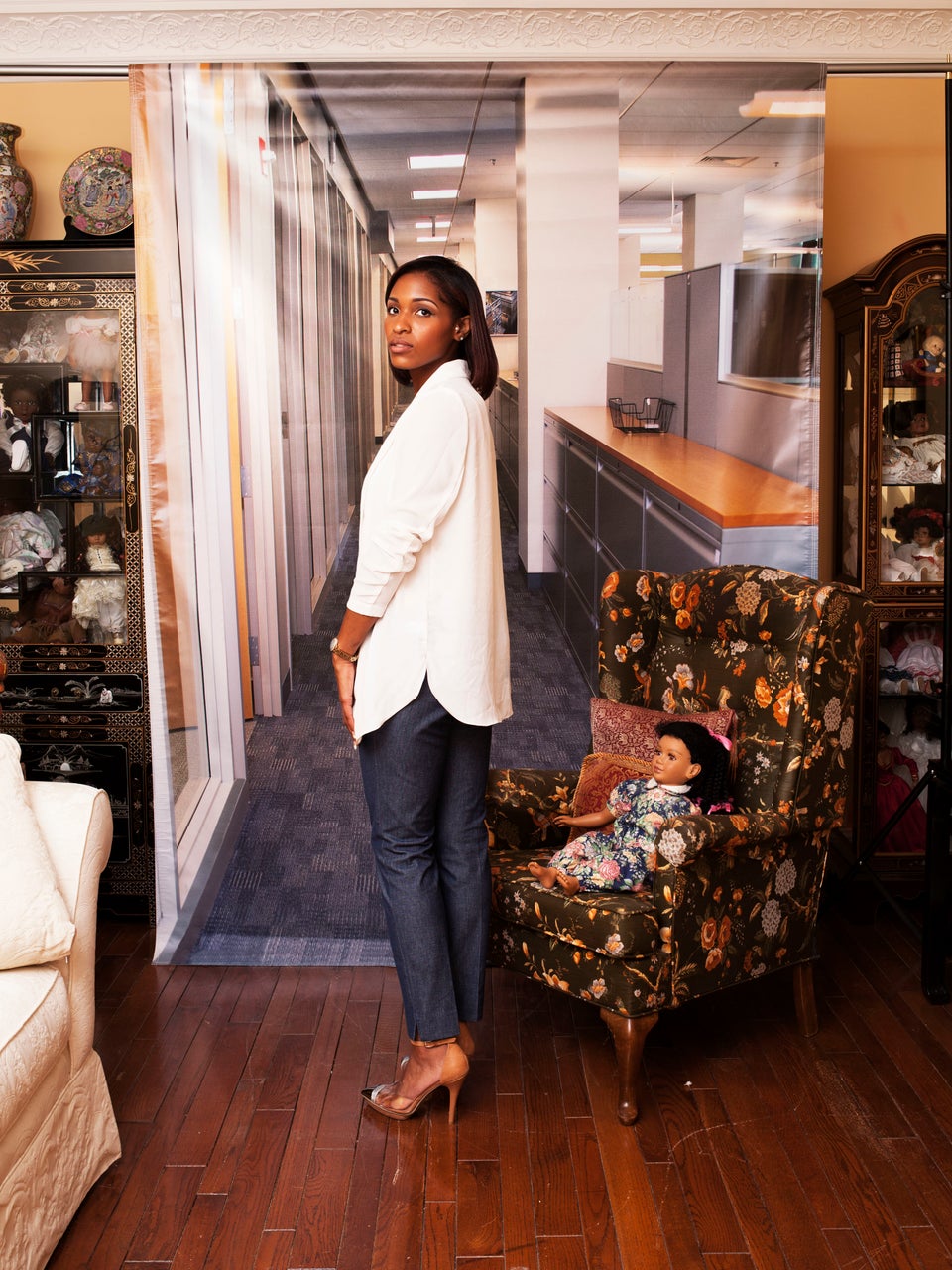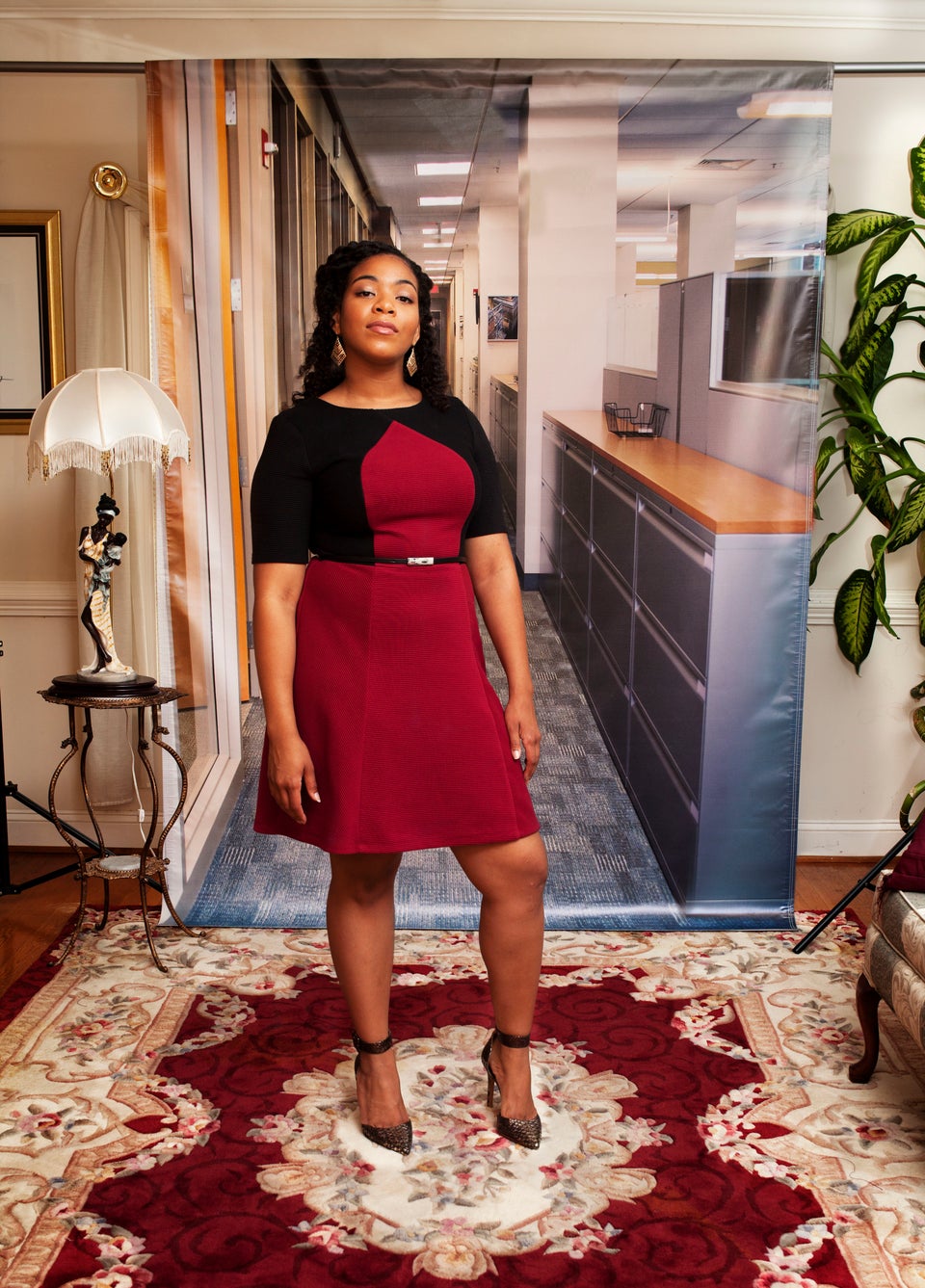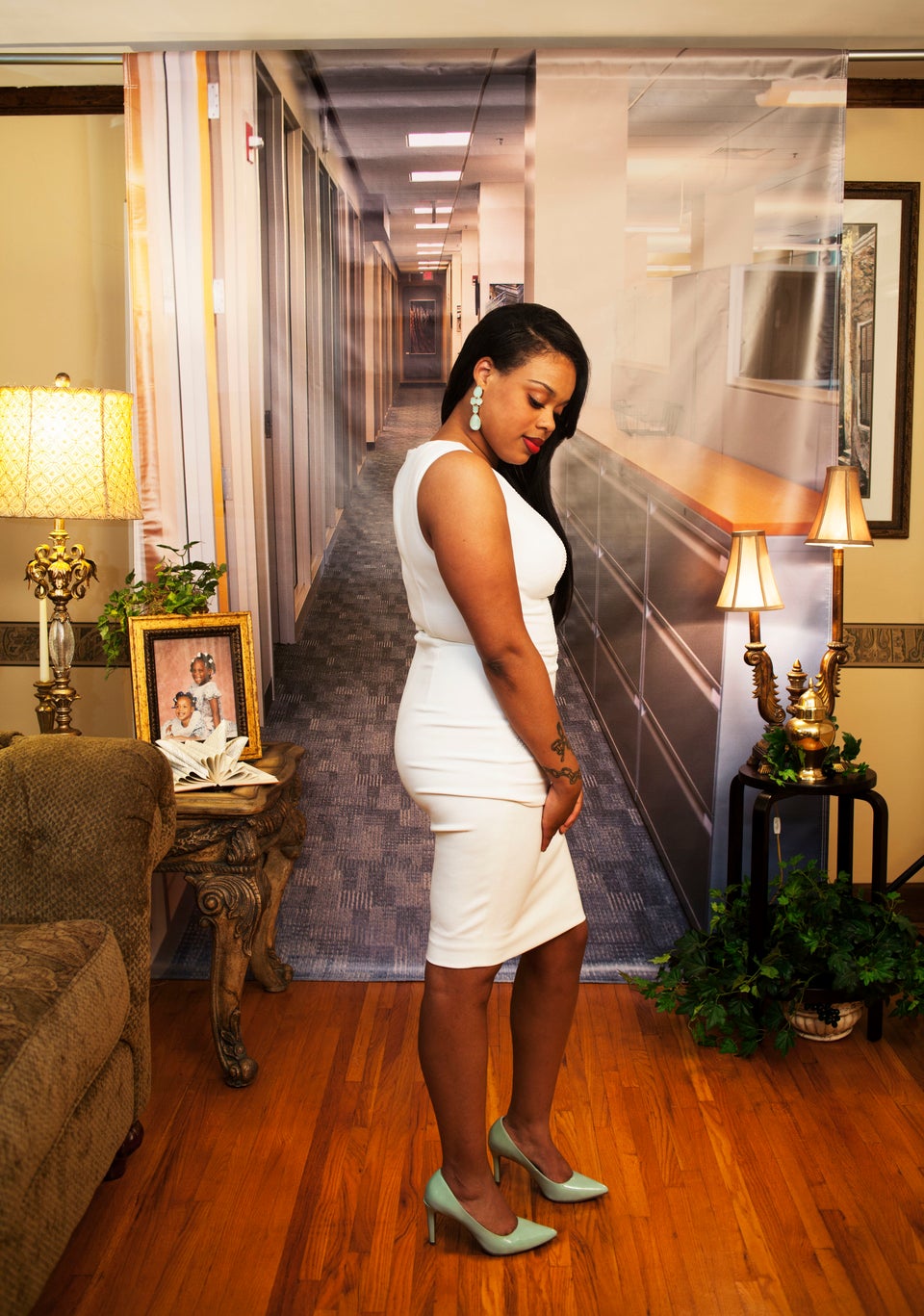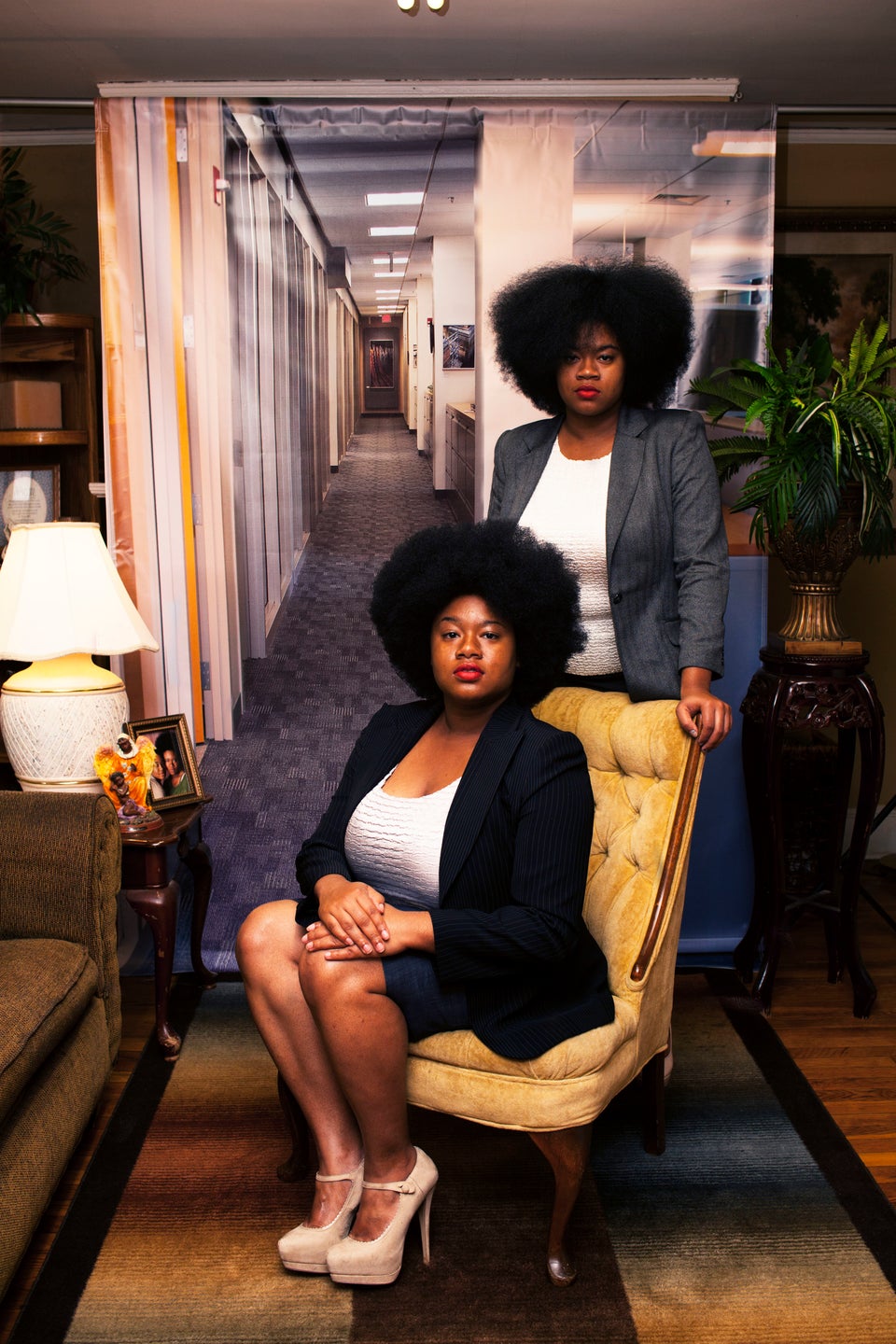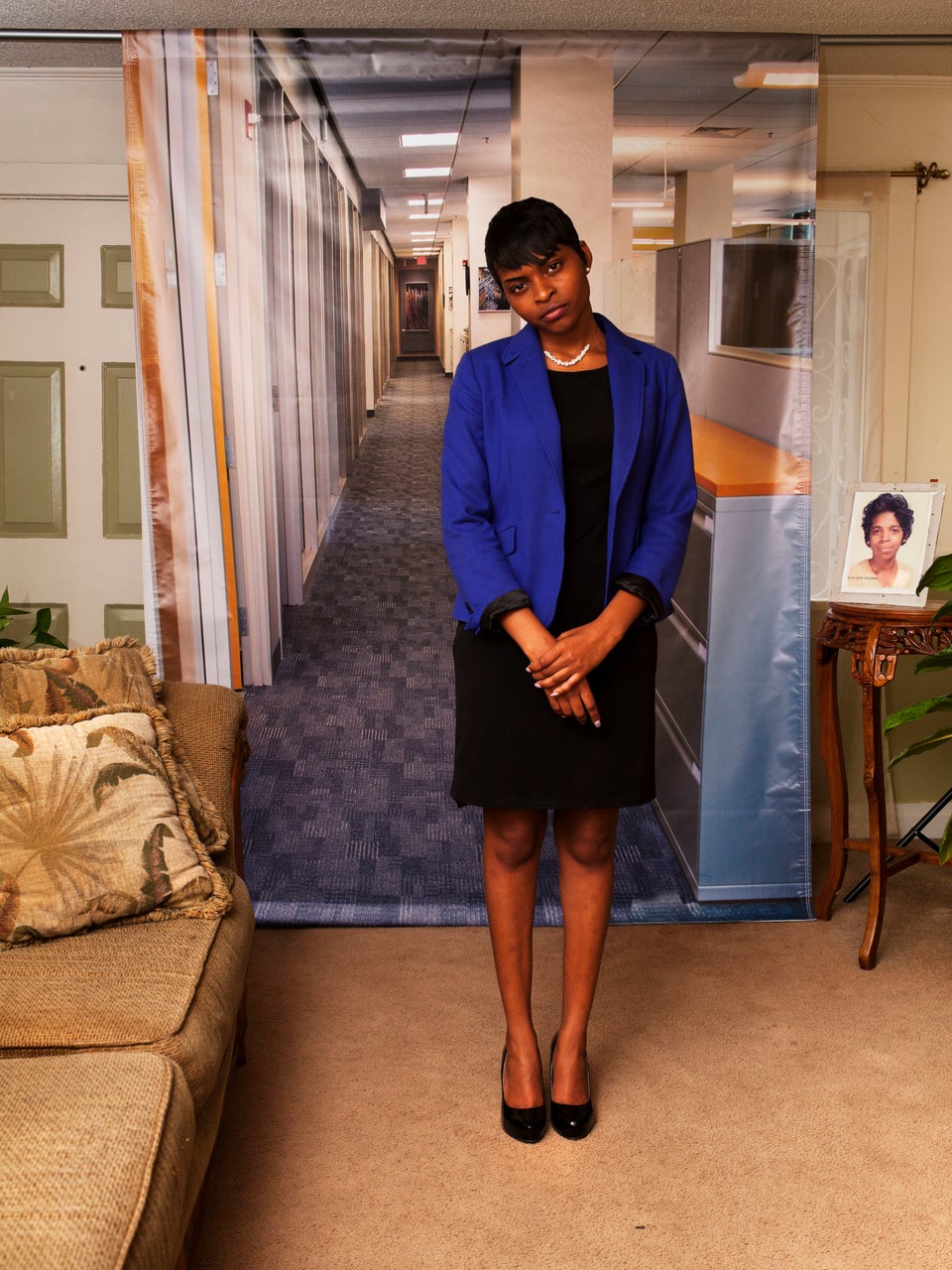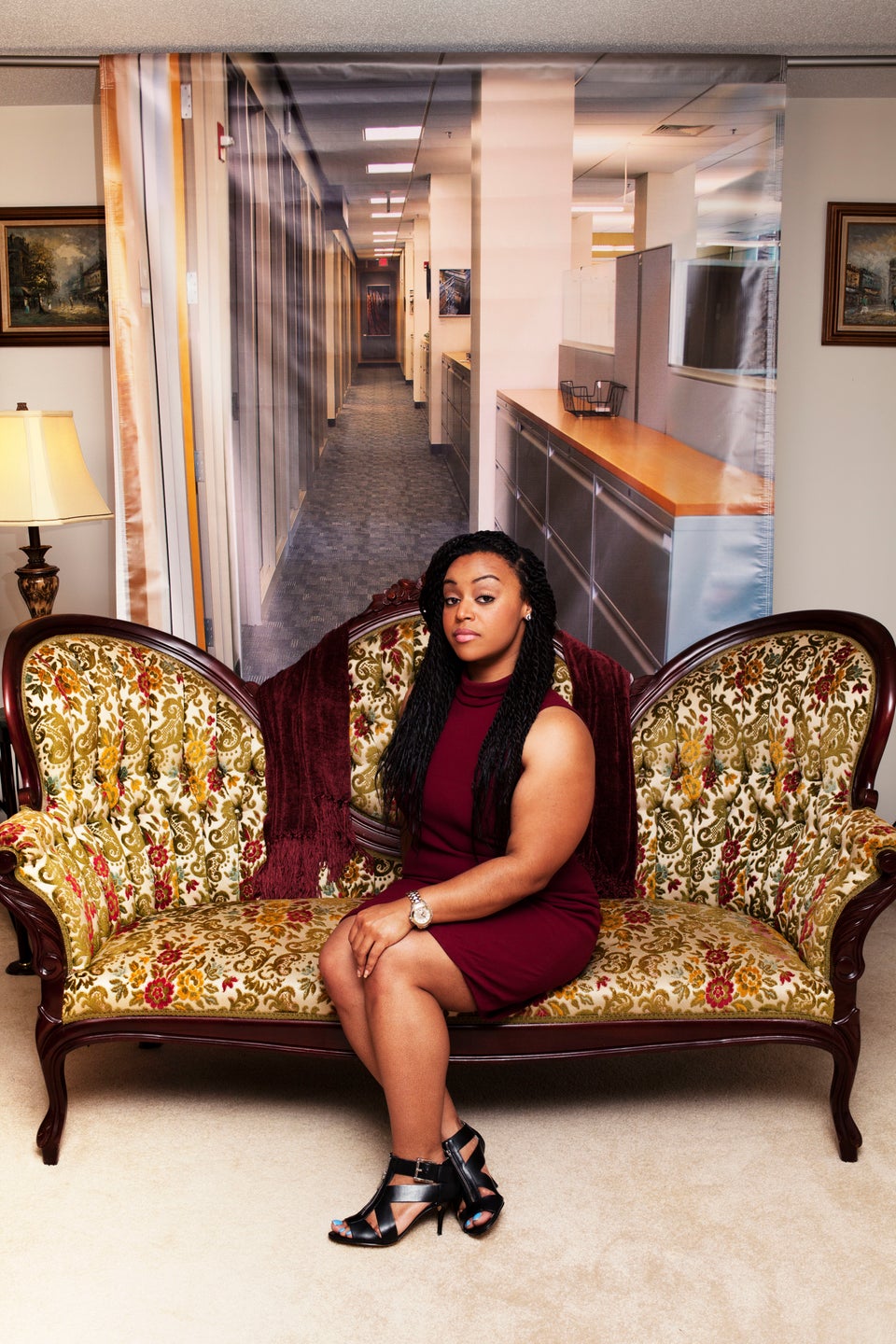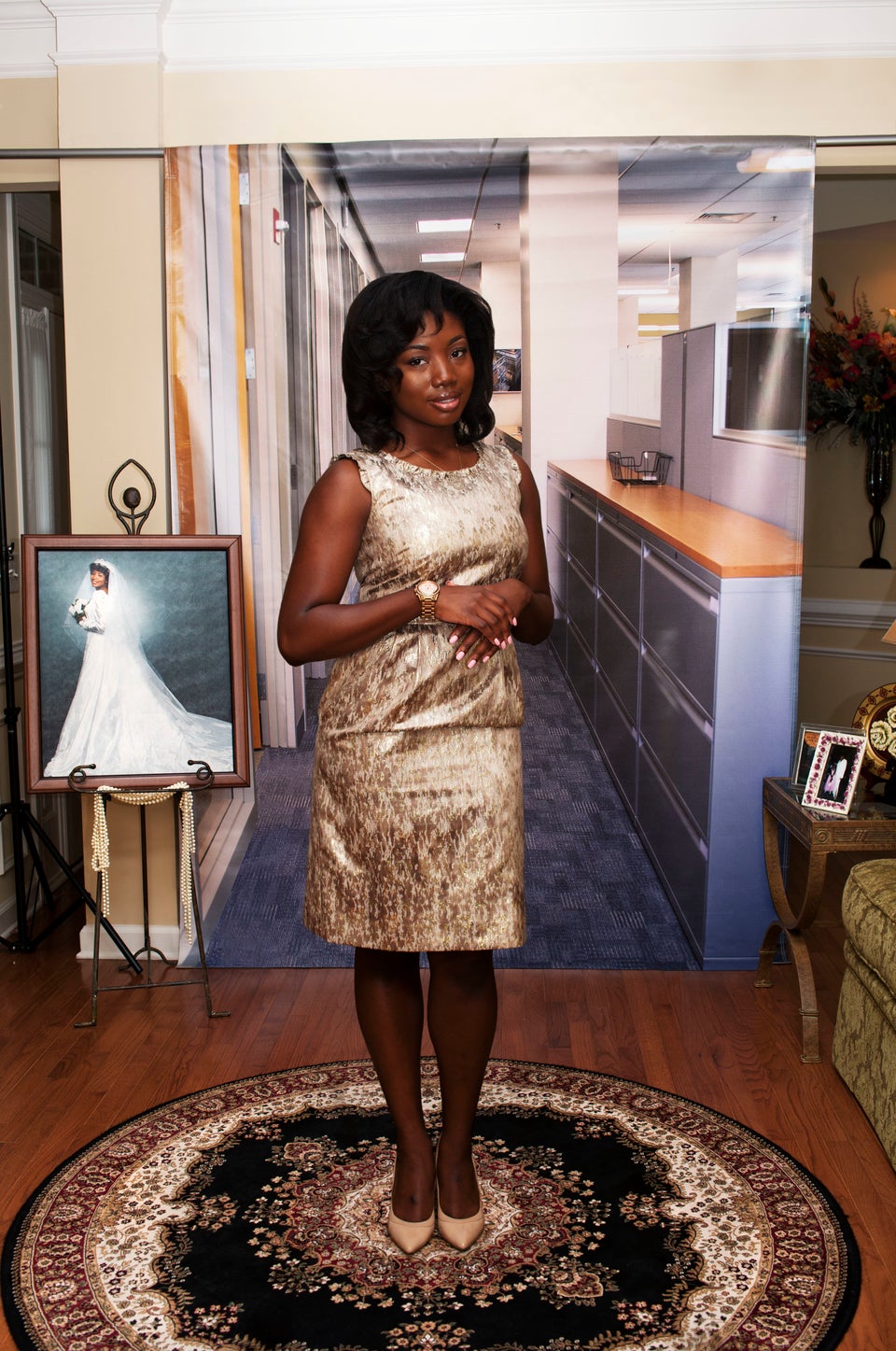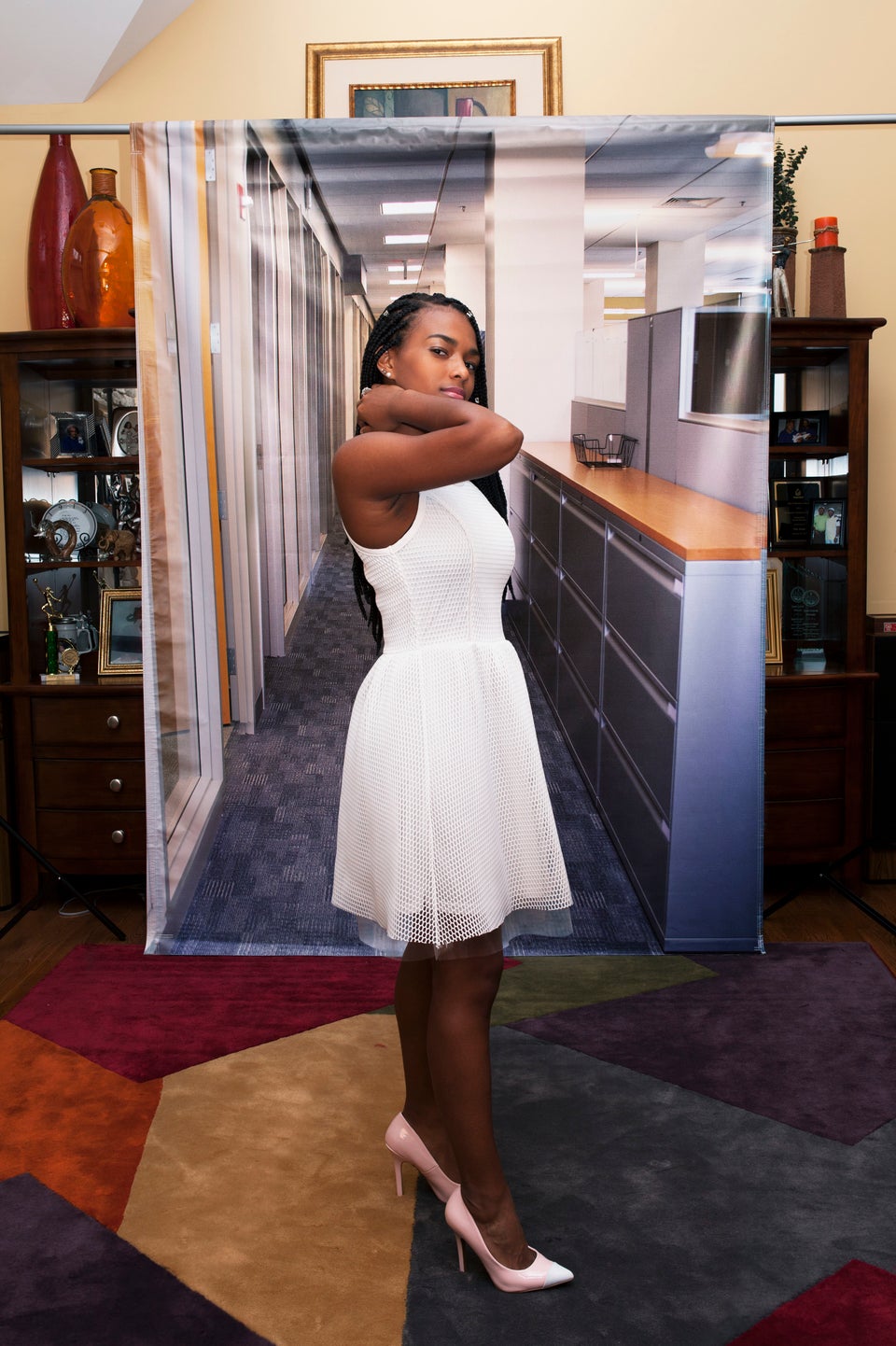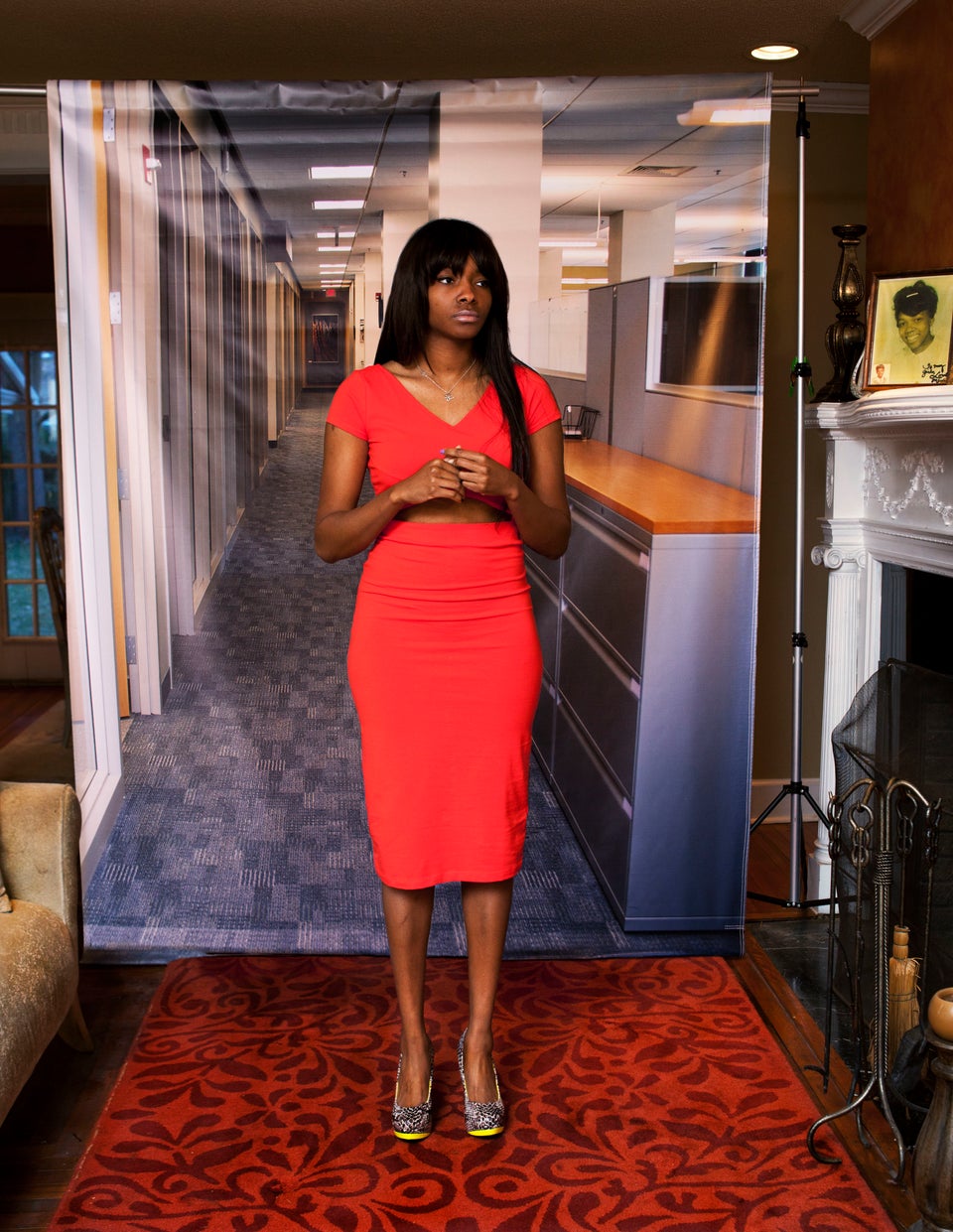 For more from Beal, visit her website.
"Am I What You're Looking For?" is on display through Dec. 19 as "The Performance Review" at the Turchin Center for the Visual Arts at Appalachian State University in Boone, North Carolina.
Correction: A previous version of this post incorrectly implied that the New York Times feature on "Am I What You're Looking For?" included a comments section. The comments referred to were posted on a blog that shared the feature.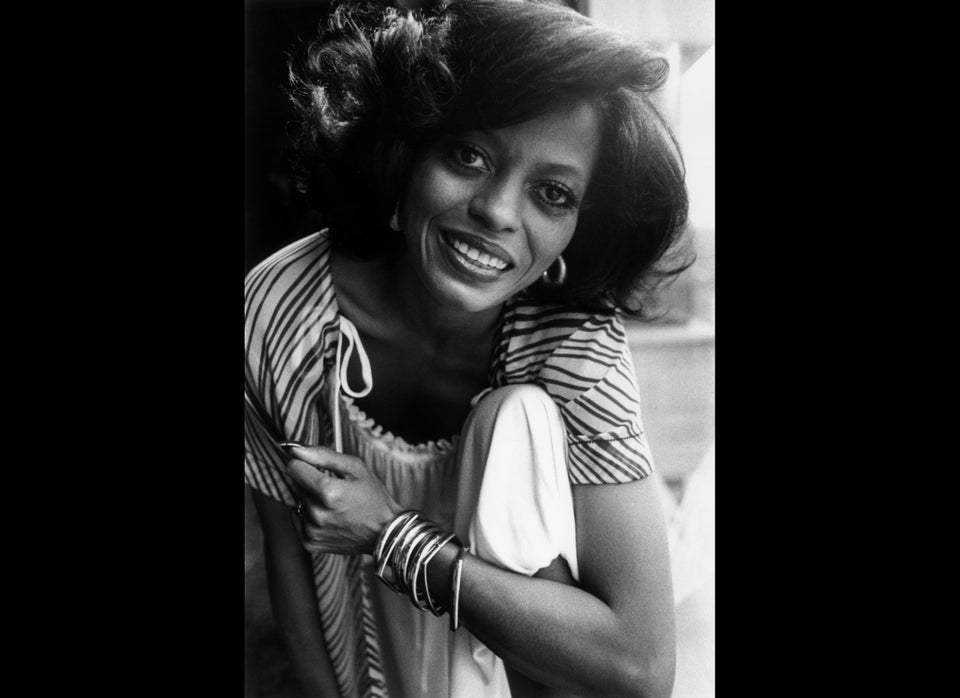 Black Hair Icons Over The Years
Popular in the Community