Co-authored by: Yamini Oseguera-Bhatnagar, POWER Health Coordinator at HIVE
With tremendous advances in HIV treatment and prevention, several jurisdictions in the U.S. have created frameworks to radically reduce HIV related deaths and new HIV infections. Current best practices in HIV care, treatment and prevention offer both high and low incidence areas the opportunity to develop local frameworks based on similar goals. Three existing initiatives, New York State's End AIDS NY 2020, Washington State's End AIDS Washington, and the City of San Francisco's Getting to Zero SF, gathered in conversation to discuss similarities and differences in their approaches as well as spark dialogue with other jurisdictions contemplating their own initiatives. Here is some of what was discovered: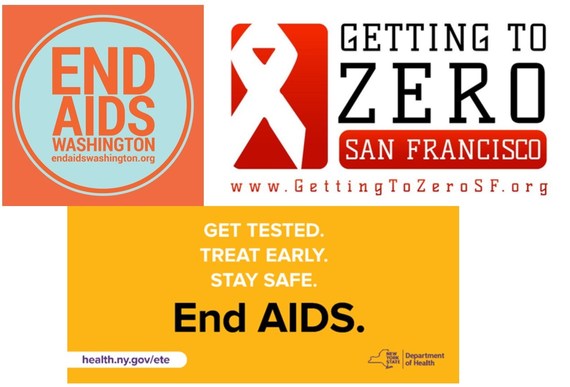 At a crossroads of possibility -- Getting to Zero efforts are nucleating at the crossroads of scientific advancement and structural innovation. New biomedical treatment and prevention options offer tremendous promise: persons living HIV when diagnosed and linked to care can live normal lifespans; pre-exposure prophylaxis has been a game changer in the HIV prevention paradigm offering a discrete, user-controlled HIV prevention method. On a systems level, the Affordable Care Act and expansion of Medicaid/Medical now provide insurance coverage for millions of previously uninsured Americans and consequently access to HIV treatment and prevention services. The federal Ryan White program -- which led the early efforts for patient-centered primary care with it's wrap around care service model -- funds remaining gaps in care for those who are uninsured or underinsured.
Early Momentum -- Each of the three jurisdictions have solid, effective existing programs across the treatment cascade (numbers of people who know their HIV status, are connected to care, on antiretroviral therapy, have an undetectable viral load); widespread success in broad HIV testing campaigns and/or efforts towards routine HIV screening; low or no perinatal HIV transmissions, already demonstrating structural ability to support treatment and prevention efforts for at least one population; early implementation of syringe access programs; innovators of pre-exposure prophylaxis implementation; department of health involvement in the initiative; and political will to mobilize around an AIDS free generation.
Framework Development -- Each of the three jurisdictions launched their initiatives with clear, audacious visions, well-defined goals, an embrace of existing partnership, a priority for addressing health disparities, committed infrastructure for the initiative, and new funding for priority areas focused on measurable objectives to meet the defined goals.
Diversity in Approach -- Though the three jurisdictions have much in common, there has been a diversity in the approach to seeking stakeholder input, strategies for community engagement, leadership roles and transitions, and partnerships with the community and private sector. While there are some key elements that need to be in place for a Getting to Zero framework to succeed, there is opportunity for local innovation, prioritization and development
Shared Opportunities -- Even with the tremendous success and as we move forward, all three jurisdictions embrace opportunities to grapple with and end HIV-related stigma; developing iterative metrics to measure the impact; soliciting and integrating broad stakeholder input; and finally, effective solutions for formidable structural issues such as housing, mental health service, and support for those who are substance involved.
The concept of a city, state or country being able to entertain or work towards such ambitious goals as Ending the Epidemic or Getting to Zero are now propelled forward with recent advances in antiretroviral treatment and prevention methods. But the truth is, Getting to Zero is only possible because of the ongoing work, often above and beyond the call of duty, by front line workers and providers; efforts made in the day to day, the mundane, the stressful and overwhelming times. This is conversation is possible because of the dedicated HIV workforce and committed community members -- those who chose to take an HIV test, to opt into care, to struggle with disclosure or addiction or negotiating a partnership. As we embrace the possibility before us, a deep bow of gratitude to those who brought us here.
Related
Popular in the Community