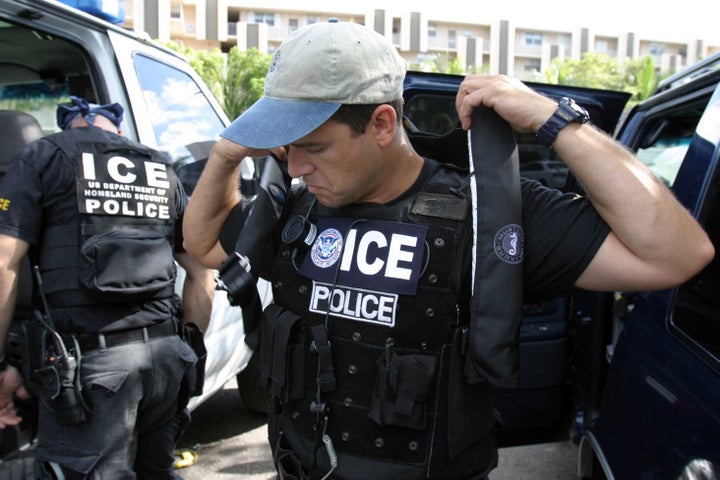 Ending the Deferred Action for Childhood Arrivals (DACA) program is flat out wrong and inhumane.
Trump is jeopardizing the lives of 800,000 young undocumented immigrants who came here seeking better opportunities, often fleeing tough or dangerous conditions at home.
There's not much more to be said than that—except that it's also a big moneymaker for a handful of private investors and corporations. Trump and Attorney Jeff Sessions are the racists leading the charge, but it's those that profit from immigration deportation that will gain the most.
Private prison corporations already detain nearly two-thirds of the undocumented immigrants in Immigration and Customs Enforcement (ICE) custody, but ending DACA will surely give them more.
See, the two biggest private prison corporations, GEO Group and CoreCivic (formerly CCA), are actually legally structured as real estate companies. In their words, they provide the public with "real estate projects," not incarceration. They see policies like ending DACA as an "opportunity" to build more immigration detention centers "throughout the country rather than only clustered along the southern border."
(By the way, their status as real estate companies also gives them a massive tax break. In 2015 alone, the corporations used their status and other avenues to avoid a combined $113 million in federal income taxes. Taxpayers are essentially paying them a bonus to cut corners, hurt prisoners, underpay workers, and make it harder for us to send less people to prison and jail.)
Beyond GEO Group and CoreCivic, a whole host of corporations that provide prison health care, food services, phone calls, bail bonds, and other services stand to profit from more people being deported. Even Wall Street and the airline industry could get in on the action.
And who knows how many of Trump's friends could profit? This spring ICE opened an office in the same building as the headquarters of Buffalo power broker Jeremy Jacobs's corporation, Delaware North. The Jacobs family donated more to Trump's campaign than anyone in Western New York and last year hired a former US Attorney who had just led the largest workplace immigration raid during the Obama administration.
We need mass action to force congress to act before the DACA program ends in March. We also need to keep shining the light on who profits from racism. That's how we win.
Correction: This article originally stated that Delaware North is the owner of The Delaware North Building and the landlord to ICE, which occupies offices on the 7th floor of the building. Though the building is named for Delaware North and is 70% occupied by Delaware North and related entities, the ultimate owner of the building is a shell company tied to Uniland, the developer of the building.
Calling all HuffPost superfans!
Sign up for membership to become a founding member and help shape HuffPost's next chapter