In just five years, the U.S. could end the problem of lead poisoning, a group of health experts argues ― if federal overseers are given more ammunition to attack the problem despite an administration that wants to gut regulations.
A coalition of scientists, doctors and children's health advocates published an opinion piece in the Journal of the American Medical Association Pediatrics on Monday that calls on the government to stamp out lead poisoning in American children by 2021 ― or ensure no child has a blood lead level greater than 5 micrograms per deciliter ― and eliminate lead exposure altogether by 2030.
Project TENDR (Targeting Environmental Neurodevelopmental Risks) advocates for reducing exposure levels to chemicals and pollutants that contribute to neurodevelopmental problems, such as attention deficit hyperactivity disorder (ADHD).
Lead contamination of the drinking water in Flint, Michigan, which caused a rise in the number of the city's children who had lead poisoning, drew public attention to the problem in 2014. But lead exposure affects communities across the country. The U.S. Environmental Protection Agency, which enforces lead restrictions, estimates 6.5 million to 10 million homes are connected to lead service lines.
Nearly 3,000 areas in the U.S. have higher lead poisoning rates than Flint, according to a Reuters investigation. Exposure to peeling paint in older homes is the biggest source of lead poisoning, disproportionately affecting low-income families.
Forty years ago, 88 percent of young children in the U.S. had elevated levels of lead in their blood. Today, just 2.5 percent of kids ages 1 to 5 have lead levels above the now-lower threshold set by the Centers for Disease Control and Prevention in 2012. (The threshold had been 10 micrograms.) But lead is a neurotoxin that isn't safe in any quantity. It's particularly toxic for young children, increasing their risk of brain and nervous system damage.
"Lead is one of those things that people tend to get lulled into a sense that 'we've already dealt with the issue, we took it out of gasoline and regulated the amount in paint,'" said David Bellinger, lead author of Monday's article and an environmental health professor at Harvard University.
"It took something like Flint for people to realize that there's just enormous reservoirs of lead out there in the environment … and that all it takes is some human error or some engineering failure and the problem resurfaces," Bellinger said.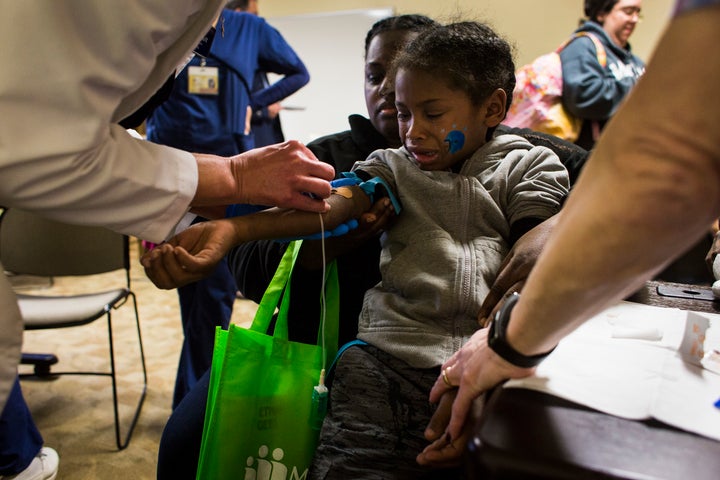 Bellinger said the drastic reduction in lead exposure since the late 1970s shows how effective regulations have been, but he said that the EPA and other federal agencies need to strengthen their lead restrictions ― which cover drinking water, paint, air quality, soil, dust and other sources ― to keep up with current research.
Project TENDR also calls for dedicated funding for more programs that actively eliminate sources of lead. They say the government needs to put a complete ban on the use of lead in products including aviation fuel, cosmetics, wheel weights, industrial paints, batteries and lubricants.
Repealing lead regulations or defunding prevention programs would "perpetuate a completely preventable public health crisis," the groups wrote on behalf of residents at the East Chicago complex, designated an EPA Superfund cleanup site.
The EPA has been looking at updating its lead rules for a couple of years, including possibly requiring cities to replace all lead pipes, one of the goals of Project TENDR. But the agency acknowledges it would be an enormously difficult and expensive undertaking ― Flint received tens of millions of dollars from the EPA and the state of Michigan to replace its lead service lines, and nationwide pipe replacement would cost more than $16 billion.
"It's going to make the work harder to fight back against the rising tide," Bellinger said of Trump's anti-regulation crusade. "So we just have to work with our representatives, our senators, and make sure that these issues don't get pushed aside and that at least Congress is trying to keep a focus on them."
REAL LIFE. REAL NEWS. REAL VOICES.
Help us tell more of the stories that matter from voices that too often remain unheard.
BEFORE YOU GO
PHOTO GALLERY
Why Scott Pruitt Is A 'Dangerous' Choice To Lead The EPA