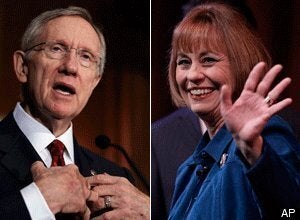 In the latest example of outside spending playing an outsized role in races this election season, a shadowy Florida-based group has just invested $594,438 in the Nevada Senate race against Democrat Harry Reid.
The money for the ad buy is going to the Herald Group, Washington, D.C. public affairs firm. Almost nothing is known about the Ending Spending Fund, one of a growing number of new "super PACs" that are allowed to raise and spend unlimited amounts of money outside the public eye. Often, as The Huffington Post has reported, they are funded by one or two wealthy donors and their headquarters is little more than a mailbox.
The Ending Spending Fund, founded just this month, lists its treasurer as Nancy H. Watkins, who works with her husband Robert -- named as the assistant treasurer -- as an accountant at 610 S. Boulevard in Tampa, Fla., which is also listed as the mailing address for the Ending Spending Fund. The Huffington Post called the Watkins' business and left a message, which was not returned.
Google Maps image of the Ending Spending Fund's address:
Watkins, interestingly, is listed as the treasurer for at least four independent expenditure groups, according to Bloomberg News's Greg Giroux. But her involvement in the Republican Party and conservative movement is likely much deeper. According to a September 2009 article in Florida Trend, Watkins is the
"GOP's go-to accountant". At the time, she served as the treasurer "on dozens of state and federal candidates' campaigns, political action committees, leadership PACs and various 527 groups. In any given election cycle, Robert Watkins & Co. will handle the finances of more than 100 political entities."
Watkins also told the publication that she has been able to expand her business with groups outside of Florida, including a growing number of independent expenditures.
In 2009, Watkins and Martinez for Senate, for which she was treasurer, was fined $99,000 by the FEC for accepting contributions exceeding legal limits, failing to file required notices of the donations, and failing to "disclose joint fundraising proceeds."
Both Nancy and Robert Watkins have made many political donations to Republicans over the years, according to FEC reports, although only Robert has donated this election cycle.
Ultimately though, all this information tells the public virtually nothing about the Ending Spending Fund. Why is this group investing in Nevada? Who is funding it? Who founded it? Will it be investing in any other races? Does it have any staff besides Nancy and Robert Watkins?
UPDATE, 10/21/10: The president of the Ending Spending Fund, Brian Baker, contacted The Huffington Post after this story went up and gave more information about the group:
Taxpayers Against Earmarks and the Ending Spending Fund are new nonpartisan groups formed to advocate for the elimination of earmarks and dedicated to finding solutions to the broken Congressional budget and appropriations process. The Ending Spending Fund is a "superpac" conducting independent expenditures in key Congressional races around the country to highlight earmarks and how Congress is broken. The Ending Spending Fund is registered with the Federal Election Commission and reports all donors and expenditures.

Taxpayers Against Earmarks is an ongoing advocacy entity dedicated to changing business as usual in Washington. Every member of Congress is classified as either a "hero" or a "hooligan," and they are listed on the website at www.endingspending.com, along with an interactive map showing all the earmarks across the country.

Joe Ricketts is the founder and chairman of both Taxpayers Against Earmarks and the Ending Spending Fund, and to date is the sole donor to both entities.
*************************
What's happening in your district? The Huffington Post wants to know about all the campaign ads, debates, town halls, mailings, shenanigans, and other interesting campaign news happening by you. E-mail us any tips, videos, audio files, and photos to election@huffingtonpost.com.
Related
Popular in the Community