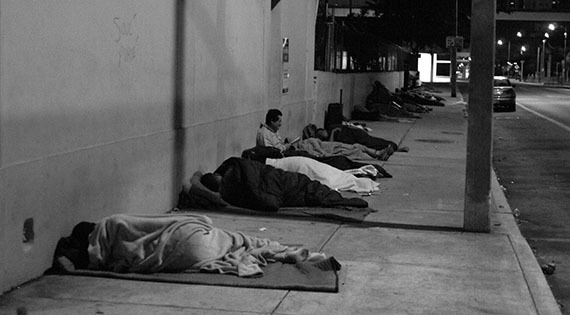 What do Virginia, New Orleans and Houston all have in common? They are among the growing list of localities that have ended Veteran homelessness and are proof that, community by community, it's possible to make sure every Veteran has a place to call home.
In 2009, when President Obama challenged the nation to solve this important problem, few thought it would be easy.
Yet the 2010 release of Opening Doors, the first ever plan to prevent and end homelessness in the United States, was a galvanizing moment. VA staff and our many federal and community partners came together and committed to reaching, rescuing and housing every Veteran in need.
National Progress and Community Successes
As we head toward 2016, we can report that by many measures, significant progress has been made.
For a national "snapshot" of homelessness on a given night in America, we can look at the point-in-time (PIT) count that is conducted annually by the U.S. Department of Housing and Urban Development (HUD). That newly released estimate shows that homelessness among Veterans across the country is down.
But this big picture isn't the whole story: The PIT count doesn't reveal the ever-growing list of communities that have already ended homelessness among Veterans or are on track to doing so. This includes the state of Virginia; Flagler County, Florida; Winston-Salem, North Carolina; Houston; New Orleans; Mobile, Alabama; and Saratoga Springs and Troy, New York.
Our ability to track and report on these community-by-community successes is made possible by new guidelines developed by the United States Interagency Council on Homeless (USICH), HUD and VA. The guidelines let communities track specific steps that take a Veteran from homelessness to permanent housing, such as:
Identifying every Veteran by name
Documenting specific offers of housing
Tracking on-the-ground capacity to get Veterans into permanent housing
Setting up the systems to help homeless or at-risk Veterans get housed in the future
The result is a very local picture of the work being done to house Veterans, which is verified by federal officials and reported on a regular basis.
These developments indicate that, thanks to federal efforts by VA, HUD, USICH and other partners, the steadfast leadership of governors and local leaders, and the contributions of business, nonprofits, the faith community and many others, the end to Veteran homelessness is not just possible, but already happening.
We can point to many reasons for these successes. Here are just a few:
The decision in March 2014 by VA, HUD and USICH to focus intently on partnering with leaders in 25 cities with high concentrations of homeless Veterans.
The subsequent dramatic response by leaders across the country to first lady Michelle Obama's Mayors Challenge to End Veteran Homelessness.
The continued efforts by HUD and VA to provide targeted housing vouchers and supportive services to Veterans, which have permanently housed, rapidly rehoused or prevented more than 360,000 Veterans and their family members from becoming homeless since 2010.
The flexible support offered under VA's Supportive Services for Veteran Families (SSVF) program, which resulted in more than 157,000 people -- including 98,000 Veterans and over 34,000 children -- remaining stably housed or quickly exiting homelessness in FY 2015 alone.
The ongoing funding by Congress of VA's many specialized homeless programs, which provided services to more than 300,000 homeless or at-risk Veterans in FY 2015.
While we are pleased with the progress to date, we can't let up. I can say without reservation that VA is committed to continuing our initiatives and programs to end and prevent homelessness among Veterans in 2016 and beyond, to sharing best practices and to helping even more communities end Veteran homelessness.
But we must do even more. Here's just some of what's needed:
More communities adopting evidence-based practices such as Housing First and rapid re-housing to quickly house Veterans who are homeless and enlisting partners who can help.
More employers recognizing the diverse skills that Veterans exiting homelessness offer and giving them a shot at applying for a job, even if they have previous criminal justice involvement.
More landlords agreeing to modify tenant-screening criteria to make it possible for formerly homeless Veterans with potential rental barriers (e.g., spotty credit or lack of a security deposit) to obtain permanent housing.
More property owners willing to rent to Veterans holding HUD-VA supportive housing vouchers and more commitments to expand affordable housing, particularly where vacancy rates are low and rents are skyrocketing. (Click here to view a video of first lady Michelle Obama encouraging landlords and property managers help end Veteran homelessness.)
As federal investments continue, local leaders step up and partners across the country dedicate themselves to this cause, I know we can end veteran homelessness--one home at a time, one job at time and one community at a time.
And as always, if you know a Veteran who is homeless or at imminent risk of becoming homeless, refer him or her to a local VA Medical Center, where homeless program staff are ready to help. Veterans and their families can also call 1-877-4AID-VET to get connected to VA services.
Photo credit: Point-in-time count in Miami, Florida. VA photo by Shane Suzuki.
Related
Popular in the Community