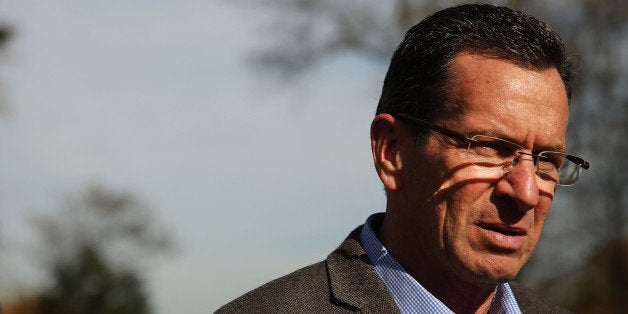 The governor and his colleagues in the legislature are heroes in the national effort to address the needs of our veterans struggling through homelessness and medical, mental and behavioral health challenges. They backed up their words with the deeds and resources required to get the job done. They are not alone. Hundreds of groups and advocates across Connecticut are heroes too and their actions should serve as a blueprint for others striving to end homelessness.
The governor would be the first to tell you he relied on a robust, committed network of nonprofits, providers, philanthropic funders and advocates throughout Connecticut, working hard in the trenches to elevate veterans to the level of attention and care they deserve. Our staff in Connecticut has been involved since the early days -- CSH helped fund the Victory Gardens supportive housing project for veterans -- and we've seen first-hand how this all unfolded.
The governor made the announcement at an event hosted by one of our partners, appropriately named the Partnership for Strong Communities. Their Reaching Home Campaign has galvanized advocates not only to end homelessness among veterans but to ultimately address all chronic homelessness in Connecticut - and the state is well on its way to accomplishing that goal too.
The Partnership's leadership role, bringing together the various organizations on the ground and building consensus, has made a big difference in realizing such extraordinary progress.
There is another partner organization, the Connecticut Coalition to End Homelessness, that's been a pivotal leader. Many of the local providers and advocates instrumental in the day-to-day activity that lends itself to helping and healing homeless veterans were at the table enthusiastically contributing because of the Coalition's credibility, encouragement and continuous outreach.
What we hear from everyone involved is that Connecticut tackled a very tough and complicated issue by:
Promoting and actually producing collaboration, cooperation and consensus at every level.
Providing enough resources to ensure access to affordable housing and community-based services for veterans in need.
Punching above their weight -- never being satisfied with progress in inches but going for the full nine yards.
Prioritizing and making sure the division of labor to tackle difficult tasks made everyone a player and did not overburden one or more groups.
There are other reasons Connecticut succeeded. The federal government, starting with First Lady Michelle Obama and Dr. Jill Biden, who are passionate about ending veteran homelessness, right through to the US Department of Veterans Affairs, the U.S. Department of Housing and Urban Development and the US Interagency Council on Homelessness, underscored the moral obligation we have to veterans and provided the guidance and some critical funding to get it done.
Also within Governor Malloy's Administration, there are agencies working tirelessly to assist providers and deliver much-valued assistance. The Connecticut Department of Housing, the Department of Mental Health and Addiction Services and the Connecticut Housing Finance Authority get the big picture and have been strong proponents of supportive housing and other evidence-based, proven interventions to end homelessness.
Circumstances beyond anyone's control can thrust people into homelessness. Our responsibility, therefore, is to have the systems, programs and services in place, ready to go, lifting people out of homelessness and keeping them housed. All of the partners in Connecticut have accomplished this and so much more. The key now -- especially as the governor and legislature grapple with tough fiscal choices on the horizon -- is to guarantee we do not slip back and that vulnerable veterans in Connecticut will always have a place to turn.
This announcement makes it clear the state now has a vibrant safety net in place to quickly access housing and services for any vulnerable veteran lacking a home. For many veterans, that means the long road on which they journeyed in search of a place to bed down for the night has now ended at an open door, where services and the means to help them are just a step away.
Connecticut did not reach this milestone overnight. This has been a lengthy, strategic process, begun years ago as one of those "Wouldn't it be great if we could" moments. But everyone involved has remained laser-focused on the outcome, never wavering, pushing ahead for the greater good, and not just talking the talk but walking the walk. Because they did, they in fact proved "they could." As a result, Connecticut offers lessons in strategy and perseverance from which the rest of the nation can learn.
REAL LIFE. REAL NEWS. REAL VOICES.
Help us tell more of the stories that matter from voices that too often remain unheard.