My father passed in late May after several years of decline of what was to be eventually diagnosed as Lewy Body Dementia (the same diagnosis as Robin Williams). It seems rather common to hear of memory issues taking over families these days. Is it my age, or did the world start to lose its mind in greater velocity recently?
Spending extended periods of time in memory care facilities has brought the issue into my awareness and understanding in a way that I was blind to in the past. It's hard. It's expensive. It's easy to deny what is happening.
I started writing during my time in those underworlds. Inspired by my father's ability to surrender to the experience, and the truly unpredictable nature of life when being with those who are not tracking life the same way I am. For example, one minute a woman is showering me with love, and literally the next she is yelling a few inches from my face for being greedy and uncaring.
In mindfulness terms, this is what many of our inner dialogues sound like day in and day out.
Our family had the great fortune of Dad's kind heart and great sense of humor being what was left as all else fell away. I admit this was much easier company to keep while we waited for his inevitable slipping away into death.
Most residents in those facilities are alone, all day every day, the kindness of the caregivers is the only connection and love most have moving into the end. All of this makes me curious about how we will evolve to make space for all of this losing? Perhaps improv education to be able to meet what is happening with "yes and..." might be the way we are able to finally become present.
In this present moment is where love lives. I learned this in an absolute visceral way being with Dad in the silence. Holding his hand. Allowing myself to just show up as I am.
Here's a passage from the book I'm writing Ending With Love: A Father-Daughter Dance with Dementia.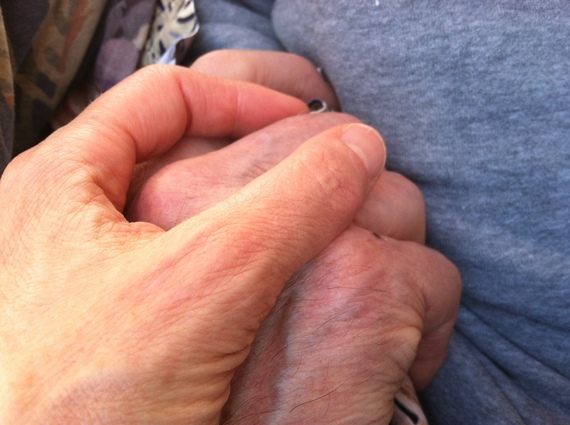 In 1989 I was drawn to go see the Dalai Lama. I went alone since none of my friends at the time had any interest.
As His Holiness entered the venue where 5,000 of us waited, I felt a soft yet fierce breeze move through me. I turned to the man next to me startled and said, "Did you feel that?!"
As Dad and I shared a quiet dinner in his room to get away from the bustle and crowded places, I felt a soft breeze move through. Dad suddenly opened his eyes from that dreamy distant place and asked, "Did you feel that?"
He and I have been spending the whole day alone on Sunday to give Dee Dee, his wife, a much deserved timeless day of recharge.
Dad spent much of the day traveling between worlds, me holding his hands and holding his heart with my prayers.
I could feel the quality of the other side, wherever we come from when we're born and return to when we die. I could feel it shimmering in all my cells.
The day had been emotional for me. A long week of transition coming to a close mixed with a confronting moment of communication from a dear friend (and perhaps the chocolate chip cookies I so enjoyed the day before.)
At one point during, Dad opened his eyes and asked concerned, "Are you in pain?"
I don't know if I've said clearly that most attempts at getting words out these days are a garbled stream that we attempt to translate as best we can.
I'm feeling protective of dad. I want him to have companionship, a hand to hold. A voice whispering, "I love you," in his ear and giving sweet kisses on his soft cheeks while he moves more deeply into his journey.
Ramona, one of the other residents, said, "He doesn't remember very much," and motioned her forefinger in a circle at her temple.
"I think you're wrong." I was defending his memory of those he loves and who love him. She added, "Can you get him to close his mouth?!" On these dreamy days in the wheelchair his mouth will stand agape for long periods.
It has been a cycle of more inward and then outward days for him. We all have cycles.
I asked his hospice nurse, Jeff, about what the end could look like and he confirmed that the cycles just seem to get closer together until the inward is where he'd prefer to stay.
For now, Dad is eating everything he's offered and has gotten his sweet smile and sparkle back.
The moments of sharing a meal and waiting for him to swallow and (especially when his eyes are closed during the whole event) to see his mouth open for the bite, is so precious.
I can only imagine how many meals he fed me in the very same way.
To find out more about Ending with Love: A Father-Daughter Dance with Dementia go to http://bit.ly/1NgrA5g
REAL LIFE. REAL NEWS. REAL VOICES.
Help us tell more of the stories that matter from voices that too often remain unheard.