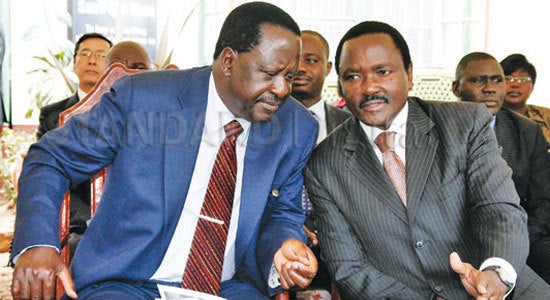 "I have also concluded that another four years of an Uhuru/Ruto administration would be akin to doing the same thing over and over again and expecting different results - Einstein's definition of madness."
This is my last post on Kenya's General Elections before the country goes to the polls on August 8, 2017 and regardless of the outcome, I pray and hope for a free, fair and peaceful election but even more importantly, I pray for a peaceful aftermath of the elections i.e. August 9th and beyond.
Over the past several months, I have had conversations with Kenyan colleagues and childhood friends about the presidential race and in no uncertain terms, I have made my preference for the presidency known:
Raila Amolo Odinga - President
Stephen Kalonzo Musyoka - Deputy President
The choice should not surprise anyone. It is in the public domain that I never supported the candidacies, then presidency/deputy presidency, of the former crimes-against-humanity suspects Uhuru Muigai Kenyatta and William Samoei Ruto.
My opposition to the duo strengthened when ICC Chief Prosecutor Fatou Bensouda's efforts to prosecute the two cases run into repeated abuses of power including witness tampering via bribery, witness intimidation and outright disappearances (of key witnesses) not to mention the (Kenyan) government's refusal to hand over documents (bank and phone records) vital to prosecution of the case.
The opposition to the self-described "digital duo" became total when the two went on to preside over arguably the most corrupt and hyper-ethnic government in Kenya's history - two issues that have threatened Kenya's long-term viability since independence.
Mr. Kenyatta's and Mr. Ruto's supporters have mostly pointed to the very public and visible Standard Gauge Railroad (SGR) and an assortment of infrastructure projects as evidence of the duo's "development record". They have also pointed to prosecution of a few low-level and inconsequential officials on charges of corruption. Omitted in the foregoing self-congratulations is the following:
- That though the Mombasa-to-Nairobi phase of the Vision 2030 mega-project was completed and operationalized during the current administration, the project was set in motion in 2009 during the Mwai Kibaki/Raila Odinga Grand Coalition government. More germane to my opposition of the current government is the corruption-induced cost-overruns ("eating" in local parlance) that have bedeviled the railway project and nearly all mega-projects undertaken over the last four years. And while there are some differences, Kenya's 427km-long diesel-powered SGR costs $270million more than Ethiopia's 756km-long electrified SGR. Additionally, the same government that never saw a "project ribbon-cutting" ceremony it didn't like was just as adroit in shifting blame when things went awry!
- That though some cabinet ministers were forced to resign over charges of corruption, the tortuously slow pace of their prosecution pales/d in comparison to the lightning-quick pace with which justice is meted out against everyday Kenyans on charges such as stealing bread! Mr. Kenyatta's hypocrisy and impotence on gross corruption was on full display not once or twice, but at least three times when (a) public (and opposition pressure) forced CS Anne Waiguru out of office due to misappropriation of ~KSh.1billion - this after steadfast support from the president, (b) he remained curiously silent when his sister and cousin were ensnared in the KSh. 5bn Afya House scandal, and (c) he threatened the death penalty for vandalism on the SGR even as he exasperatedly asked Kenyans what (more) they wanted him to do to fight official corruption!
- The level of official corruption, ethno-nepotistic incompetence and impunity has been so rife under the current government that Kenya recently fell behind Ethiopia as the region's premier economy AND is now struggling to keep ahead of regional neighbors Rwanda and Tanzania; a situation exacerbated by reports of efforts by regional and continental neighbors to "isolate" her.
So while some discussions have been heated, I have remained steadfast, more in my support for the Raila/Kalonzo ticket than in my opposition to the Uhuru/Ruto ticket even though there is enough basis to oppose the latter. Additionally, my support for NASA is neither blanket nor without conditions. I am fully cognizant of the concerns many have voiced about a Raila/Kalonzo presidency including:
- That they - Raila/Kalonzo and Uhuru/Ruto - are "different monkeys** inhabiting the same forest" i.e. not much will change,
- That both pairs have benefited from the status quo and are part of the swamp that needs to be drained,
- That Kenya has been held hostage by the Kenyatta/Odinga dynasties,
While the foregoing concerns are not necessarily untrue, I have also concluded that another four years of an Uhuru/Ruto administration would be akin to doing the same thing over and over again and expecting different results - Einstein's definition of madness. This is particularly true since President Uhuru Kenyatta and his deputy William Ruto were mentored - alternately - by the country's past two presidents - Daniel Moi and Mwai Kibaki.
It is with this in mind that I am choosing to try something different,
To paraphrase US President Donald Trump's inelegant challenge to African Americans during his 2016 race against Hillary Clinton:
"What the hell do Kenyans have to lose voting for the other pair of (metaphoric) monkeys** Raila/Kalonzo to occupy the forest that is the government of Kenya?"
The Uhuru Kenyatta and William Ruto pair of primates** (continuing with the 'monkey/forest' analogy) has not only demonstrated its incompetence, it came into office while still facing crimes-against-humanity charges - crimes no one has been held accountable for a decade later! On this alone, how worse can Kenya get under the Raila/Kalonzo pairing?
- The country is hungry and thirsty,
- Particularly among its youth, Kenyans are severely unemployed even as opportunities - even in semi-skilled positions - are taken by the Chinese, their provision of financial aid facilities notwithstanding,
- The rich/poor gap has continued to grow with a few families and their friends owning an inordinate amount of wealth and land even as millions of Kenyans eke out livings as squatters in their own country,
- The country has never been more divided along ethnic fault-lines thanks to a Jubilee duopoly that came into power due to the numerical advantage of their (two) ethnic bases AND effectively divided the proverbial "matundu ya uhuru" between said lines. This they did even after various reports (TRJC and Kriegler Reports) cautioned about the latent but real danger posed by the on-going marginalization of certain communities and regions - devolution notwithstanding.
All told, the foregoing provides a compelling case why Kenyans should elect Raila Odinga and Kalonzo Musyoka as their president and deputy president in eight days.
They have very little to lose.
(** Please note, references to "monkey/s" is NOT racist. It is a popular expression - in Kenya)
Calling all HuffPost superfans!
Sign up for membership to become a founding member and help shape HuffPost's next chapter
This post was published on the now-closed HuffPost Contributor platform. Contributors control their own work and posted freely to our site. If you need to flag this entry as abusive,
send us an email
.