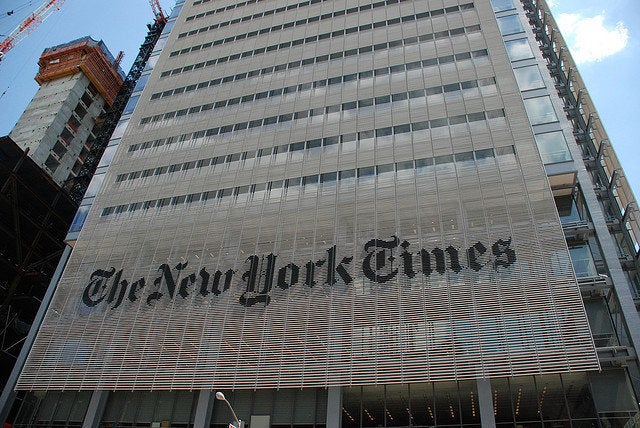 The Times is a news product that has become as much a hybrid magazine-newspaper on both its Internet site and its print version. Once it was the "Paper of Record," printing maps, excerpts from -- if not complete -- historical documents, the names of cabinet members of important and not so important countries, and daily updates on the progress of bills through congressional committees.
The Internet, cable TV news channels, and 24/7 news radio have, of course, changed all that. Major news stories and not so major ones are posted online and on cable news, even if the stories later need to be corrected and updated. We all know immediately or soon after when something happens; for example, anyone can follow sports or the stock market in almost real time. When I was growing up in the New York area, people would buy the afternoon newspaper for stock prices, sports scores, and updates. Now even New York City is without an afternoon paper.
No longer the source of breaking news, the Times in its printed newspaper focuses on a five-pronged approach. First, it stresses analysis in the Sunday Review as well as in the daily paper. Second, the Times provides major investigatory journalism, what it calls "enterprise journalism." The Times still has the resources to pay a reporter or a small group of reporters for months to do a story and the flexibility with its large staff to assign stories that take time, while most papers and other media sources don't. Such a story was the exposé that 100 percent of retired conductors on the Long Island Railroad were retiring with huge disability payments. Third, the Times has ratcheted up its cultural coverage and extended it beyond New York City. Fourth, it has become more of a national newspaper, and with its Chicago, Texas, and Bay Area editions, has begun to make the national edition more local.
Finally, the Times now does much more of what is called value-added journalism, or what I call "life school." It offers practical advice on virtually every conceivable subject, whether it be retirement, investment, health, nutrition, restaurants, caring for elderly parents, or charitable giving. In these ways, the Times has become more of what used to be thought of as a magazine.
The Times, with its twenty-six foreign news bureaus, is the only U.S. paper or media outlet that still provides substantive foreign coverage. The major networks and cable stations as well as other newspapers borrow this news from the Times site without paying the Times anything.
You may see Anderson Cooper on the tarmac, but the Times is the only U.S. media source that covers in-depth places like Afghanistan, Iraq, and Pakistan and keeps up with such hot spots as Iran, Israel, Palestine, Zimbabwe, Syria, and Libya. Foreign reporting at this level requires maintaining a great number of expensive resources. The Times spends money on highly trained reporters, indigenous employees (some of whom, for safety purposes need, to remain unidentified), translators, electronic equipment, armored cars, security personnel, and secure buildings.
To survive in its present form with an 1100-person news and editorial staff, the Times needs to figure out how to charge other news media for using its product. To be sure some small papers pay minimally through the Times's news bureau, but that is not sufficient.
The biggest challenge, which all print papers are facing along with the Times, is how to profit from the Internet. In March 2011, the Times started charging those who didn't subscribe to its print edition for its Internet site, nytimes.com. With about 450,000 subscribers, the Times is claiming great success in this experiment.
The Times Company, which owns the Times as well as some other newspapers, has eliminated its stock dividends and seen it share price drop precipitously. Costs rise, revenues drop. To date, Internet advertising revenue doesn't replace lost revenue from print advertising. The Times is desperate for revenue sources. The Times Company has the TimesTalk speaker program, sponsors courses, sells memorabilia, and even has a wine club and a cruise program.
Over the years, there has been rather loose talk about the Times being sold, but that seems unlikely, given the Sulzberger family trust, as well as the family's control of the B-shares of the New York Times Company, and the fact that those shares elect the majority of the Board of Directors. The A-shares are publicly traded and elect the rest of the Board.
There have been alternative business models proposed, such as running the Times as a nonprofit. The Christian Science Monitor, for example, is essentially a nonprofit. Some people think that a possible model would be that of NPR (National Public Radio) or PBS (public television) but that comes with its own set of problems such as every political group scrambling for its share of a presence.
For the print paper to survive in the long term, one model might be a short newspaper on the model of the New York Times Company-owned International Herald Tribune plus an optional separately marketed weekly magazine or perhaps even a daily magazine for those who pay for such an option.
Popular in the Community