 The makers of two popular energy drinks, Red Bull and Monster, are arming for a legislative battle in Washington over whether caffeine and other ingredients pose a health risk that merits tougher regulation.
Red Bull North America hired two lobbying firms in the last quarter of 2012 -- Heather Podesta & Partners, and Olsson, Frank, Weeda, Terman, Matz, according to newly released lobbying disclosure reports. Monster Energy Co. hired the white-shoe law firm Covington & Burling, and paid the firm $100,000 in the fourth quarter of 2012.
The investment in lobbyists -- a first for both companies -- comes after the Food and Drug Administration last fall said it was investigating links between highly caffeinated energy drinks and more than a dozen deaths. Members of Congress this month launched a preliminary investigation into more than a dozen energy drink manufacturers.
The beverage companies deny their products caused the fatalities and insist the drinks are safe when consumed responsibly. According to lobbying disclosures, Podesta's firm was hired by Red Bull to "educate members of Congress and other policymakers regarding energy beverages."
If history is any guide, the drink makers have cause for concern. In 2010, the FDA cracked down on Four Loko, an alcoholic energy drink, after fatalities on college campuses. Under the threat of further restrictions from the FDA and state attorneys general, Four Loko agreed in November 2010 to remove the stimulants from its malt liquor, including caffeine, taurine and guarana, and stopped selling the product as an energy drink.
The major energy drink makers are also getting heat from elected officials, who have urged the FDA to consider stricter regulations on caffeine, labeling, and additives.
Three Democratic members of Congress, Sen. Dick Durbin (Ill.), Sen. Richard Blumenthal (Conn.) and Rep. Ed Markey (Mass.) have announced a preliminary investigation into the drinks' caffeine and stimulant levels, as well as their marketing. In a letter to more than a dozen beverage companies this month, the lawmakers wrote "this investigation follows recent adverse event reports of illness, injury and death allegedly linked to the consumption of products marketed as 'energy drinks' or 'energy shots,' and mounting concerns regarding the safety of this rapidly growing class of products."
Cities and states are zeroing in on the beverages as well. New York Attorney General Eric Schneiderman has subpoenaed marketing records from energy drink companies to check the accuracy of sales claims.
San Francisco Mayor Edwin Lee has asked California-based Monster to prove it is safe for consumption in quantities it sells. Monster is defending a wrongful death lawsuit filed by the parents of a 14 year-old girl who contend she died after consuming two 24-ounce cans of Monster in 24 hours.
Before You Go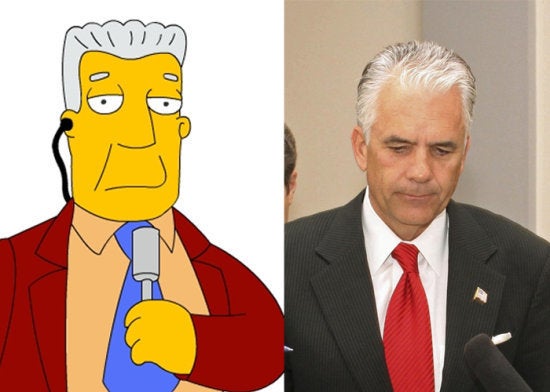 Political Look-Alikes
Popular in the Community