To make it through the day, you'll need all the energy you can get (hence your triple-shot latte addiction). But when it comes to your home, it's all about cutting back. Like most green-minded folk, you probably know and exercise some of the basics--keeping the thermostat just a little lower, using those swirly energy-saving lightbulbs and unplugging appliances when you go out of town. While these small fixes are a great place to start, there are so many different ways to really make a difference in making your abode run on less fuel (meaning you'll have some extra cash for your next coffee run). Read on to find out about changes you can make right now.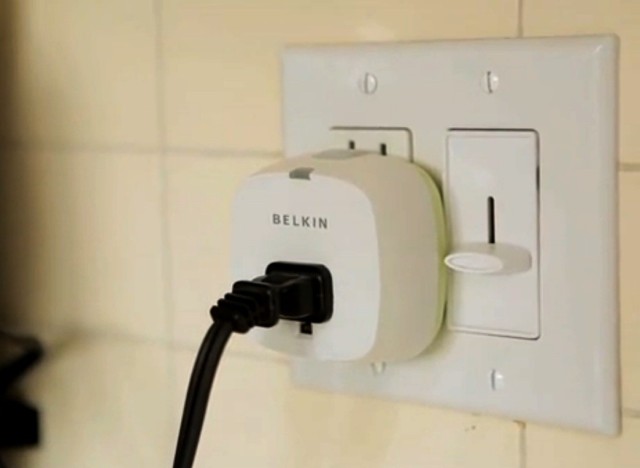 Photo courtesy of Belkin
1. Get a home energy audit. First things first: You need to figure out exactly where you can be conserving. Try out Home Energy Saver's free online tool, which will ask you questions about your home's construction as well as the appliances inside it. You'll then get an analysis showing you (approximately) how much energy you're consuming, where you can make changes and how much you'll save in the process. If you're seriously considering major home improvements, try searching the Residential Energy Services Network for a local, certified professional to assess your situation.
2. Power down without lifting a finger. Your electronics are robbing you blind! Sure, you could unplug an appliance every time you're finished using it, but most of us would prefer to, uh, not do this. Belkin has come up with a pretty genius solution. The Belkin Conserve Socket plugs into a regular outlet, but will kill the electricity after a predetermined time of 30 minutes, 3 hours, or 6 hours. The Belkin Conserve Smart AV Surge Protector allows you to power down 6 devices with your TV's on/off button, but also gives you space for devices needing continuous power, like your DVR. (Missing a recording of a favorite show does not make for a happy camper in my house).
3. Go for high-efficiency appliances. Next time you're in the market for a big appliance, here are some quick and easy things to remember while shopping:
Refrigerators: Go for a model with a freezer on top, which will consume 10 to 15 percent less energy than a side-by-side model of equivalent size.
Washers: Look for washers that feature adjustable water levels and faster spin speeds. If you've got a small household, you might not need the jumbo washer; look for smaller models.
Dryers: Use a gas dryer rather than an electric dryer if possible.
Dishwashers: Look for "light wash" or "energy-saving" wash cycle features. Better yet, opt for a dishwasher with an energy-saving cycle that allows dishes to be air-dried with circulation fans, rather than heat-dried with energy-wasting heating coils.
4. Move toward home automation. Heard of the Nest Thermostat? If not, your life is about to change. Nest helps you save energy by actually learning your habits (when you're out, when you're home, when you like temperatures up and down), then adjusting to better serve you (and save energy) automatically. Belkin's WeMo allows you to put your electronics on a schedule and it's controlled by your smartphone--meaning you can shut off lights you accidentally left on, or tell the coffee pot to get brewing (even when you're still in bed). If you're looking for the whole package,Vivint offers a home management system that not only uses intelligent climate control and remote appliance shut-down, but also gives you alarms, safety sensors, and a whole slew of neat features to keep your home running smoothly.
A famous frog once crooned: "It's not easy being green," but I beg to differ-- with all these solutions available, you can be more energy efficient while saving a bit of cash. Got more energy-saving ideas that work in your home? Let me know what they are in the comments below.