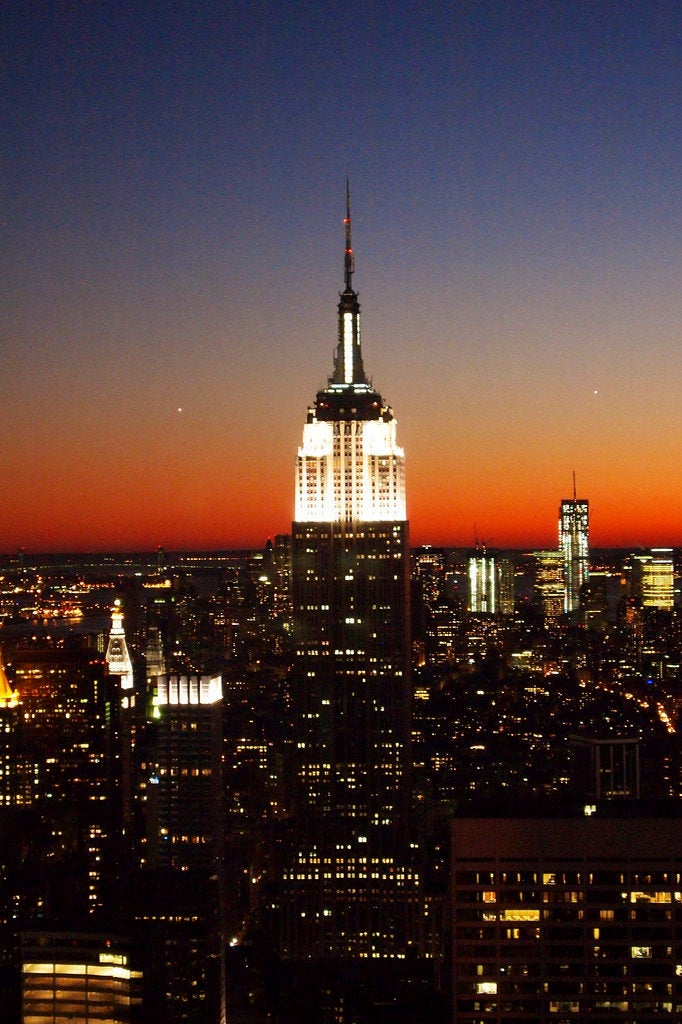 It's not surprising that the Empire State Building has become an inspiration and model for energy efficiency retrofits around the world. With the iconic skyscraper achieving an energy reduction of 40 percent, which amounts to savings of $4.4 million a year, it's easy to understand why.
I recently chatted with Anthony Malkin, President of Malkin Holdings (owner of the Empire State Building), and a speaker at the 2012 Sustainable Operations Summit, to learn a bit more about this groundbreaking project, and to get his take on the future scale of energy efficiency retrofits in the United States.
Owens: The Empire State Building retrofit is now a model for energy efficiency around the world. How did the project come about and did you ever anticipate energy savings at the level achieved?
Malkin: Originally we just sought to make the building green. Through the process of working with the Clinton Climate Initiative, Johnson Controls and the Rocky Mountain Institute, I learned that what is popularly defined as green is not really valid. Bike racks and showers are not going to change the world. The whole look at integrating energy efficiency into our plans, taking the right steps, in the right order, unfolded the opportunity for greater savings with a three year payback.
Owens: One of the most notable elements of the ESB are the lights at the top. Have the lights been retrofitted to be more energy efficient?
Malkin: The lights at the top of the building will be replaced this year with LEDs. We have done nothing at the Empire State building for the sake of looks or press. Everything has been done on the basis of economic return. Going back to 2007 when we started looking at the initial pricing and efficiency, LEDs were such that they absolutely did not justify, so we focused on doing things which make economic sense. Putting a water feature in a lobby gets you LEED points, but it doesn't save energy, doesn't improve the environment and it doesn't change the world. Replacing the incandescent lights before 2012 was simply not cost justified.
Owens: So you believe that LEDs are now cost-justified?
Owens: Looking back on the project, were there any things that you would have done differently?
Malkin: As far as things which we have done, no. The reality is that we are state of the art, there's really very little in the way of economically intelligent work that can be done and we are constantly looking. The biggest thing we are doing now is working with our tenants as they do their installation design to highlight for them the no-compromise ways that they can achieve a much lower energy consumption per square foot. As things become economically intelligent to do -- the LED lights are an example -- you know we will pursue them. Other than that, I think the most important thing is to use our practices that we have developed to inform policies and government, and to use these practices to motivate others through competition to follow us.
Owens: At the 2011 Sustainable Operations Summit, we hosted a panel discussion that featured executives from several of the partners on the retrofit such as Johnson Controls, Serious Energy, Jones Lang LaSalle and the Clinton Climate Initiative. The topic was collaboration. What did you look for in selecting these partners?
Malkin: We are always looking for people who, number one, are team players and number two, have a focus on the numbers. The numbers are the bottom line. I think too many people focus on the numbers, and by numbers I mean LEED points. We are not going to make the change with bike racks and showers; they are not going to save the world. You know green practices -- recycled carpet content, green cleaning solutions, all of these other things like recycled paper products and recycling construction debris -- these are all excellent things and part of a normal suite of green practices that every owner should deploy. But I'm looking for people that have done the hard work and have learned about energy efficiency, as opposed to people who are just looking to get LEED points. Unless LEED incorporates energy efficiency improvement as a requirement per LEED EBOM, it's just simply not the standard by which people should be measuring in the future.
Owens: I recently read about international companies having mandates to only lease energy efficient space. Have you experienced this with any of your tenants and do you feel it will become more common in the future?
Malkin: The better credit tenants worldwide have mandates to reduce their environmental impact and increase their sustainability. The bottom line is that the most commonly used marker to date has been LEED, (of course Empire State Building is ranked LEED EBOM Gold), and the smarter tenants are now recognizing energy efficiency is critical. A building like the Empire State Building, which has a built-in set of systems to maximize energy efficiency into its tenants, can plug their installations. So our building and energy management system allows tenants to run their equipment in their spaces more efficiently and more effectively. You have both reduction in energy consumption in the building and in energy consumption in the tenant space, and tenants consume 60 percent of the power. This is a major draw for the highest quality tenants, and as they lead others will follow.
Owens: You touched upon policy earlier. From your experiences, could the government be doing more to encourage greater investment in energy efficiency projects?
Malkin: We are working with the U.S. Congress to alter the 179D tax deduction so that it can actually be used. The Empire State didn't qualified for a penny of it. The reason it didn't qualify is because the standard is set so high, that even though we've reduced our energy consumption by 40 percent, we still didn't meet the requirements of the law. We are also looking to alter 179D so that tax deduction -- it's not a tax credit, it's a tax deduction -- can be applied throughout the value stream of people working on the project. A real estate investment trust doesn't pay taxes, so if it does the work it doesn't get a benefit. But many people who are involved in doing the work for the REIT do pay taxes, and being able to assign that tax benefit gets it into the value stream.
We are also working to get loan guarantees, which are unfortunately maligned due to some errors in work done by Solyndra and others. We are trying to get those loans done so that others can do retrofits that are saving energy, in effect creating carbon free, pollution free energy that is way less expensive than wind and solar. Doing energy efficiency retrofits creates local jobs, whereas 60 percent of wind turbines and solar panels are imported from overseas. So we are trying to get the U.S. government and government agencies and states to focus on the economic benefits: job creation, cost savings, capital cost avoidance and to include us in programs that heretofore have only focused on alternative energy.
Owens: That is the underlying theme for the 2012 Sustainable Operations Summit. Realizing the true economic benefits of energy efficiency and sustainability initiatives. We look forward to learning more during your presentation at the summit, which kicks off April 17th in NYC.
REAL LIFE. REAL NEWS. REAL VOICES.
Help us tell more of the stories that matter from voices that too often remain unheard.