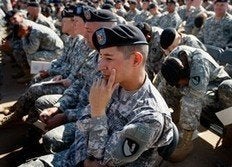 Environmentalists on both sides of the fight for climate change legislation are hoping to enlist veterans groups as a powerful lobbying tool.
Politico reports that the issue of climate change has taken on a new relevance for vets after they return from wars in the Middle East and see high-profile military officials, including Wesley Clark, take on leading roles in the energy industry.
With Veterans Day around the corner, we wanted to take a moment to reflect on all the military personnel who are involved in ensuring our country is protected.
Energy security is one issue that has become increasingly important to our veterans.
In fact, national veterans groups Votevets and Operation Free are urging the government to become more energy independent and less reliant on foreign oil.
We can do this by using the abundant domestic fuels we already have. With more than 150 billion tons of recoverable coal reserves, the United States has more coal than the Middle East has oil.
In a move that should offend every American, they're using Veterans' day to promote their agenda -- an agenda that threatens to put more brave men and women into harm's way in the future. It is clear that they simply don't understand the nature of the threat to our national security that is posed by climate change.
The Pentagon is the biggest customer of fuel in the nation, according to Politico. Buying the fuel from abroad inflates its cost so, bracing for another spike in gasoline prices, the Pentagon is seeking an agreement between the Navy and the Department of Agriculture to develop new biofuels.
Popular in the Community