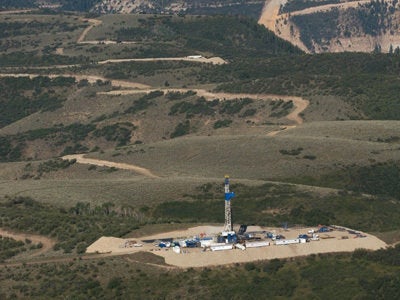 Reflecting on last month's 2009 Mesa State College Energy Management Symposium in Grand Junction, I find a certain irony in the fact I rode my bicycle to the event.
Before attending I was sorely lacking in knowledge about the business of oil and gas, in spite of living in an area teaming with industry activity. Mesa State's neophyte Landman/Energy Management Program partnered up with a half-dozen industry sponsors to produce the event.
I was one of 80 participants at the symposium subtitled "Exploring Colorado's New Oil and Gas Rules and Their Impacts." In another piece of irony, Mesa State is on the cutting edge of sustainability as an institution. For more information see this Web site.

With the exception of one tirade, it was surprising how comfortable I felt in this setting. During Q&A, industry expert Porter Bennett went off on all "those people" promoting alternative energy, like wind and solar power, just wanting "to stick it to big oil."
Overall, the symposium was very educational. After listening to seven speakers and a panel discussion, I may not know everything about the local fossil fuel industry, but I sure know a lot more acronyms. Here is the crash-course version of six-hours of instruction.
Stephen Sullivan, a lawyer specializing in land and mineral transactions and the money end of the business, set the stage by giving a brief history of court cases and statutes pertaining to "split estates." You may not know that in the West, just because you own land it doesn't mean you own the rights to the minerals under that land. The normal set-up is one party owns the land, or surface rights, while another party is the mineral owner.
This dichotomy pretty much began with the Stock-Raising Homestead Act of 1916 as the U.S. government reserved mineral rights for land it sold or gave away. During this time surface owners were not entitled to compensation for any damage done to their property from mineral extraction, including crop damage or death of livestock.
In the 1950s oil and gas operators began working with landowners to reach agreements, giving rise to the "good neighbor policy." As the policy evolved surface use agreements were reached about 95 percent of the time.
By the 1970s the "Accommodation Doctrine" was adopted shattering the domination of mineral owners. Over time mineral owners have become subject to increased charges for damages and, with the latest statutes, there are even more layers of bureaucracy and paperwork.
Recent environmental and wildlife regulations passed at the federal level added to new state regulations have created an ever-increasing cast of players including: oil and gas operators, surface owners, adjacent surface owners, local governments, the Colorado Oil and Gas Conservation Commission (COGCC), the Colorado Department of Wildlife, the Colorado Department of Public Health and Environment, the U.S. Forest Service and the Bureau of Land Management.
Sullivan said, "It doesn't have to be a snake pit," in spite of all the players. He would like to see the mineral rights owners and the surface owners work out deals with minimal legislation involved.
Nathan Keever is also a lawyer, but he presented the surface owner's perspective of the split estate equation, "The surface is important." He explained that recent regulations amended the applicable rules by broadening "prevent waste and conserve oil and gas" to include "while protecting public health, safety and welfare including wildlife and environment."
Keever ran through the new state regulations dealing with access to records, labels on tanks, comprehensive drilling plans, drilling consultation with surface owners, odors and dust, wastewater pits, notification of spills and releases and stormwater runoff. The new regulations go a long way toward leveling the playing field for surface owners.
Andrew Bremner is yet another Denver lawyer and he spoke about impacts of the new rules from the perspective of the oil and gas industry. He described the scenario as an "expensive juggling act" for industry operators trying to keep the many players happy.
Bremner said the regulations will mean hiring additional personnel to carry out all the new, complex administrative duties. He also sees lots of potential for litigation over the wildlife and environmental rules. The increased burden on the industry will translate to time delays, a key factor when companies are deciding where to drill.
The crowd was thrilled when Porter Bennett said he was not a lawyer. Bennett founded BENTEK in 1985 and turned it into the leading energy market information company. An expert on numbers and analysis of the oil and gas industry, he spoke about the outlook for the natural gas market in the United States.
His overall assessment is "lower prices are here to stay." The gas industry is "tremendously more efficient" than it used to be employing "technology that is unlocking unconventional resources and reshaping the industry."
Bennett added, "Gas has an opportunity to be the central part of a new energy economy." Natural gas is slowly displacing coal to produce power. The Colorado School of Mines estimates we have a supply of natural gas that will last almost 100 years, but it will require drilling lots of wells, Bennett emphasized.

Nick Swartzendruber did a good job of explaining the State of Colorado regulatory scheme even though he was another lawyer. One at a time he addressed the rules just going into effect, giving simple yet in-depth information about regulations Keever had outlined.
Then, Swartzendruber laid out the federal regulatory scheme and that's where the acronyms really started to fly. I'd heard of BLM, but NEPA, FLMPA, EIS, AFP and NIA were all alphabet soup to me. There were more abbreviations than Facebook!
Basically, there is a law of federal preemption, which means federal law is the supreme law of the land. Special split estate considerations also come into play because the U.S. government owns 58 million acres of land around the country, with 5.2 million acres in Colorado.
Problems arise when gederal law is in conflict with state law. The goal between the two entities is "communication, consultation and cooperation in service of conservation." There is even an official Memorandum of Understanding (MOU) between the feds and Colorado.
Jamie Sellar-Baker works for BLM as Acting Branch Chief of Fluid Minerals and talked about public involvement in regulatory interface with BLM. As one of three Federal employees involved in the process, she gave a detailed description of drafting the MOU.
Sellar-Baker said BLM administers 256 million surface acres and 700 million mineral acres for the federal government. That is a whole bunch of acres. She explained the planning process and framework for leasing, liberally tossing around acronyms.
Expiration dates for drilling leases were a major topic of discourse during the panel discussion, which fielded questions from the audience about specific industry issues.
Don McClure, a vice president with EnCana Oil, wrapped up the event with a thoughtful presentation on the future of natural gas. "America has to focus on innovation and creativity" to solve our energy crisis, he said.
In the near term there will be a "challenging environment for natural gas," McClure explained. Looking toward the future from a local point of view, the resource base in the Pieceance is strong and there are also several shale plays with tight sand and shale gas basins.
There are signs of hope for the economy, but the recovery will be slow and bumpy, according to McClure. The gas industry will also face some "political headwinds" but has a "tremendous opportunity to help shape the U.S. energy future."
Gas is a natural for producing power since it reduces emissions by 40 percent compared with coal. McClure also sees natural gas becoming a primary source of power production.

Liquid natural gas or compressed natural gas can be used to power cars and other forms of transportation. Fleet conversion will lead the way as infrastructure to support the new fuel is put in place. CNG can be 44 percent less expensive than gasoline or diesel.
I did learn a great deal at the symposium, even if my brain was permanently damaged from all those acronyms.
A version of this piece originally appeared in the Grand Junction Daily Sentinel and on gjsentinel.com at www.gjsentinel.com.
REAL LIFE. REAL NEWS. REAL VOICES.
Help us tell more of the stories that matter from voices that too often remain unheard.