The Democratic and Republican platforms and their nominees' energy plans reflect complete opposite views. Here's a round-up of the differences, including excerpts from selected energy and environment events this week in Philadelphia where historic Philadelphia rolled out the red carpet and an analysis by top energy consultant, Peter Kelly- Detwiler* of Northbridge Energy Partners and a Forbes contributor.
The Democratic platform and Hillary Clinton campaign plan build on the jumpstart that President Obama gave to the clean energy economy with $90 billion in Recovery Act funding and a variety of executive actions. This includes providing funding to create ARPA-E, the innovation arm of the Department of Energy that was created under President Bush in the America Competes Act (but not funded until the Recovery Act) and has generated $1.25 billion in private capital as follow-on funding for 45 of its 475 clean energy investments. The Administration's executive actions include the controversial Clean Power Plan, and the recently announced ~$4.5 billion in Department of Energy loan guarantees for electric vehicle charging stations nationwide to make charging facilities more ubiquitous to speed up large scale EV adoption.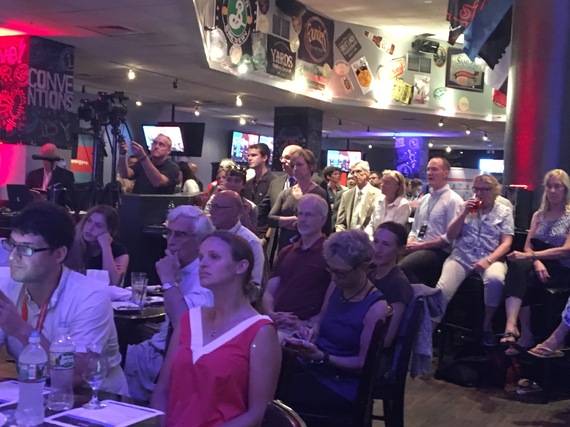 The Democratic platform includes a nuanced plan to shift to a clean energy economy and create such jobs, such as: increasing GW of solar and wind power (including in low-income areas); renewables for every home by 2027; tax incentives; and more R&D funding, especially for storage and carbon capture. It states, "We will protect communities from the impact of climate change and help them to mitigate its effects by investing in green and resilient infrastructure.... We must help American workers and businesses compete for jobs and investments in global clean energy... Climate change poses an urgent and severe threat to our national security, and Democrats believe it would be a grave mistake for the United States to wait for another nation to take the lead in combating the global climate emergency... We believe the United States must lead in forging a robust global solution to the climate crisis," including a commitment to the COP21 Paris Accord signed by 190 countries outside.
The GOP's version seems like the polar opposite, more akin to the McCain-Palin "Drill, Baby, Drill" plan of 2008, including: support for the Keystone pipeline and expanding coal. Their nominee has said, "The concept of global warming was created by and for the Chinese in order to make U.S. manufacturing non-competitive," and, that he plans to cancel the Paris Climate Accord. His party's platform doesn't quite go that far, but is certainly pro-fossil fuels, while including renewables in the mix: "We support domestic energy production of clean coal and hydropower, as well as solar, wind, geothermal and nuclear power. And we support drilling for oil and natural gas in an environmentally responsible way." This assumes there is such as thing as "clean coal," which is hotly debated. They label Obama's EPA regulations as "overly restrictive... that have cost American consumers and businesses tens of billions of dollars." They also fought the Clean Power Plan, voted for "support of the Keystone Pipeline and continue opposition to what they label Obama's 'War on Coal.'"
What Do the Energy and Environment Experts and Lawmakers Say?
The energy and environment panels I attended at both The Washington Post and The Atlantic held in Phillie this week with the Democrats - which both featured all male panelists, surprisingly - talked a lot about "a transition" to 100% renewables. Congressman Henry Cuellar (D-TX) from the oil and gas-dominated state of Texas emphasized on The Atlantic panel moderated by The Atlantic's Steve Clemons that his district has all types of energy and that "industry needs to be at the table too, not just regulators." Dan Esty - Yale professor and former head of the Connecticut Department of Energy and Environmental Protection - championed leveraging natural gas (including fracking) as a way to transition off coal, the biggest contributor of greenhouse gases he said. Congressman Jerry McNerney of California (D) and the only wind engineer in Congress, also said we'll continue to need fossil fuels for a while, much to the consternation of the environmental activists in attendance.
Giving advice to each other, the pro-environment McNeurry said "environmentalists are sometimes too ideological and want 100% allegiance," which only results in an impasse. Both sides need to get out of their corners, he said. Cuellar from pro-fossil fuels Texas said, "you have to be ready to get blowback" when you compromise, but that it's necessary to move the needle.
Dan Esty essentially played the middle ground, coming up with some novel propositions. He suggested we "need to change the business model of the utilities, so they get paid for energy efficiency and for increasing reliability," including corresponding performance bonuses. He also proposed a controversial $5 carbon tax that the Democrats favor, while giving the Republicans the ability to spend the resulting revenue how they wish.

Jobs vs. the Environment?
Cuellar made the point that the solar panel installation jobs cannot be outsourced, because you're in the local neighborhoods, and since they often do not require a college education they create jobs across the talent spectrum.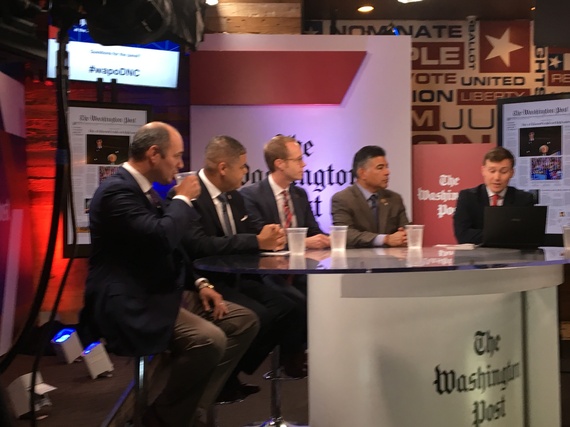 To that point, the CEO of Spruce, a solar company in California with an office in Houston, said on The Washington Post panel (also all male!) that they are doing job training in the inner city and installing solar panels on low-income and veterans' homes at no cost to them. Don Cravin of the Urban League liked that idea, because he wants jobs in the African American community, "period," oil and gas jobs included.
The Democratic Congressman from Los Angeles pointed out on The Post panel, that, "coal mining is very hard work and if you can....be retrained and end up with a cleaner job without black lung," that's a good thing for you and your family. He added that the GOP won't even have the conversation, but, "I would never minimize the potency of people when their ways of life and their understanding of (how the world is supposed to work) is being challenged."
Congressman Elijah Cummings of Maryland told the Democratic Convention that fighting climate change creates jobs and incentivizes start-ups, helping the economy. That's in stark contrast to the Republicans who believe that environmental solutions cost jobs.
So which vision do you want? That might make your voting decision clearer.
All photo credits: Joan Michelson
*Northbridge Energy Partners is a client of Green Connections Media

REAL LIFE. REAL NEWS. REAL VOICES.
Help us tell more of the stories that matter from voices that too often remain unheard.