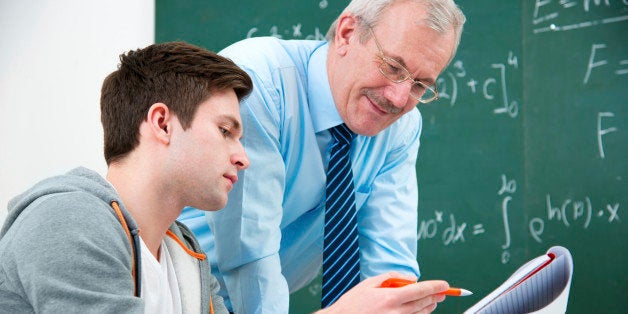 As a president of a major public university, I'm a strong advocate of the value of a four-year bachelor's degree, and studies do bear out the proposition that those who have that degree fare better in life than those who don't. But the degree itself is only part of the story -- it's a credential and it's a ticket to entering the job market, but the degree alone doesn't "sell" its holder. What's key to translating student performance in higher education into successful productive lives is another word that starts with an "e"-- "engagement."
Richard Arum and Josipa Roksa's recently-released book, Aspiring Adults Adrift, follows the same cohort of nearly 1,000 undergraduates through the rest of their college careers and out into the working world. The book details recent graduates' troubles in finding decent jobs and developing stable relationships in addition to assuming civic and financial responsibility. About a fourth of the recent graduates were still living at home, and about 75 percent were still receiving some form of parental financial support. And that's among those who graduate. The book underscores my central premise -- the degree itself is not enough.
Leaders in higher education must adapt to the changing times, become even more focused on student needs and outcomes and be held accountable for those results by sharing them with their stakeholders in an open and transparent way. Colleges and universities need to do a better job of measuring student success while students are enrolled and after they graduate. Historically, universities have focused on measures of students coming into college and then the percentage of those who graduate. Those numbers are important, but they don't tell the full story. I would argue that new, broader measures are needed to best quantify the learning that takes place while enrolled at a college or university in addition to being more aggressive about tracking graduates after they leave college. A crucial component of these tracking data must involve measuring level of engagement, as studies have shown that this is a critical factor in determining lifelong success.
A joint initiative of the Lumina Foundation, Gallup and Purdue University developed an index to provide a definitive measure of how college graduates perform in five areas of well-being: purpose, social, physical, financial, and community. The initiative measures items that test the "customer" engagement of alumni, including their emotional attachment to their educational experience and includes crucial demographic information such as race, gender, household income, profession, student loan debt, whether respondents have started or plan to start a business, and whether they were first-generation college students, among other items.
Gallup-Purdue surveyed 30,000 U.S. college graduates and found that those who have achieved great jobs and great lives were more likely to be personally engaged with a faculty member, have participated in an internship, been involved in extracurricular activities and have graduated with minimal student debt. These findings held true regardless of the type of four-year school.
What this means for higher education institutions is that if a student has a professor that knows his or her hopes and dreams and cares about that student's development, that student is much more likely to be engaged in their education. So what can an organization or person within the organization can do differently to improve student engagement?
Here at NIU, we are building a student-centered approach to education that focuses precisely on the metrics outlined in the Gallup-Purdue study. We are working with our staff and faculty to create the structures, culture, and programs that support our students and their transformational learning experiences. We are also looking for efficiencies across the enterprise to make sure students' investment in higher education is well spent. We are engaging students in their own education through workshops and surveys, using those insights on how they best learn to inform what the future state of our university will look like. We are engaging more with employers and our alumni -- many of whom are employers -- to find out what skill sets workers need in order to build sturdy links between these job providers and our students and faculty.
By exploring bold ideas for the future, looking into what's possible and asking important questions that often begin with, "What if...?," universities can align campus master plans with student and employer needs, establishing clear principles to guide institutional priorities and investment decisions while keeping higher education both accessible and affordable.
We still have a way to go, but transforming our universities -- and being more competitive as a nation with other countries when it comes to higher education -- is a challenge we should relish. The future of our economy depends on our rising to this challenge.
REAL LIFE. REAL NEWS. REAL VOICES.
Help us tell more of the stories that matter from voices that too often remain unheard.