If that's the case, congratulations! Before you snap a photo of your ring to share with friends and family, let us offer a few words of advice. After all, you want to present that gorgeous gem in the best way possible, right?
Even if you're not into nail polish, get a manicure sans color. Just having your cuticles trimmed and smoothed and your nails filed to perfection makes a world of difference. (This goes for men too -- if your significant other proposed, clean up your cuticles before showing off your new bling.)
2. Straighten Out Your Ring
Yes, the webs between your fingers are probably uneven. And yes, in your day-to-day life, your ring will probably sit a little lopsided. But when you're snapping a pic, straighten out the ring. You don't want people straining their necks to get a good look. Place your hand on a flat surface or squeeze your pinky against your ring finger to hold it in place.
3. Find A Pretty Backdrop For The Photo
Whether it's your farmhouse kitchen table or your favorite watercolor painting, put something pretty behind your hand before you take a photo. You want a backdrop that will highlight the ring but won't overshadow it.
4. Use The Macro Setting On Your Camera
Your iPhone or Android likely has a macro setting -- using it will allow you to get close to your ring without blurring it out. Your DSLR or point-and-shoot camera probably has a macro setting too. Use It!
We've seen gazillions of "typical" engagement ring photos -- you know the ones, hand held up or spread out on a table, diamond sparkling. While they're lovely, we highly recommend getting creative with your ring pics. Why not have a friend snap a photo of your hand wrapped around your favorite coffee mug? Or perched sassily on your hip? Or holding your new fiance's face in your hands? There are plenty of ways to feature your ring -- just get some help taking a photo (we promise, your best friend will be happy to assist).
Click through the slideshow below to see some of our favorite reader-submitted engagement ring photos.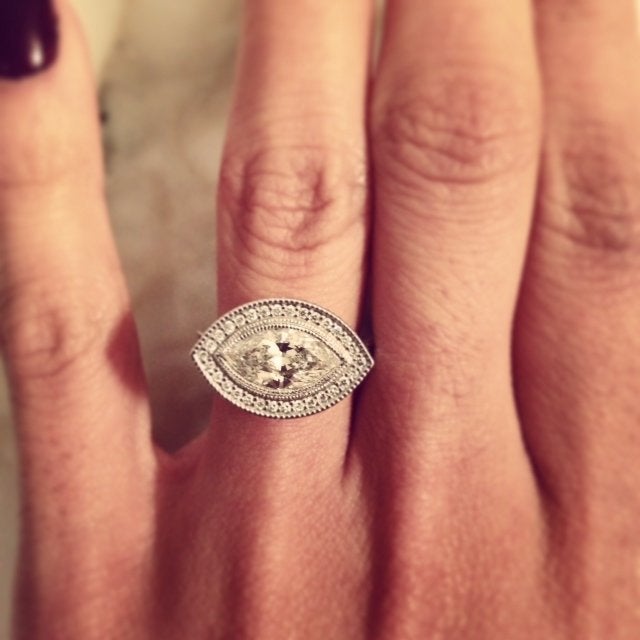 Reader-Submitted Engagement Rings
Related