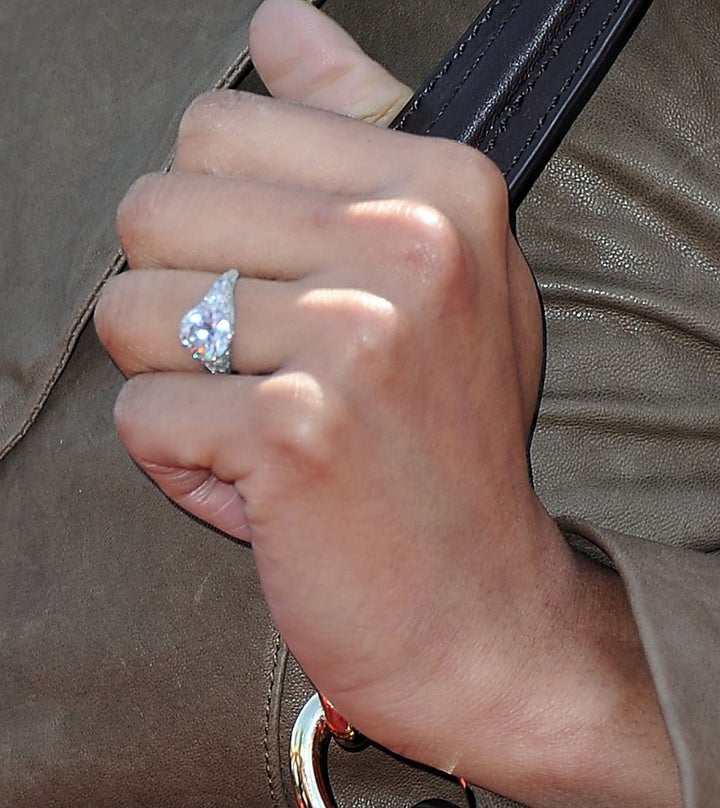 The A Diamond Is Forever ad campaign (launched in 1938 by Harry Oppenheimer and the president of N.W. Ayer & Son, Gerold M. Lauck) successfully brainwashed a nation into believing that a diamond represents lasting romantic love; and even that the gift of a diamond ring at the time of engagement will help such love to endure the inevitable trials of a couple's married life.
Women have been trained by ubiquitous advertising -- on billboards, in magazines, and on television -- to long for a man to give her a diamond ring, an expensive symbol that his unswerving devotion will last a lifetime.
Newly engaged women show off their sparkling diamond rings to oohing and aahing friends. The ring speaks loudly for the woman who wears it, saying: I am loved; I have been chosen; I am not alone.
As aware as I am of the history of the A Diamond Is Forever ad campaign and its impact on our perception of diamond rings, I myself -- a happily never-married woman -- find that my first thought upon seeing a pretty diamond on a woman's ring finger is: Someone loves her enough to have bought her that ring.
Now I am the first to rejoice for loving partnerships and happy marriages; I also admire the wedding aesthetics of white dresses, diamond rings and elegant bouquets. Yet I feel it's important to be aware of the way the A Diamond is Forever ad campaign -- the most successful ad campaign in history -- has shaped our thinking about this symbol of romantic love, which has too often also become a symbol of class, status, "worth," and heteronormativity.
So it was with delight that as I was going through the checkout line at Whole Foods the other day, I noticed that the young woman bagging my groceries wore a gigantic faux diamond on the middle finger of her right hand. The diamond dazzled; it was ostentatiously huge, clearly fake, and super duper pretty.
"I like your ring," I said.
"Thanks," she said. And then she added, a little sheepishly, "I bought it for myself at the mall for seven bucks."
"Wow," I said. "It turns out none of us have to wait around for a man to buy us a gigantic diamond ring. We can just go get ourselves one at Claire's."
Both the young woman bagging groceries and the female cashier laughed as if they understood exactly what I meant, which was that we as women no longer need a man to marry us in order to feel validated, successful and worthy of approval. And yet we still, in some dark corner of our hearts, long for the sparkle and shine of the stone that speaks of everlasting love.
So if you have always secretly wanted a giant diamond, but:
1) don't have a partner who wants to buy you one; and/or
2) don't have a partner who can afford to buy you one; and/or
3) aren't into funding the diamond trade,
take yourself to the mall, or hop on Amazon or Ebay and buy yourself an inexpensive and satisfyingly sparkly reminder that you are worthy, beautiful and loved.
After all, you can rest assured that even if that cheap piece of crap ring falls apart in two weeks, your relationship with yourself will certainly endure until you take your very last breath.