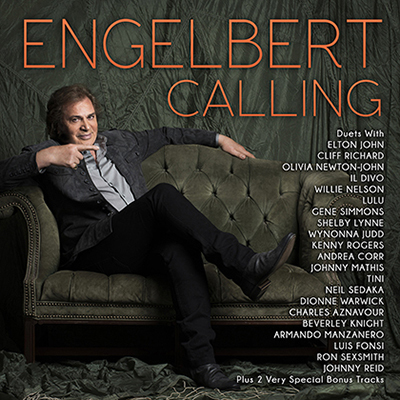 Engelbert Humperdinck says, "I think I was very lucky to start in an era when you could understand every word of a song and arrangements were great. I love a song that has meaning, a storyline, something they can relate to it's like a release valve for them. If you can't understand the lyric, what's the point? And you can't understand what they're saying in a lot of songs today."
But, just because what we hear a lot of today is not what one would think of as his type of music, does not by any means that Humperdinck has retired. Quite the contrary. He has a busy tour schedule, beginning on the east coast this month. He has toured constantly for years, but this one is in support of "Engelbert Calling," his new album of duets that comes out in the US and Canada tomorrow, September 30.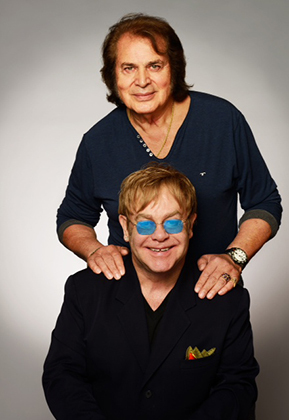 He says, "The album happened when my son Scott and I listened to a live recording of Elton John's (with Engelbert at right). On it he said, 'In the old days as a struggling songwriter I would sit around the flat with Bernie (Taupin) and wait for the phone to ring...wait for Engelbert Humperdinck to call and say he was looking for a song.' When I thought about doing this album I called up my good friends and fellow artists to collaborate, so it felt natural to title the album 'Engelbert Calling.'"
His duet with Elton John -- "Something About The Way You Look Tonight" -- is the first track on the CD. "I consider Elton to be the honeycomb and then everyone else joined after he did. It's an exciting project. It took two years and was recorded in Nashville, New York, Los Angeles and London."
He and his duet partners revisit some songs new to each of them and some old hits of his and his duet partners. He sings "After the Lovin'" with British singer Beverley Knight, "Release Me" with Wynonna Judd; "She" with Charles Aznavour, " "She Believes In Me" with Kenny Rogers, along with 18 other songs on two CDs. Also singing with him are Willie Nelson, Shelby Lynne, Johnny Mathis, Cliff Richard, Andrea Corr, Ron Sexsmith, Armando Manzanero, Luis Fonsi and Il Divo.
Two of the songs are bonus tracks. He sings "Better" with Louise Dorsey and "Father and Son" with Bradley Dorsey, two of his children. "I'm thrilled, he says, " that my fans will know that my children have talent."
His fans, by the way, are very devoted. Some travel from great distances to see him and may go to several shows in several cities on one tour.
"I like traveling the world and letting people in Russia, India and Africa see the face behind the music. You never forget your homeland, so I go home Christmas and New Years. I take my business seriously. I take my fans seriously," he says. "I do the crossword every morning, write a quote every morning, and now we're making a documentary of my life. Audiences will be like a fly on the wall. People will be surprised. "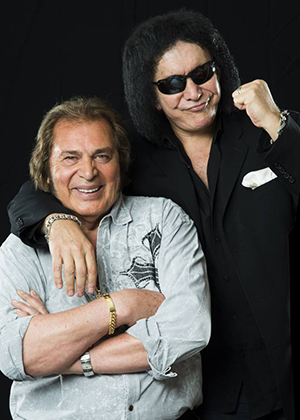 "Engelbert Calling" is likely to be a revelation to many of his fans who may be surprised at some of his duet partners but it is also likely to surprise the fans of some of those partners. For example, fans of Kiss frontman Gene Simmons (in photo right with Engelbert) probably don't picture him with Engelbert.
Simmons says, "He contacted me and said, 'Wouldn't it be fun to sing a song together?' I said, 'Sure. Pick a time and place. I'll be there."
He also left the choice of song to Engelbert who chose the Blood Sweat and Tears hit "Spinning Wheel."
"Englebert Calling" was released in the UK, Australia and New in May. It was a major hit. Asked if there's anyone else he'd like to duet with, he's quick to answer, "Andrea Bocelli, one of my favorite singers, and Lady GaGa. She's so talented, a great musician, a great artist. And she's unusual in that she dresses to fit the music. If she does an old song, she'll fashion her hair in keeping with the music."
Simmons adds, "It's a great matter of pride to be on this album. Engelbert is 'that' guy, the one whose career spans over 50 years."
Asked how it feels to be called an "icon," as he is in many articles, Simmons said, "I appreciate that kind sentiment. But I whatever it is you do in life you should do a great job at it."
As for his taste in music, Simmons says, "If it's early morning and no one's around, I blast Mantovani. In the early afternoon it's the blues. Ray Charles continues to be my favorite voice."
But he is full of appreciation for Engelbert Humperdinck, recognizing him as a "real pioneer."
Calling all HuffPost superfans!
Sign up for membership to become a founding member and help shape HuffPost's next chapter