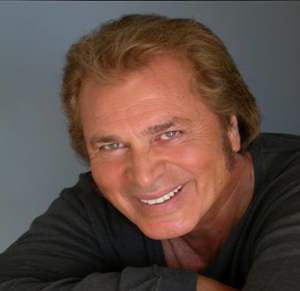 It is an odd -- almost surreal -- experience sitting no more than one foot away from a man many women consider a major league sex symbol....and knowing that any one of them might pay a large sum of money to be where I was.
I was interviewing Engelbert Humperdinck who, as you've surely guessed if you didn't already know, was not always Engelbert Humperdinck.
He was born Arnold Dorsey in Madras, India, one of 10 children of British Army officer Mervyn Dorsey and his wife Olive. The family moved back to England when Arnold was 10. He wanted to be a bandleader and, as a teen, changed his name to Gerry Dorsey (according to one story he chose that because he could imitate Jerry Lewis and his friends began calling him Jerry).
At any rate, success didn't come quickly or easily. He went into the army and was then stricken with tuberculosis. In 1965 his friend Gordon Mills began to manage Gerry and, having found success with another client in part by changing his name from the somewhat unmemorable Tom Woodward to Tom Jones, Mills suggested a name change and Gerry Dorsey became Engelbert Humperdinck, appropriating the name from the composer of the opera Hänsel and Gretel. It worked. But not right away.
The first hit came in 1965, a number one song in Belgium called Dommage, Dommage (Too Bad, Too Bad). The next year Release Me became the song, as he describes it, "that gave me my career. It was a global hit."
Following that were a lot more: After the Loving; Quando Quando Quando; What Now, My Love; Les Bicyclettes de Belsize; The Last Waltz; Charlie Chaplin's This is My Song and, from the film Beavis and Butthead Do America, Lesbian Seagull, among them. Today, 44 years after that first hit in Belgium, at the age of 73, he tours seemingly incessantly, recently playing 30 dates in just over 40 days.
"I did all of the UK," he says, "then went to Paris, Antwerp, Serbia, the Ukraine...everywhere. I've learned to say 'good evening' and 'thank you' in every language. I learn it parrot fashion, but it's important to say it in the language of the country you're playing."
What's kept Enge (pronounced with a soft "g," as in "Edge") going is his fans and the word on the street -- because fans of one entertainer tend to know what others are doing and discuss it -- is that he is extraordinarily good to them. Opening night at the Orleans Hotel and Casino in Las Vegas where he appears every few months, he threw a party for those loyalists.
"I am good to them because they are good to me," Enge says. "That is civility as taught by my mother. At this fan club party people came from Australia, New Zealand, Japan, Germany, Sweden, Canada and all over the United States. Everything I sing I sing with my heart and soul and they know that."
Asked about audience response, he thinks a moment before responding with a smile. "Once in a while I'd notice the audience was silent. These are fans and I couldn't figure out that response or, really, lack of response. Then I realized that it was because they were so absorbed in the music it was as if they forgot to applaud. That is the power of music."
Sitting there, I wonder if those fans would be surprised at the man with whom I am talking. He is soft-spoken, with a very pleasant romantic voice. He's eminently nice, has a lovely smile, is thoughtful in his answers to questions and clearly enjoys his life. His hair is now blond. "My hair was white when I was 20. I changed it to black and created the sideburns. I was the first to wear them. Even before Elvis."
With all his success, is there any song that he missed? The answer is quick. "Yes. I was given a song by Bert Kaempfert (who first recorded The Beatles and who wrote such songs as Danke Schoen, Wooden Heart and Spanish Eyes). I recorded it but Gordon told me he'd given the song to Sinatra and my version couldn't be released. Sinatra had a big hit with it, but he never liked it." The song was Strangers In the Night.
Speaking of Sinatra naturally leads to another question: Are there people he always wanted to meet -- or famous people he admired -- whom he met because of his fame? Another quick answer:
"I've met so many legends in this industry. Bing Crosby, Bob Hope, Elvis and Dean Martin, who gave me a big start in my career. I was at a party at Dani and Buddy Greco's house and Edward G. Robinson was there. He asked, 'Anybody here have a cigar?' I said, 'I have. It's a Cuban.'
"He took the cigar and did this." (Here Enge mimes holding the end of a cigar -- a loooong cigar-- between thumb and index finger and moving it under his nose, savoring the aroma.) "He said," -- and now he imitates Robinson's patented way of speaking out of the side of his mouth -- 'It's a good cigar, kid.' I've never forgotten that and if anyone ever gives me a cigar I do the same thing and say, 'It's a good cigar, kid.'"
Enge -- who took his stage name legally, although his family still uses "Dorsey" -- lives in Los Angeles and has a home in Leicester, England. There, he is patron of the Darbyshire, Leicestershire, Rutland Air Ambulance and his fans raise money for that and his other causes and he donates clothing and merchandise for them to raffle off. In LA Enge works with the John Wayne Cancer Institute and an award from that organization is among many accolades for his charity work. Dr. Humperdinck -- as he happily pointed out to me -- was awarded an Honorary Doctor of Music degree from the University of Leicester in 2006. Thus, I can say that Dr. Humperdinck gives a great deal of time and money to a range of charitable causes.
So, he does his charity, his touring and spends time with his close-knit family, complete with grandchildren. What about his spare time?
"I rehearse. I practice. This is my job and I love it," he says. "But the preparation is often harder than the work."
A musician himself, Enge helps with the arrangements for his show and gets ideas at the oddest times. "Most of my great ideas actually come when I'm dreaming. I keep a tape recorder by the bed so, when I do get an idea, I wake up and record it before I forget."
His stage show is changed each year and he takes every December off. Otherwise he's working. He is -- for better or worse -- often grouped with those performers who have found great success in Las Vegas and are therefore often dismissed as "Vegas performers" by people who don't understand that Las Vegas entertainment is no longer just lounge lizards. Despite that, he likes Las Vegas.
"When I first came here," he recalls, "the air conditioning was so bad that it would dry up a singer's throat. I used so many humidifiers in my hotel room that the wallpaper would peel off the walls. The hotels really didn't like that, so I bought a house here and, when I wasn't in town, I'd let other entertainers, like Dean Martin, use it.
"They still talk about 'Vegas throat.' But, really, 'Vegas throat' just meant no sleep. I'd stay up all night and the next day get up and play tennis, go to the lake [Lake Mead] to water ski and just generally have fun. That's what hurt the voice. Today Las Vegas is different, so built up, that people don't do it like that any more."
Today, one's throat can still be affected by the desert weather, although the AC has gotten a lot better. Enge is vigilant about caring for his voice and, among other preventive measures, uses Vocalzone, a lozenge made and sold in the UK that was originally developed for Enrico Caruso.
From Las Vegas Enge is going to Santa Fe, Phoenix, Coachella, Pennsylvania, New Jersey and Long Island -- and that's just in the next 28 days.
With no plans to retire, he still has lots he wants to do. "What I would love to do is show my face on television a bit more. I think I could do Dancing With The Stars and I'd like to do a commercial. You know those Dos Equis ads? 'The most interesting man in the world?' How about the most romantic man in the world?"
As far as the latter goes, Engelbert Humperdinck can be sure there are millions of women who would endorse that idea and, maybe, would start drinking Dos Equis.
REAL LIFE. REAL NEWS. REAL VOICES.
Help us tell more of the stories that matter from voices that too often remain unheard.