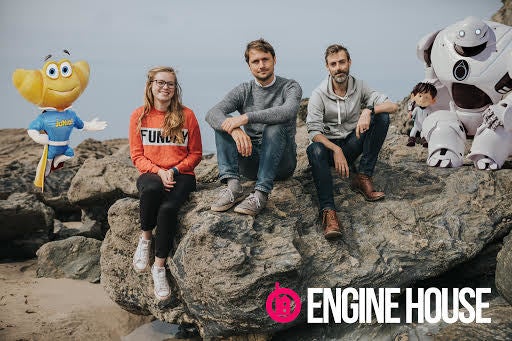 Engine House VFX is a dynamic animation and visual effects company based in Cornwall, UK, with a team of talent they draw on for projects that is based around the world. The trio of Mike Richter, Jason Robbins, and Natasha Price joined forces to offer a wide range of creative and design services. Their clients come from all over the world, working with both private and public sector clients from Huawei, Hachette, BBC, Sky, NHS, and Ogilvy.
They are great storytellers and artists, and deliver high quality results for their clients. I got a chance to learn about the behind the scenes of this team, including how they approach each project. We also got a chance to deconstruct some of their recent animation ad spots. Check out our conversation below.
Tell us a bit about your inspiration -- how did you first get interested in storytelling, and especially animation/VFX?
Between us, we have several boxes of books, comics and films that were created in our childhoods… we do really believe that everyone is a storyteller deep down - it's part of being human. When you are a child, you are encouraged to tell stories. We've just carried on!
We find that all of our clients are telling their own story, we just help them to do this in the best way possible.
How did you all come together as a team?
We all spent time away from Cornwall, whether it was for work, university, or simply being from somewhere else originally, before being drawn "home". We all come from different backgrounds including film production, music production, advertising and game design, bringing a wide range of skills to our small, yet highly-tailored team.
Mike began freelancing for local architectural companies, and soon his reputation gained him more and more clients in different sectors. Jason, returning from Chicago having set up a studio out there, was looking for his next creative venture to keep him at home in Cornwall. The two met, and decided to trial working as partners for six months, each bringing his respective clients. At the end of the six months, they were both really happy, and it was then that they decided to make Engine House a Limited Company. A year on, they decided to set their sights higher, and began a search for a Business Development Manager to help grow the business. They found Tash, and three years on the company continues to grow.
Can you walk us through a typical process for an animated ad for a client. What is step 1 and how much is decided before you enter the process?
Step one is always to extract the brief as much as possible from the client to find out what the story is. We need to know who the client is talking to and what the message is. Ideally, as much as possible is done in pre-production, as this can really save time and cut costs further along the process. At project kickoff, we will arrange a Skype call to discuss the project in detail, before moving on to the concepting, storyboarding or previs stage.
How involved are you in directing the vision of a project, versus listening to what the client wants? Is there a good example of one piece you did with more of your own creative vision, versus one where you adhered almost exclusively to that of the client?
It's all about finding the right balance. We need to find out what the clients are seeing in their heads, and then lead them through the best way to get there. We will always make creative suggestions to the client, but ultimately we want to bring their vision to life.
The minimum we'll get from a client will be some references and an outline, ranging to our animated book covers which are quite heavily dictated due to being based on the cover artwork.
For a project for Huawei, we were provided with very detailed storyboards, but we dictated the visual style and "feel" of the video.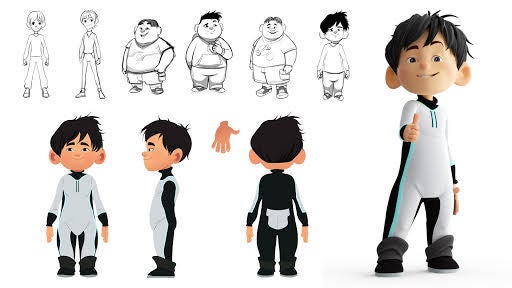 Can you explain (and perhaps translate) what we are seeing sold/promoted in the Karofi piece? How did the story idea come to be? What were you most proud of about this project?
The Karofi ad is all about a water filter, if you can believe it! This kind of advertisement was something of a risk for them, as it was so out of their comfort zone. They provided us with a rough outline, but their first question was whether it was even possible to tell their story in one minute.
We led them through the process, making sure we really utilised each shot to progress the narrative, while still keeping them on track with time and budget. We are really proud that in a matter of five weeks, we took this project from one sheet of paper, to a high-quality, engaging advertisement, and helped the client get there.
Now, take us through the Croissant piece --
Well, where do we start?! We were approached by Wafra, a huge food manufacturer in The Middle East to create a TV commercial for their hot-selling mini croissants.
They were looking for an update on the mascot, and a new story centered around him. The story needed to appeal both to children and adults, show the great scale of their factories, yet also highlight the skill and care that goes into making each individual croissant.
This was such an exciting, unusual project, and we really enjoyed working on it. Who doesn't want to animate dancing croissants?!
Here's a fun one -- what is the coolest thing about Cornwall? I noticed the beach contest on your twitter...does the beach sensibility feed into your creative motivation or direction?
We love Cornwall for lots of reasons, but one thing that's great is the ability to work really hard, and then step out of the office feeling like you're on holiday. People talk about work-life balance, but I think we're pretty close to perfection!
People who move their professional lives down here have to be really committed, as it can makes things so much harder, so we feel that we work in a place of very like-minded people who are up for a challenge!
Who are some of your animation mentors or influences?
The internet is such a rabbit hole of everything, but we are constantly finding really inspiring, exciting things online. Whether it's some amazing drone footage, a hilarious short film, a comic book, a music video, a sketch… there really are no limits to what we let influence our creative process.
Something recently we all saw and loved was "Poet Anderson the Dream Walker," a short directed by Tom DeLonge of Blink-182. The visual style was really captivating, and it just stood out to us as something unique.
Are there any other cool recent stories or projects we didn't touch on?
We are actually in the very early days of developing our own in-house animated feature, based on the true story of female-pirate Back From The Dead Red. The film is very dark, and aimed at adult audiences, making it quite an unusual venture.
We are releasing production blogs so people can keep up to date with our progress- check it out!
REAL LIFE. REAL NEWS. REAL VOICES.
Help us tell more of the stories that matter from voices that too often remain unheard.
This post was published on the now-closed HuffPost Contributor platform. Contributors control their own work and posted freely to our site. If you need to flag this entry as abusive,
send us an email
.