I sometimes find myself in the homes, laboratories, and offices of the nation's greatest innovators. Last spring, I was standing in a living room in Lexington, Massachusetts, watching Radia Perlman —a 2016 National Inventors Hall of Fame Inductee—play the piano alongside her daughter on violin. My eyes were admittedly welled up with tears as I sat behind the video cameras that were filming them.
As Radia worked her magic on the ivories, I stood in awe of her ability to make complex technology so beautifully and artistically tangible. The music she was playing was composed by her son around a poem that she wrote, called Algorhyme. The poem is an ode to her invention of the Spanning Tree Protocol, one of her innovations in computer networking that was key to driving the growth and development of the Internet.
Radia designed the layer that essentially transformed Ethernet from a technology limited to a few hundred nodes confined in a single building, into a technology that can create large networks with hundreds of thousands of nodes spread over a large area. Ironically enough, she was given the challenge (to which this invention was the solution) on the Friday before her boss went on vacation and she solved it over the weekend. Radia had so much free time the following week (as this was a time when bosses didn't have cell phones), that she was able to write a poem about her inventive solution. Imagine.
A second emotion I experienced, during my time with Radia, was gratitude. I was deeply grateful to have found myself in a career that allows me to capture and share the stories of the remarkable individuals who shape our everyday lives through invention. And these stories make their way beyond blog posts into a variety of platforms—from the National Inventors Hall of Fame museum to hundreds of classrooms and thousands of children across the country through our Invention Playground, Camp Invention, and Invention Project programs.
Through these platforms, our Inductees are not simply revered for their past accomplishments, but rather, their current endeavors in being global change agents and paying their legacies forward. As I head into piloting the latest Camp Invention curriculum this summer, I eagerly anticipate the solutions that children will design in response to the personalized challenges that inventors, like Radia, pose to them. The one-on-one time we spend with our Inductees leads to them posing rich, relevant, and authentic challenges that empower children to engage in real-word problem solving.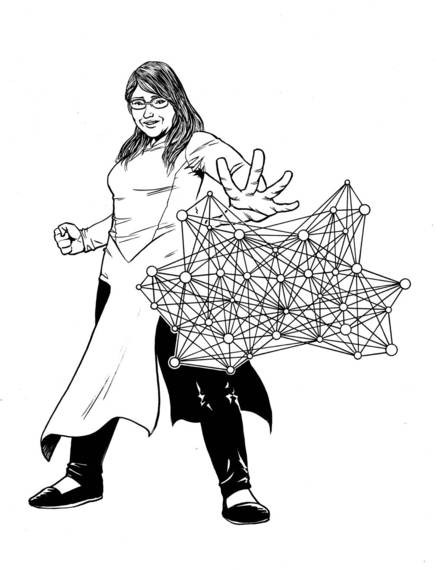 A third emotion I had, while in that living room, was indebtedness. I was keenly aware that I was indebted to sharing Radia's story with every person who has ever had an idea pushed aside, hushed, or dismissed. "Oh Radia, nobody cares about your layer any more," was the sentiment that she heard in regards to her invention of the Spanning Tree Protocol. Luckily, she ignored this message and forged ahead.
Fascinating stories, like Radia's are the inspirational foundation from which I design the STEAM-based (Science, Technology, Engineering, the Arts, and Mathematics) activities found in our K-12 educational programs. In this way, STEAM is not an acronym we vie to integrate, it is simply a natural part of telling the stories of our Inductees. I am currently and feverishly designing a high-energy, team-building game for kids that is a result of notes I scribbled down on a napkin, while brainstorming with Perlman in a Boston café.
Thankfully, that won't be the last time I get to spend time with her. When innovators are Inducted into the National Inventors Hall of Fame, they become part of our organization's family. This summer, Radia will be visiting a Camp Invention site in Sammamish, Washington where she will be immersed in the world of inventing through the eyes of elementary students. In the fall, she will be serving as a judge in our Collegiate Inventors Competition, sharing her expertise and enthusiasm with college students hailing from coast to coast.
Until I meet up with Radia next, one particular line from her poem, Algorhyme, will stay me:
"A mesh is made by folks like me, then bridges find a spanning tree."
I am deeply grateful to cross and build bridges with folks like you, Radia Perlman, and I am thrilled that thousands of wide-eyed children across the country will get to know you too.
Check out where Camp Invention is in your area, as spaces are still available at select sites across the country. If you don't find a location near you, ask us how to get Camp Invention in your region. Like the children and teachers in Sammamish, you never know who might drop by your site for a visit!
Calling all HuffPost superfans!
Sign up for membership to become a founding member and help shape HuffPost's next chapter