Looking for talent to drive a new engineering design from prototype to product? She is a 5th grader in Oakland. Looking for expertise on clean tech to advise your venture capital firm? She is a junior in high school in Washington, DC. You may not have imagined these individuals as the solution to your workforce needs, but we do.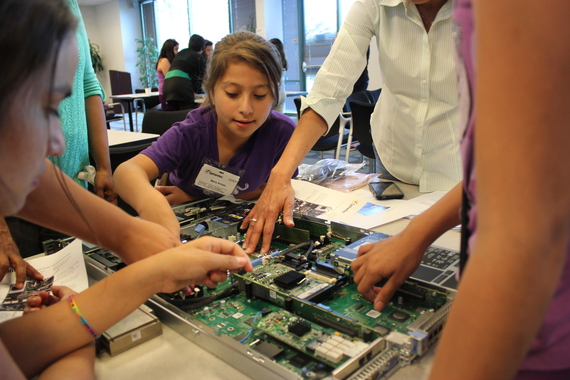 Today's skilled technology workforce is insufficient to meet the demands of business, and critically lacking in women and people of color. In computer science, there are fewer females majoring in the field than there were 20 years ago. In Silicon Valley's backyard, less than 2 percent of students are enrolled in computer science. Of schools with the highest percentage of low-income students, the vast majority - over 75 percent - don't even offer computer science classes. For girls the numbers are especially alarming--when choosing a college major, less than one percent of girls select computer science.
I recently talked with a high school girl about her plans as she looks forward to the next chapter in her life--college. She shared that she used to want to study computer science. But after she did research on the Internet about careers she changed her mind. Why? She read that tech careers were hard and would not give her the chance to make the world a better place. It just about broke my heart to hear how a class project could derail her dream. Imagine that you are that girl in Oakland. How would you know differently? Why would you want to study computer science?
Science, technology and engineering professions need the imaginations and talents of girls and underrepresented groups. We need more diversity at the table when new technology is designed. We need the input of women, Latinos and African Americans, when decisions are made that impact computer access in their schools and communities.
To change the minds and hearts of girls, we need to engineer a revolution. We need to nurture girls' interest when they're young, then help them hold onto that interest through middle school and high school, and into college. We need organizations working on different parts of the pathway, a sector-wide infusion of funding, and strong coordination to track and communicate about what's working.
The revolution to reimagine the tech industry is at our doorstep. The leadership of Reverend Jesse Jackson and Rainbow PUSH has challenged tech companies to report and ramp up their diversity and inclusion strategies, starting with a call to share demographics in the tech workforce last year. Intel has set an example for next steps by creating goals and committing $300 million to help drive its Diversity in Technology initiative that will bring in more female and underrepresented engineers and computer scientists.
We encourage Intel and other tech companies to engineer their change by looking to our future--the kids in our communities. There are lots of groups that support youth in technology. They include organizations with a long history of programs like Level Playing Field Institute and Techbridge that support youth who will be ready for their first college internship in 2020. They also include efforts like CompuGirls, Black Girls Code, Hidden Genius Project, and Code2040 that are newer to the arena. Our programs are solutions-driven and seek to reimagine a workforce that is strengthened by diversity in design teams, senior management, human resources, board of directors, and investors.
It's going to take collective effort to move the needle. There are more and more programs that are introducing kids to coding, matching them up with mentors, and teaching entrepreneurship. It's going to take all of us working on efforts that are customized to the interests and needs of youth across the country. I encourage those who make policy and drive funding to support programs that have track records of effective impact. Invest in programs that are ready and right for scale up and that create opportunities to share effective practices and resources to collectively support youth for the tech revolution 2.0. Here is Techbridge's Top Ten List of strategies to feed this revolution.
1) Put kids and families at the center. Instead of thinking that you know what they need, start with the idea that you don't. Invite youth and their families to ask questions, design programs, and drive efforts to inspire and engage kids in tech. The Harvard Family Research Project brings over three decades of experience developing and evaluating programs to support family engagement.
2) Invest in quality programs that are high-touch and high-impact. Effective programs include relationships with caring adults, rigorous content coupled with high expectations, and professional development for staff. These program models create impact and take significant investments.
3) Start early. If you want to have a pool of candidates for your entry level positions, you need to sow your college internship program. Reach kids in high school, middle school, and elementary school. Programs that introduce high school students to coding show promise for increasing their interest in pursuing computer science studies and careers. But by high school some kids have already closed the door to options that could lead to a future in tech. Programs like Techbridge and Girlstart begin in elementary school and empower girls to hold onto their interests before the middle school decline.
4) Promote leadership that looks beyond an individual program or organization to one that supports pathways and partnerships. All along the way, there are opportunities for kids to lean in or turn away from seeing a future in technology. No one program can meet every interest and need, but collectively we can inspire their interests and support their sustained engagement.
5) Invest in programs that create safe places and spaces for girls. There are a number of organizations that are designed especially for girls. All girls are not the same and NCWIT offers resources on how to appeal to different girls. Girls from low income families and girls of color have needs and assets to build into program models.
6) Be ever mindful of equity. To truly diversify the tech workforce, put your money into programs that work in communities with the least access to technology and enrichment programs. Over 75 percent of public high schools in California with the highest percentage of low-income students offer no computer science classes. The youth with the greatest need and who are the hardest to reach just might help you more than you think with a product or service that you would never have imagined.
7) Be informed by research. Jane Margolis' seminal work described in Stuck in the Shallow End provides research-based insights to inform our work. She dispels the myth that some kids are born to do computer science while others just aren't interested or capable. Preparatory privilege--failure to understand and appreciate all the resources and encouragement that are given to some--can be mistaken for interest and talent.
8) Make long-term commitments. Support organizations for the long-term. And, support programs that support their youth for the long-term. You know that fifth grade girl in Oakland? She's going to benefit from programs that take her from elementary through high school and that even the playing field and make up for the privileges that she might not have at home or in school.
9) Support engagement by your employees. As role models they can help kids connect the dots from hands-on projects in an after-school program to careers in tech. Allow them time to volunteer and appreciate the importance of their getting trained for outreach.
10) Allow us to help you get it right. Look to organizations like Techbridge and the others mentioned in this blog to help you develop your investment strategy for STEM programs for youth. We bring experience and expertise around working with youth who are underrepresented in technology and together we can partner and engineer a revolution that diversifies technology.
About Linda Kekelis
I am the CEO/Executive Director at Techbridge. I know firsthand the powerful impact of sustained support on girls' perceptions of computer science and their options for the future. Interested in learning how you can put our Top Ten List to Diversify Technology into practice? Techbridge would love to help.
Follow Linda Kekelis on Twitter: twitter.com/LindaKekelis
About Techbridge
Techbridge is a nonprofit that empowers girls to realize their dreams through science, technology, and engineering. Its after-school and summer programs in elementary, middle, and high schools in underserved communities offer girls hands-on projects and career exploration with role models and field trips. Techbridge's holistic approach gives girls a support network that includes their peers, teachers, families, and role models. Program impact includes increases in confidence, problem-solving skills, perseverance, and leadership. Building on 15 years of experience, Techbridge's after-school programs have served over 5,000 girls across the San Francisco Bay Area. It has opened offices in Greater Seattle and Washington, DC. Through its national professional development efforts and partnerships with youth-serving groups, educators, families, and STEM corporate and professional groups, Techbridge reaches thousands of adults and supports their STEM programs.

Follow Techbridge Girls on Twitter: www.twitter.com/techbridgegirls
Calling all HuffPost superfans!
Sign up for membership to become a founding member and help shape HuffPost's next chapter