In the week leading up to the Clinton Global Initiative (CGI) Annual Meeting, my heart swelled with anticipation -- not only about departing for the global gathering that awaited me in New York City, but also about handling one more obligation before I left: hosting three U.S. veteran below-the-knee amputees.
They came to test my 3D-printed prosthetic sockets, which I designed through my PhD research at the MIT Media Lab to address one of the most pressing concerns for any amputee - socket discomfort. Initial results from our research indicate that our designs could result in a more comfortable fit than currently available solutions can provide. If all goes well, our prosthetic socket could become a breakthrough for all the world's amputees.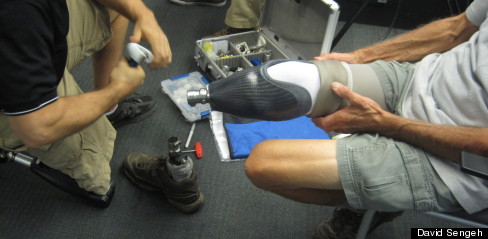 Building this kind of solution requires the resources and collaboration of the MIT Media Lab community. But on a more fundamental level, our innovations are powered by confidence -- confidence that we can create solutions to critical problems, and that even if we don't succeed this time, we will learn a lot on the way.
Meanwhile, as a native of Sierra Leone, I've too often seen this entrepreneurial spirit go uncultivated in youth from resource-poor regions. The potential of too many bright young people never materializes due to external factors like where the children were born and how the international community approaches development. If we want to build a better future shaped by innovation, we must ensure that the confidence and freedom to experiment and learn through such explorations are not contained inside the walls of MIT, but instilled in youth across the world.
As a child, I learned through hands-on making. Enabled by my parents, I worked with other young people in post-war Sierra Leone to promote the rights of children at a national level. Such creative freedom and access to tools and resources prepared me to see the future as it could be. My vision includes a world for Sierra Leonean amputees where, instead of waiting for a free prosthetic leg, they will feel empowered to engineer their own. Similarly, a lot of youth would fare better to create employment solutions rather than wait around for jobs.
On Tuesday at the CGI Annual Meeting, I announced the new Commitment to Action I'm making through CGI to create opportunities, platforms, and safe environments that enable young people to develop the creative confidence required to invent life-changing solutions. This past year, Global Minimum (GMin), an organization I co-founded eight years ago with my high school colleagues, launched high school innovation challenges across Sierra Leone, Kenya, and South Africa. We provide resources, mentorship, and a network of other inventors to student finals, with the goal of planting the spirit and culture of innovation among youth.
Through a CGI-facilitated partnership, which involves institutions like AutoDesk, Silicon Valley Bank and Segal Foundation, GMin will establish pilot Innovation Labs (InLabs) that will create opportunities for help young people to learn through exploration. Starting in four secondary schools in Sierra Leone, this initial pilot phase will lead to the expansion of InLabs to every school and community in the country, and eventually across Africa.
While it remains a privilege to work at one of the most innovative institutions, my greatest joy lies in the process of learning through hands-on making. My dream is for kids in post-war communities thousands of miles away from Cambridge to know that joy as well. The confidence to create -- prosthetics for amputees, solutions for their economies, and a world worth living in -- is something that should be instilled in every young person, no matter who or where they are.
This post is part of a series produced by The Huffington Post and the Clinton Global Initiative in conjunction with the latter's ninth Annual Meeting (September 23-26 in New York City). This week, President Bill Clinton, former Secretary of State Hillary Rodham Clinton, and Chelsea Clinton convene more than 1,000 global leaders under the Annual Meeting's theme for 2013 -- Mobilizing for Impact -- to advance solutions to some of the world's most pressing challenges. For more information on the Annual Meeting, clickhere. To see all of the posts by CGI mobilizers in the series, click here.
Related