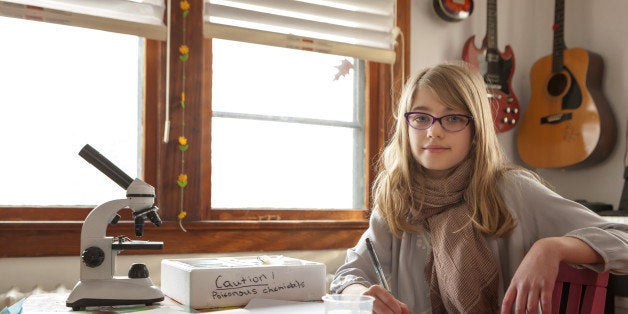 Despite consistent growth in the STEM job market over the past 10 years, we still see a disparate number of young women entering STEM fields. In a recent article, Girl Scouts CEO Anna Maria Chavez explains, "While women comprise 48 percent of the U.S. workforce, just 24 percent are in STEM fields, a statistic that has held constant for nearly a decade."
Just last year, major tech companies made their diversity numbers public, revealing that only 17 percent of Google's team is comprised of women, and at Facebook just 15 percent. These numbers are likely related to another data point: while women make up 57% of U.S. College students, only 18 percent earn computer science degrees.
These numbers ultimately leave us asking the same questions: What might account for the lack of women in STEM, why do companies benefit from hiring more women in STEM, and what can be done to encourage young women to pursue careers in STEM-related fields?
Tackling the first question -- what might account for the lack of women in STEM -- is the most difficult one to answer in tangible terms. The root causes of such an issue would require an in-depth approach that includes an assessment of sociological implications -- something that most of us aren't equipped to discuss holistically let alone begin to solve. It is perhaps more useful, then, to focus not on the problem so much as the solution and the reasons why it is so important to strive towards a solution.
Solving for the lack of women in STEM fields is a task that requires buy-in from everyone -- not just women, not just parents of young girls, and not just educators who are trying to level the playing field as early as possible. Closing the gender gap in STEM, and especially in tech-heavy fields, demands active participation from male leaders and male technology professionals in order to reach a sustainable and culture-shifting solution. More specifically, employers and hiring managers can begin to look outside of typical hiring methods and resources in an effort to diversify their company's team. Adjusting culture to reflect a welcoming environment that avoids the now stereotypical "bro-grammer" tone is an obvious but critical step in the right direction. Ultimately, if we can all agree that men dominate the tech industry, we must also agree that men will have to be a huge part of what will change the tech industry into a more welcoming space for women.
Many companies are taking active steps to close their own gender gaps as well as creating opportunity for women interested in STEM careers altogether -- whether inside or outside of their company. Today, there are also a number of organizations that focus entirely on bridging the tech gender gap and welcoming more women into the industry. Organizations like 'Girls Who Code,' 'Webgrrls,' and 'Women in Technology' are all a wonderful starting point for young women who are looking to build a community as they develop their career in tech. The existence of these types of organizations and programs suggests that there is a demand; that change is desired.
In honor of Engineer's Week, women should also consider seeking out unique opportunities to catalyze their careers in tech. Companies have begun to show their own buy-in for advancing women's careers in STEM - now it is time to encourage other women around us to take advantage of these opportunities. Adecco is offering a $5,000 STEM scholarship (open to both women and men with a deadline of March 16, 2015), and WITS (Women in Technology) offers a scholarship specifically for women (deadline March 2015), among many other opportunities that are cropping up as companies take a stance on closing the gender gap.
The demand is clear: more women in STEM are needed. The next steps are all about meeting in the middle. Whether you are part of a major company, a startup, a member of an educational institution, a young man in tech, a CEO, a businesswoman, a parent -- it's up to all of us to encourage and show our support. Finally, it's also up to young women to begin to dive in and take advantage o the opportunities that will continue to grow as more and more supporters recognize the benefits of diversity and inclusion.