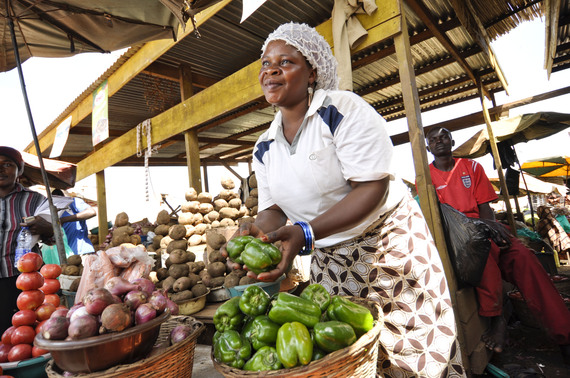 Entrepreneur and Opportunity International loan client Ruth Nassimbwa in the Kalerwe Market, Kampala, Uganda.
You know the look. A quick flicker in a woman's eye that reveals there was a darker piece of her story that she has turned into light. It's the look I see each time I meet one of our clients at Opportunity International--women entrepreneurs around the globe who are working to send their children to school and reverse the cycle of poverty they were born into. They are the ones driving economic progress, improving gender equality and defining self-sufficiency for generations to come.

I never cease to be amazed at the resilience and positivity that accompany the entrepreneurial spirit. It is the same spirit shared by our partners the National Association of Women Business Owners (NAWBO), a group of inspiring women representing the 9 million women-owned businesses in the U.S. who are driving change within the workplace and growth in the U.S. economy. Recently the NAWBO entrepreneurs gathered at their annual conference in San Antonio, and I'm certain the enthusiasm generated by nearly one thousand women small-business owners could be harnessed and used as an alternative energy source!
At the conference, entrepreneur and Opportunity Ambassador Bonnie St. John reflected on being a teenager and flipping through a catalogue for premiere ski school. She became discouraged because there were no photos of people like her--African-American, low-income, an amputee. It suggested that she might not have a shot at becoming a professional skier after all. Her response? "This is impossible. I better get started." Her journey was impossible by society's standards and she did get started right away. Bonnie went on to become the first African-American skier to medal in the Paralympics. That is the spirit of a woman entrepreneur.

This same resilience is alive in the hearts Opportunity International's 12 million clients every day. Despite the worlds that separate us, the working women who utilize Opportunity's financial services across the globe share the same spirit and hold the same steadfast gleam in their eyes.

One entrepreneur who forever marked my heart was a soft-spoken woman named Rebecca from Tacloban, Philippines. I was relieved to hear she was able to use one of our business loans to rebuild her food cart business after it was destroyed by Typhoon Haiyan, while also looking after neighborhood children who were orphaned by the storm. I then learned that the same Typhoon had claimed her mother and daughter, both of whom were physically ripped from her grasp during the storm. To see her be buoyed by her commitment to her surviving family, to see her doing good for her community instead of being crushed under the weight of grief and loss--that is the spirit of a woman entrepreneur.

Day in and day out, women entrepreneurs around the world fight to rise against natural disasters, legal oppression and economic downturns. They continue to be the single greatest untapped resource in this world. Here in the U.S., women are leading the growth of the domestic economy in 8 of the top 13 industries. Globally, it's no different: women have the greatest potential to impact the global GDP. In the developing world, that GDP could increase by double digits.

This is exactly what we're working toward every day at Opportunity International, but it will take all of us working together to unlock all the potential within women around the world. So on this day, celebrate a woman entrepreneur in your life. Empower her, encourage her. Today is her day!
Vicki Escarra is the Global CEO of Opportunity International, which has set a goal of creating 20 million jobs by the year 2020, impacting 100 million lives around the world.
Related
Popular in the Community