Recharging batteries. Sampling lots and lots of fine food and wine. Soaking in a tub.
I'm at Gatwick Airport and the ''Welcome to Britain" ads tell me that all of these things are on tap. I am ready. It is springtime, a few years back, and I've come to the south of England for a week of ''good living" as the country's tourism campaign has promised.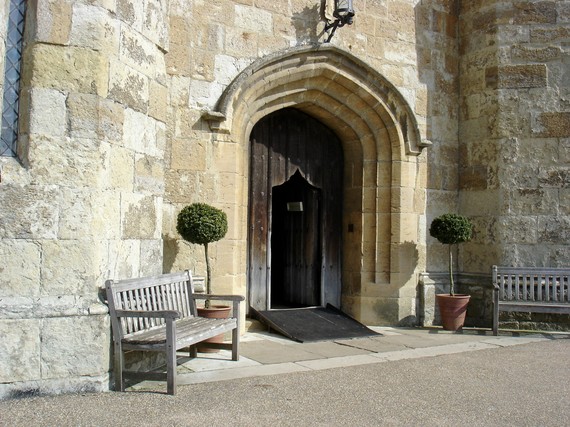 The region of Kent and Surrey, Oxfordshire and Hampshire seems like the place for it, too, with postcard cities like Canterbury and Winchester, and famous formal gardens like Sissinghurst. This is the sculls-at-Henley, strawberries-and-cream side of England.
With my strawberries, I'm angling for a taste of the upper crust.
On the coach ride to the hotel, I feel as if I'm looking through windows into a child's drawing. Hills roll, farms are neatly fenced, and there are even far-away puffballs in the shapes of sheep and bunnies.
Maybe they are sheep and bunnies, I think. I am a city guy; I'm going to have to get up to speed.
I check into Eastwell Manor in Ashford, Kent, an ivy-covered stone manor house that could be a set for a Miss Marple mystery, with its elegant gardens and mighty fireplaces smoking and snapping with fresh-cut wood.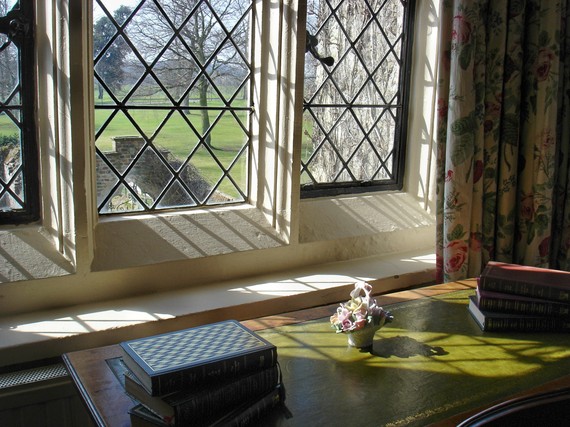 According to the brochure, the estate dates to the Norman conquest (1066). Sir John de Fonblanque Pennefather lived well here. So did Guinevere Countess of Middleton, and the mysterious ''Matilda de Eastwelles." Now me.
I don't see any sign of them but I am informed at the desk that current owners, Mr. and Mrs. Turrloo Parrett, bid me welcome.
''Thanks," I say. ''Is the swimming pool open?"
It is. Not only can I swim in the Eastwell spa but there is a special on Gentlemen's Grooming. However, I decide to skip the ''gentlemen's pedicure" -- 25 Pounds for a half-hour of cuticle work.
Next day, I tour Canterbury Cathedral with its steps worn smooth by the footfalls of pilgrims and, with a group from the manor, I take a country walk. Lambs are everywhere, sticking in clusters and tumbling over like balls of cotton out of a box.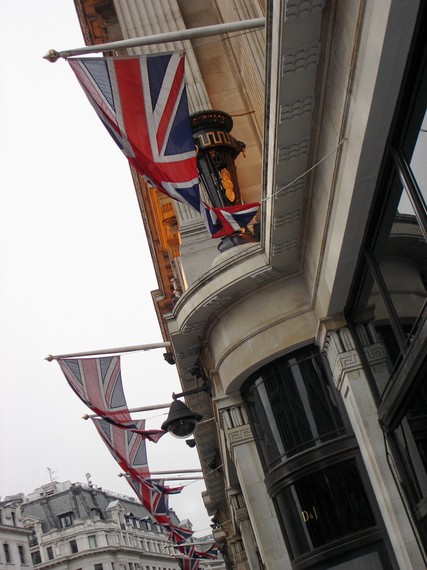 One is lying down, all by itself, and we discuss this. Where is its mom? Should we search for the farmer? Should we try to bring it a saucer of milk?
It seems like a nursery rhyme gone bad, but no one is sure.
''Maybe he's just resting," someone says, and we decide to leave the reclining lamb alone.
Life in the fields seems complex. It is time for a drink. I am suspicious of English wine, but I am thirsty. So I sign up for a tour of nearby Lamberhurst Vineyards and, after a quick look around, I settle down in the tasting room with fluted glass in hand.
Some of the labels on bottles make me nervous: ''Curious Grape Dessert Wine" and -- isn't this supposed to be a vineyard? -- ''Curious Brew Lager Beer."
''What's so curious about these?" I say to the tour guide, Dionne Eames.
''Why don't you have a taste and see for yourself," she says.
We try some sparkling wines, which I have to admit are excellent. The ''Century" vintage is billed as ''quintessential English fizz, with elderflower and hawthorn on the palate." My palate knows nothing about elderflowers or hawthorns, but it likes the English fizz. I ask for more.
''Can you smell the British hedgerows?" asks Eames.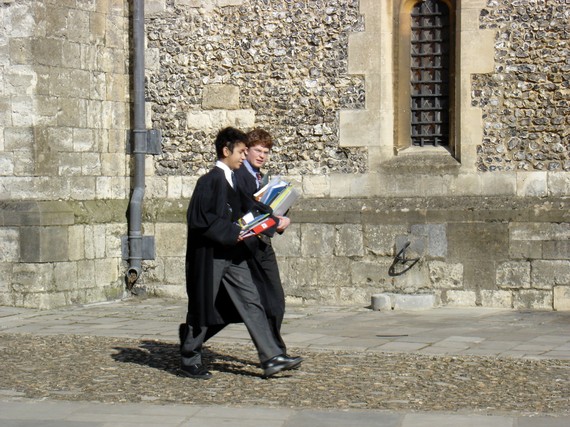 Then it's on to the whites, including a fragrant ''Bacchus 2003" that Eames suggests might ''go well with fish and chips." Finally, I take a swallow and another, and get a refill of the Lamberhurst Estate Fume. According to Eames, it is ''the perfect accompaniment to a roast chicken or a chicken pie."
All this talk of food is making me hungry. Hungry for the good English food that goes along with ''good living." Good English food. What am I saying? Well, maybe I'll be surprised.
I am, in fact, shocked the following day on a farm near Alresford, Hampshire. A watercress farm.
Thanks to Tom Amery, one of the specialists at The Watercress Company, I get to walk around the bogs where the popular little herb sits knee-deep in pure stream-fed water. Popular in England, that is. Seventy tons a week are consumed here, though only trace amounts in the United States.
''We've got the River Piddle near here," says Amery. ''The water sluices in and through. Then back to the river."
Me: ''The River Piddle. Any reason it's called that?"
Amery: ''It's not what you think."
Amery grabs a bunch of the knotted, twisty stems and clover-like leaves. We take a taste.
I like it. Nice and sharp like arugula, with a shot of horseradish for extra kick.
''There's a small snail," Amery says, brushing it off the bottom of one of the bunches. ''Watercress is extremely healthy. There's a whole ecosystem under there."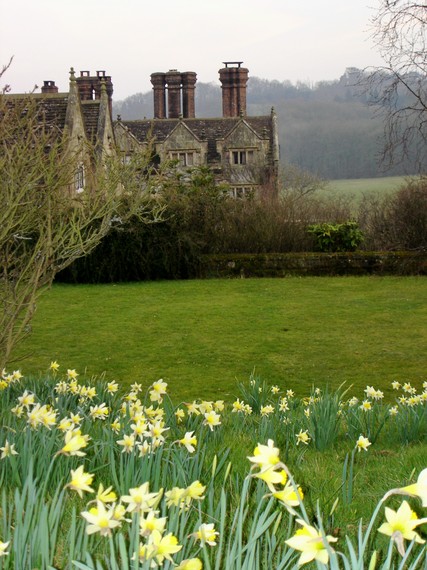 As a finishing touch, Amery and I head for a local pub, The Globe, to taste some traditional dishes that include watercress.
Over a bowl of Chef's Cream of Watercress Soup, someone tells me that ''Anglo Saxons ate watercress to prevent baldness." As I enjoy a bite of the watercress flan with new potatoes and basil, I'm told that cress can help me make ''bold decisions."
My bold decision is to wash down the flan with a pint of bitter. I can do this guiltlessly: I have read that a bag of watercress is the perfect hangover cure.
The next day dawns deep blue, not even a wisp of English mist, and on the ride to Leeds Castle, near Maidstone, the sun pops up.
By noon, it is hot outside the moated castle that Henry VIII fixed up into a royal palace with all the trimmings. Swans swim around and around, and one of them clamps onto my thumb when I try to feed him some crumbs from a muffin.
I storm off in search of a bandage, and out of the corner of my eye, I see him chewing happily.
Leeds is one of the least dead castles I've ever seen -- it looks as if kings still feast and sleep here -- but I get distracted by a small display that is part of the grounds: ''Four Centuries of Dog Collars!" boasts the sign. ''The finest and most comprehensive collection of its kind."
It is a dog collar museum.
No one seems sure why the ancient, iron, spiky, and exotic collars are here. Did the kings own the dogs? Are these royal collars? Any leashes or muzzles on view?
I have many questions. I am told that these are collars of all kinds, not only kingly. There are no leashes. There are no muzzles. Just collars.
But these are collars for the ages, elegant silver, trimmed with fur and lined with leather for luxurious comfort, for fine living.
If I can come back in a second life, I have made my decision:
I will come back to the counties of Surrey and Hampshire and Kent. To the south of mighty houses and of watercress and acres of sheep. To crackling fires and snapping swans and formal gardens.
I shall come back as an English dog.