Police officers in Chicago are stepping up to the plate to coach a youth baseball team for boys and girls.
The Englewood Police Youth Baseball League aims to combat violence through the sport, by uniting young athletes in a crime-ridden neighborhood with mentors from the local police force, NBC Nightly News reported.
"Showing them that police are human, that we're their friend, that they are safe around us. That's an extension of being a police officer," Angela Wormley, police officer and volunteer coach, told the news outlet.
The league launched in May as part of a partnership with Get In Chicago, a program that works to eliminate juvenile violence, and the community welfare organization Teamwork Englewood. Comprised of six co-ed teams of athletes ages 9-12, the league meets free of charge, weekly for baseball practices and clinics, as well as mentoring sessions, according to a press release.
"With the core goal of creating a better understanding between youth and police officers in our communities, we also hope to create leadership and learning opportunities for youth and their parents in community policing, planning and engagement," Toni Irving, executive director of Get In Chicago, said in a statement.
The league celebrated their opening day on Wednesday in Hamilton Park, in the south side of Chicago. Led by both current and retired Chicago officers, about 100 girls and boys have signed up for the program.
"I think this is such a good thing for young black boys, and they've even got the girls playing," Kenyatta Jones, whose 9-year-old son plays the league, told the Chicago Sun-Times. "With as much violence going on in the city, it's a real good thing to have police actually involved with the community."
The program will run through August, but its mission to unify the Englewood community aims to make a long-lasting impact.
"The goal ... is really building trust between the community and police," Irving told the Sun-Times. "There's a problematic representation of African-American youth, and these perceptions manifest themselves in action. This is an opportunity, not legislated or mandated, for young people and police to get to know each other better."
Before You Go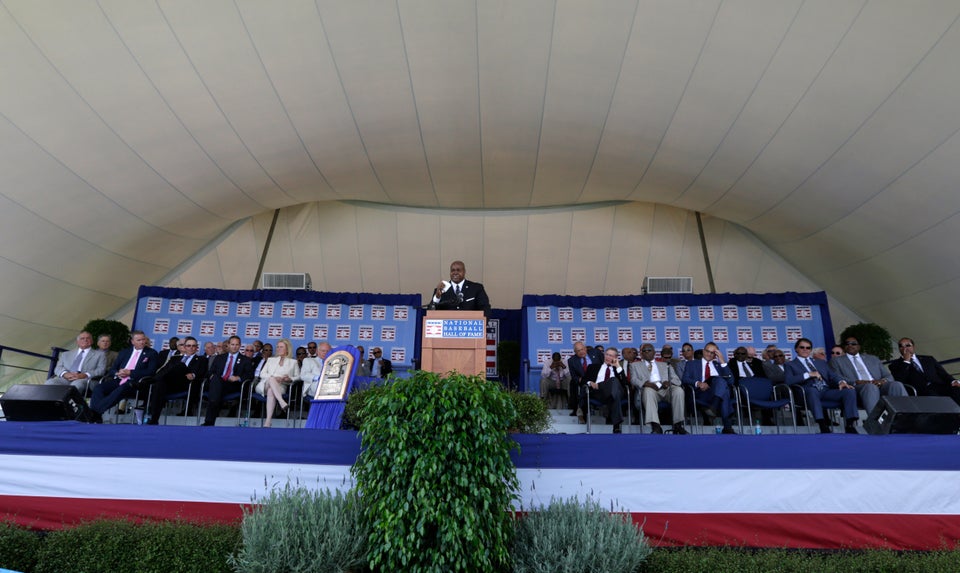 PHOTOS: 2014 Baseball Hall Of Fame Induction Ceremony