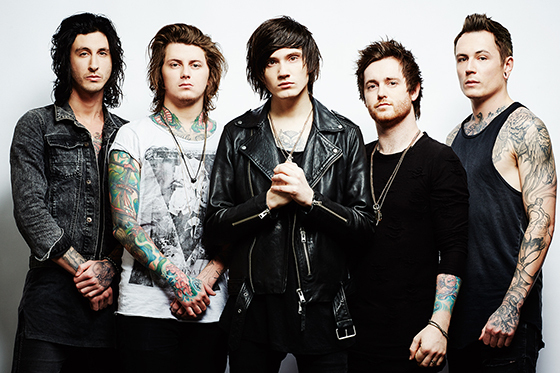 Asking Alexandria has been a mainstay of the metalcore genre since their 2009 debut Stand Up and Scream. After three successful albums, this 5-piece band from England that was started by lead guitarist Ben Bruce found themselves at a crossroads with their lead singer Danny Worsnop, which led to his exit from the band in January 2015. In his place, Denis Stoff, formerly of the Ukrainian metalcore band Make Me Famous, stepped in Worsnop's place and a new chapter of the Asking Alexandria saga was born.
About to release their first album with Stoff at front titled The Black, there's a new feeling of life within Asking Alexandria. Recently, I was able to chat with Ben Bruce about Denis Stoff, the new album, and everything that led to Danny Worsnop's departure.
So Danny Worsnop is no longer in the band and you have Denis Stoff as the new lead vocalist. What was the mood of the band going into making this album?
We were ecstatic. We were super excited. The last few years of this band's career with Danny at the helm was pretty stressful. None of us were very happy. We were all on a different page, so it was a bit of struggle. We were just going through the everyday motions. Denis has joined the band and he loves the band and cares about the band just as much as the rest of us all do. So going into this record was like a real breathe of fresh air. It was fun again to create music. We had a blast. We put everything that we been through over the last few years, not just us as a band, but Denis and his personal life as well. We poured all of that into this new record. It's a very honest and open album. We probably had the best time of our lives making it.
How was it working with Denis Stoff? Why was he such a good choice for the band?
There's a number of reasons. Not only is he incredibly talented and great at what he does, but he's just a fun guy. He's a lot like the rest of us, which is awesome. He's already a part of this family and it feels like he's not the new guy. He feels like he's been with us since day one. It felt like that very, very quickly, which is obviously awesome. The other thing is that he's been a fan of this band since he was a kid. He used to cover our stuff on YouTube, so he respects what we've done in our careers up to this point and he only wants to help us further and better our careers. There's no ego or anything like that. We're all in this for the same reasons and we love writing and creating music, so now we just to do that together.
Going into this album, what direction did you want to go with it or did you just let nature take its course?
We just let nature takes it course and we wrote an Asking Alexandria record. I feel like with the last release, From Death to Destiny, it's a great record and it did well and everything, but we were forcing ourselves to write things that we thought would be more commercially acceptable. We were trying to appease Danny because Danny didn't like heavy music anymore. There was a lot of stuff that was forced. We didn't actually get to be Asking Alexandria like we were with Stand Up and Scream and Reckless & Relentless just as people and songwriters in general. With this album, we just let nature takes its course. We can do whatever we want. There are no expectations. That's just have fun and write an Asking Alexandria record, a real Asking Alexandria record the way that we used to.
When Danny was still in the band, do you ever remember a time when you felt like there was an indication that this might not work out and that his heart really isn't into this band anymore?
It had been happening and building for years I would say. Even as early as our second Reckless & Relentless, I remember going into the studio and trying to get Danny to record vocals was just a near impossible mission. He just didn't want to get into the booth and sing the vocals. He would stay in his room and not really do much. All the way as far back as then, we were recoding in 2010 and it came out in 2011, so it was just a long gradual process and he just distanced himself and more and more and more as the years went by.
With that sort of friction in the band, how do you overcome that and get shit done?
Since day one, I've been the main horse behind this that's towing everything along. I didn't stop working. It didn't slow me down. Whatever wasn't getting done on Danny's part, I would pick up the slack and try and do that. The thing that made it easier, there's a number of things. One, the overwhelming support we had from our fans since day one has definitely kept me going, but two, the other dudes in the band, Sam [Bettley], James [Cassells], and Cam [Liddell], they're my best friends, they're my brothers. The four of us really worked well as a unit so it made it easier to just keep working and keep going through this because the four of us were still so into it, so in love with it. We just lent on each other for support and did what we had to do.
If there was so much friction between Danny and the rest of the band, why did it take so long for the separation to happen?
There's a number of things you can attribute it to. Same thing with any relationship, even if its with a significant other or what have you, you get confortable and it's a scary thing moving on, especially when you are so used to something. The main thing for me was, Danny had been my best friend for a really long time, and I couldn't bring myself to fire him and have him leave the band because I felt like I would be letting him down. I wanted to try to work through whatever problems he was going through as his friend and try to help him through them and overcome them. There was no way I was ever going turn my back on him and be 'Sorry, you're out of the band.' We had to trudge through the bullshit and wait until he was ready to quit.
What sort of relationship do you have with Danny today?
It was very strange for a while. He upset us and kind of turned his back on us, but now, he's been out of the band for like a year. We still talk. We text. We check in on each other, see how we're both doing. There's no animosity or hatred. There's no point in harboring that sort of feeling towards each other. We were friends for such a long time so we're sort of picking up the pieces again of our friendship. He's happy where he is and we're extremely happy where we are, so there's no point in hating each other or arguing with each other. We get along. We definitely keep in touch and I think we will do.
Asking Alexandria is set to play The Intersection in Grand Rapids on Wednesday, March 9th. The Black is due out on March 25th. For more information, visit askingalexandria.com.
REAL LIFE. REAL NEWS. REAL VOICES.
Help us tell more of the stories that matter from voices that too often remain unheard.