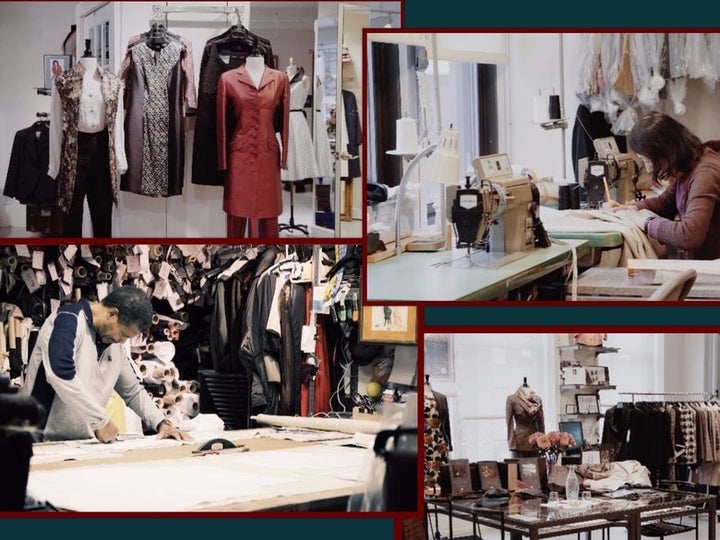 They say an image speaks a thousand words, and for women working in professional industries, how we look is an important part of our presentation and personal brand.
The focus on the female image is perhaps more intense than ever before. The appearance of professional women is covered frequently by the media. Theresa May, the United Kingdom's second female Prime Minister, for example, is regularly featured in the media. She was recently photographed for American Vogue, becoming the first British politician to be bestowed this cultural honor -- and to be widely analyzed by the world's fashion and political press. In the US, Senators like Kirsten Gillibrand and Kamala are similarly analyzed by what they wear, and have also been profiled by magazines like Glamour and Marie Claire.
Working in the corporate world for many years, I have always realized the value of professional tailored clothing. It's an integral part of a professional image and reputation, and it can play a part in projecting confidence for the wearer. Thinking outside the realms of traditional corporate style; beautifully cut and constructed items will never be just a trend. They are investment for the wearer, helping them to construct and shape the narrative of their career, and playing their part in projecting their personality and professional expertise to the wider world.
Making the switch from mass produced work wear to personally tailored garments was a lifestyle change for me, and one which I needed to do in order to invest in my personal brand, advance my career and ultimately, start my own business.
I turned to Dara Lamb, a renowned tailor based in New York who focuses solely on women, to help in this new challenge. She helped me to construct a custom wardrobe, taking into account my individual personality through the cut, style, fabric, trimmings and overall design of my new work wear collection.
The personalized consultation was an integral part of the experience, and was the lightbulb moment in this important journey. I hadn't considered what the process would be like, and with my tailor's expertise, I understood more about the proportions of my figure and how tailoring could create confidence.
Personally tailored garments enable the wearer to enjoy clothes that fit, flatter and feel comfortable. But above all, it shapes confidence, a sense of individuality and a garment that celebrates and flatters the wearer.
Many of my colleagues and friends have asked me why I made the switch to custom tailoring. Tailoring is a time-honored craft, and American tailors are represented by the Custom Tailors and Designers Association. Fast fashion, particularly in the professional arena, is never the answer and, like the 'purchase and go' mentality, unsustainable. Why support an industry of outsourced, overseas work when you can champion the artisan skills of your fellow citizens?
Wearing custom designs have given me the confidence to talk about my personal brand and the people who have played a part in helping me get to where I am today. My custom clothing is a talking point, and it has made my fellow professionals take me seriously. My dresses and suits are helping to construct the all-important first impression, something that is particularly vital in a traditionally male dominated industry of finance.
My choice of custom clothing is an indication of my commitment to high quality in my own profession and wider line of work. It similarly demonstrates my drive to representing the best interests of my clients, striving to be the very best I can be in attending to their finance and regulatory needs. If the devil is in the detail, then I'm more than happy to display it!
Tailored pieces are an investment for my career, and thanks to this life-changing discovery, my wardrobe is no longer a challenge. Gone are the days of experiencing the mad panic of deciding what to wear on a workday - I feel prepared and ready to reach success when meeting new clients or in the boardroom.
Investing in a custom wardrobe has brought many benefits. I feel more confident in reaching my own goals, and having a professional uniform has in some respects provided me with a new business personality. Clothing unique to me is empowering, and my new wardrobe is a tool helping me to grow my business and help my clients. My personal brand has grown in strength as a result of this investment, and my wardrobe is now a conversation starter at networking events.
In a professional career, expertise, experience and creating a positive reputation takes time. My choice to wear custom clothing is an indication of my long-term commitment to excellence in my career, and it is an important milestone in the journey to reaching my professional goals.
With any big decision, the switch in mentality takes time. I've made the change, and I'm reaping the benefits. I hope that other industry professionals will do the same and consider clothing not as a soft subject, but a technique on the path to success.
Elin is the founder of Elinphant as well as a seasoned Compliance Executive. In her current role Elin ensures compliance officers who serve clients are skilled and knowledgeable in relation to the clients business and needs. Elin believes that clients are best served when knowledgeable professionals execute projects. Elinphant is a collaborative and innovative Compliance services firm.
Ellevate Network is a global women's network: the essential resource for professional women who create, inspire and lead. Together, we #InvestInWomen.