With temps brick-oven high and humidity levels swamp-like in many parts of the country, there's nothing like a refreshing dip in the pool. Hotel search engine Room 77 has compiled a list of The Hottest Hotel Pools that are more than just watering holes -- they're the ultimate places to chill and the coolest part of any summer heat wave.
Mandalay Bay (Las Vegas) - the 11-acre tropical Sand-and-Surf beach puts guests in the middle of the Caribbean complete with 2,700 tons of real sand, a 1.6-million gallon Wave Pool with swells up to 6 feet high and a gigantic tropical playground with three pools, several whirlpools, a Bikini Bar and a Beachside Casino.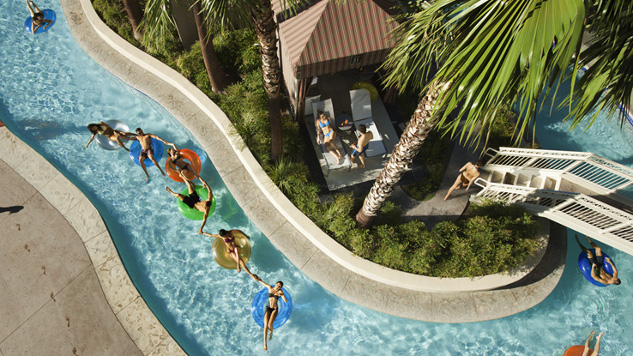 Courtesy Mandalay Bay
Golden Nugget Hotel and Casino (Las Vegas) - only in Vegas will one find a 200,000-gallon, shark-filled aquarium in the middle of a swimming pool, where you can swim side-by-side with a dozen sharks or shoot straight through the tank on the Shark Chute, a three-story waterslide.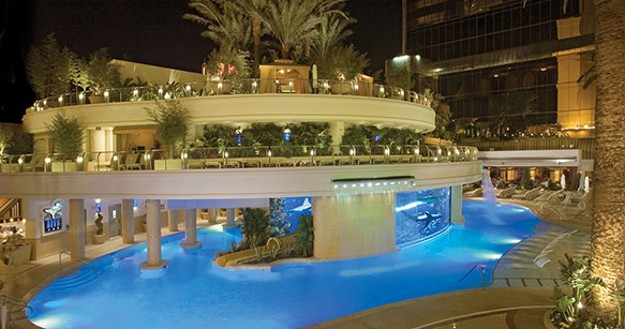 Courtesy Golden Nugget
Grand Wailea Resort (Maui, HI) - boasting nearly 26,000 square feet of aquatic fun along with the world's first water elevator built into a volcano, the Grand Wailea Resort features a river of nine interconnected pools complete with whitewater rapids and lazy currents, four waterslides, a rope swing over a Tarzan pool, waterfalls and three Jacuzzis.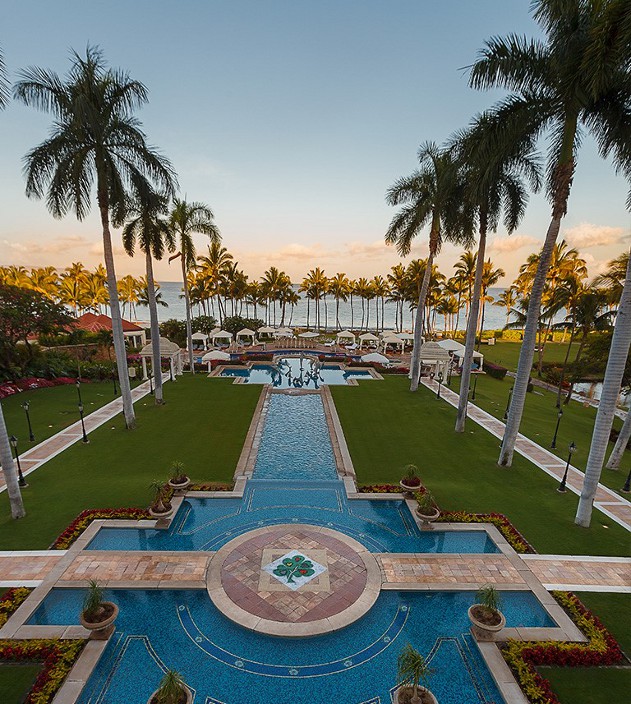 Courtesy Grand Wailea
The Joule (Dallas, TX) - this 1927 historic hotel features a window-walled rooftop infinity "poule" that sticks out eight feet from the building's exterior, where guests can swim to the deep end and take in the views of downtown Dallas 10 stories below.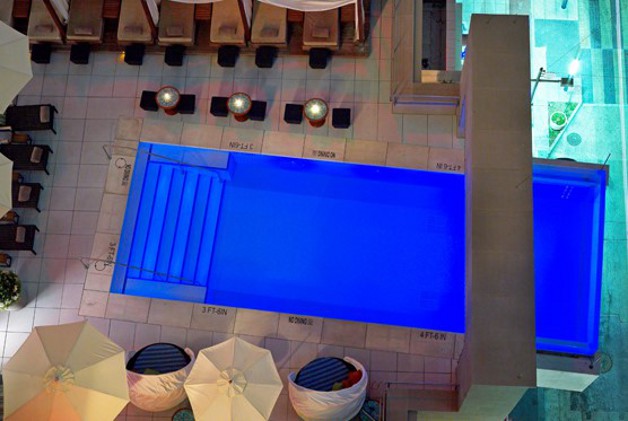 Courtesy The Joule
The Omni Grove Park Inn and Spa (Ashville, NC) - guests will enjoy an underground grotto of 10 mineral-based, chlorine-free pools framed by cavernous rock walls, arches and tunnels along with thundering waterfalls, hot and cold plunge pools and a mineral and lap pool complete with 6,500 fiber-optic stars embedded in the ceiling and underwater music.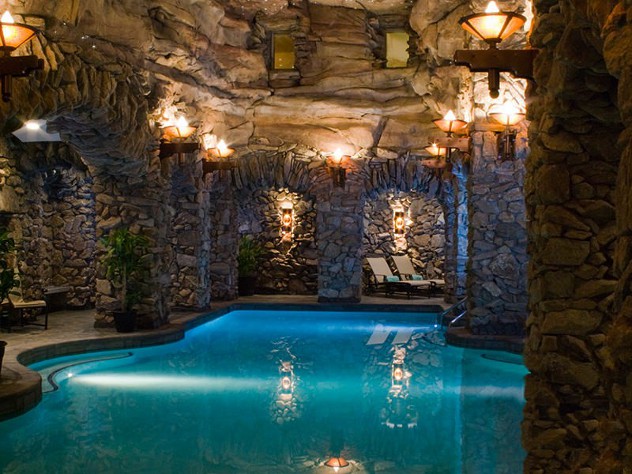 Courtesy The Omni Grove Park Inn
The Sagamore(Lake George, NY) - set on a 70-acre island in upstate New York, the Sagamore's 95,000-gallon infinity pool and large adults-only pool command panoramic Lake George and Adirondack views.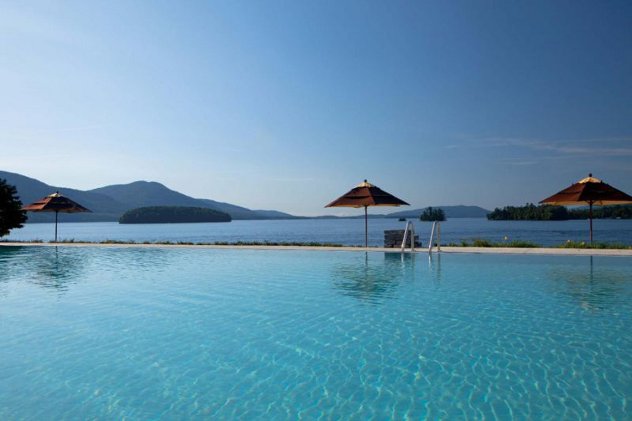 Courtesy The Sagamore
The Viceroy (Miami, FL) - this Miami hot spot overlooking Biscayne Bay boasts the world's largest hot tub (80 people!), Florida's longest infinity pool (300 feet) and a wading pool. Add it all up and you have a 15th-floor water complex that's the size of a football field.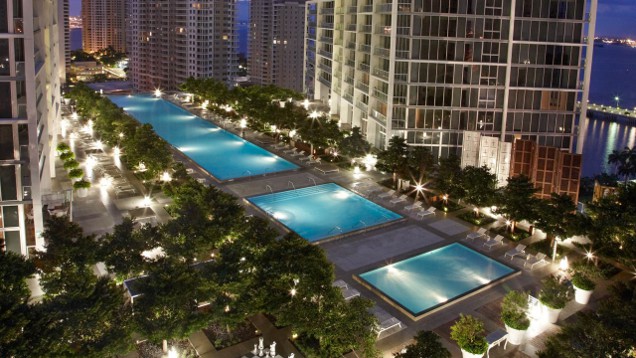 Courtesy The Viceroy
Thompson LES(New York, NY) - located on New York's Lower East Side, one of the hotel's bragging rights is a giant photographic mural of Andy Warhol by Gerard Malanga covering the bottom of the 36-foot rooftop swimming pool.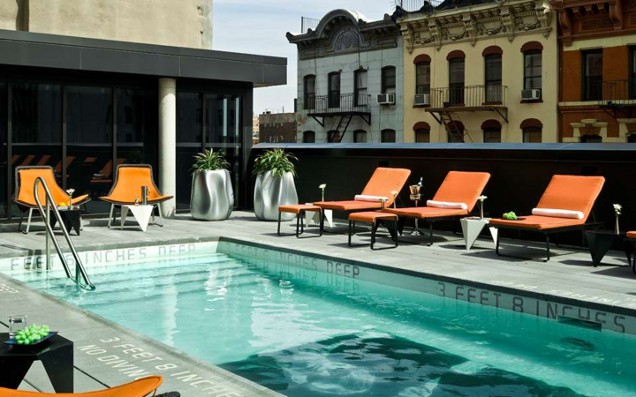 Courtesy Thompson LES
Four Seasons Biltmore (Santa Barbara, CA) - this legendary swimming pool - over 160 feet long and overlooking the Pacific Ocean - is bordered by 31 private cabanas and features a children's wading pool and an oversized whirlpool.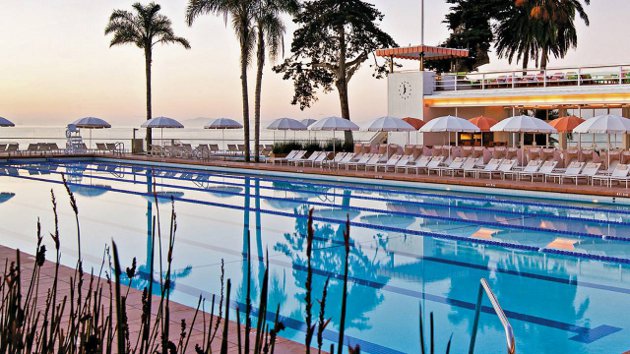 Courtesy Four Seasons Biltmore
Hard Rock Hotel at Universal Orlando Resort (Orlando, FL) - the centerpiece of the hotel is the 12,000 square foot pool, where guests can go down a 260-foot slide and enjoy a variety of poolside activities from ping pong tournaments, pool basketball, beach volleyball and hula hoop contests to weekly "dive-in movies," concerts and more.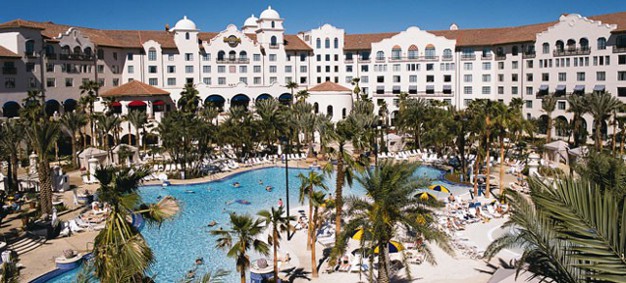 Courtesy Hard Rock Hotel