Here's a dirty little secret that no one in Hollywood likes people in the Real World to know. With the exception of being at the actual Oscar ceremony -- or at one of the handful of hot viewing parties in TinselTown -- there's nowhere better to be on Academy Awards night than at home -- enjoying the Oscars with some good Chinese.
You could order some General Tso's chicken, Kung Pao beef, Moo Shu pork, Peking duck and egg foo yung. (Don't forget a 14, a 7, a 9 and lychees). For added pleasure be sure to ask for extra MSG on everything.
But this year there's a more literal way to enjoy the Oscars with some Chinese.
I'm talking not just of the cuisine -- fine though that is.
I'm talking of the actual nation of China. You know... the country that owns us. Or at least finances us.
That is because this year -- for the very first time -- the entire nation of China will be getting a live web-stream from one of L.A.'s hottest Oscar viewing parties -- the 23rd annual Night Of 100 Stars.
What's the big deal you ask? Surely the nation that funds America gets the Oscars live on TV? Well you would think so if you read the press release from the Motion Picture Academy. Their press handout listing of nations carrying the Oscars on TV lists two outlets that will be broadcasting the Oscars in China. CCTV-6 -- one of the channels of the official Chinese state broadcaster. And Star Asia -- one of Rupert Murdoch's many pan-Asian satellite TV tentacles.

Extract from official information sheet issued by the Academy of Motion Picture Arts and Sciences
But on closer examination one discovers that the Great Wall of Chinese eyes will not be seeing the Oscars live on TV. CCTV-6 is not airing the Oscars live. To air live it would be on between 9:30am -1.00pm on Monday -- which might distract workers from the current Five-Year Plan. (Believed to be the utter decimation of the American economy.) So as not to interfere with child labor and other important industrial endeavors, the Oscars will be tape-delayed to air in a more convenient night-time slot. Somewhere between hot cocoa and infomercials for tractors. This will also give translators time to decipher all of Oscar host Seth MacFarlane's devastatingly witty quips about Harvey Weinstein and other Jews.
Meanwhile Star Asia, as befits a Murdoch-owned operation, will be broadcasting the show live. But with a few caveats based on geography and geo-political constraints. In Hong Kong the show will be seen live on the Fox Movies Premium channel. In Taiwan it will air on three channels - Star Movies, Star Movies HD and Star World.

But in Mainland China, it will only air on a network called Star Movies -- a channel that Star Asia openly declares is "only available in select hotels and compounds". Loosely translated that means that Westerners living in or visiting China can see it. It's the TV equivalent of USA Today. Freely available at all Best Western, Motel 6 and Travelodge properties. But not in yer actual Chinese homes. If "compound" conjures up images of the Sino equivalent of Hyannis Port and Kennebunkport -- that's appropriate. In Chinese-speak a "compound" is where US government officials congregate while waiting to be rescued by Ben Affleck. In other words Western embassies, consulates, legations and other segregated locales where foreign diplomats and spies commune.
So what of the estimated 1,354,601,134 (that's one billion, three hundred and fifty four million, six hundred and one thousand, one hundred and thirty four people -- though actually another 237,000 Chinese were born while I was typing those words) on Mainland China? How are they going to get their live Oscar fix?
Step forward Mr. Robert King of NewMediaTV Networks. An American media entrepreneur whose extensive work with China includes having been Executive Producer of the World Expo 2010 in Shanghai.

For the past eight years he has been live-streaming a US domestic webcast from one of the most coveted of all the Oscar viewing parties - the annual Night of 100 Stars shindig -- hosted at the swanky Beverly Hills Hotel by agent Norby Walters. Each year a slew of stars -- actually well over one hundred -- flock to attend this party. And it reliably features many previous Oscar winners and nominees who don't have a dog in this year's Oscar race (so aren't invited to the Main Event held at the This Year's Sponsor's Name Theatre in Hollywood.)
We're talking serious Hollywood players -- many of whom are recurring attendees -- such as Richard Dreyfuss, Martin Landau, James Cromwell, Garry Marshall, Ryan O'Neil, Laura Dern, Lou Gossett Jr., Robert Carradine, Keith Carradine, Robert Forster, Ed Asner, Jason Alexander, Jamie Foxx, Peter Fonda, Danny Aiello, Gary Busey, Elliott Gould, David Paymer, Lesley Ann Warren, Maximilian Schell et al.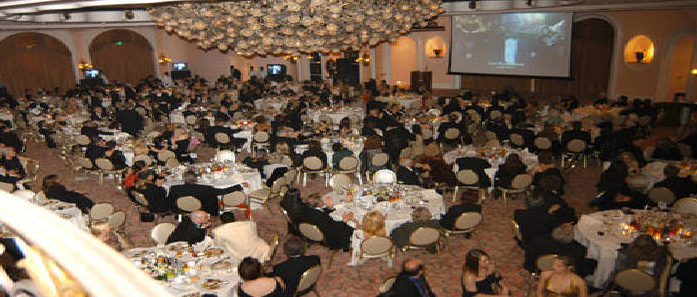 The Night Of 100 Stars Academy Awards Viewing Party held annually at the Beverly Hills Hotel
So this party is not Chopped Liver. It's up there with the Elton John bash, the Weinstein Company extravaganza and the Vanity Fair (sic) party as one of the town's hotly pursued tickets.
Anyway -- Robert King appears to have pulled off something of a coup for his webcast from Night of 100 Stars party his year. He has partnered with Fashion TV to carry a live stream of his webcast on the Fashion TV website - FTV.com
And FTV.com will be live-streaming the show worldwide -- including to the People's Republic of China. Accessible to all 1,354,601,134 of them. (Plus the few hundred million born in the time I've clacked out the last few paragraphs.)
So -- if you want to enjoy the Oscars with some good Chinese -- you know where to go...
Popular in the Community