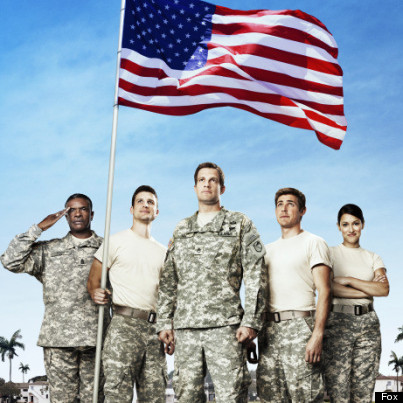 There are fine comedies that productively mine rage, fear and self-loathing.
"Enlisted" (9:30 p.m. ET Friday, Fox) is not one of those comedies. All the adjectives it brings to mind are, well, square: Sweet. Earnest. Vulnerable. Kind. Respectful.
Even writing that list of adjectives made me fear a glucose overdose, but I swear to you the show is not excessively gooey. It may tug on your heartstrings, but its wit and intelligence are among the attributes that give it the right to do so. All in all, the terrific "Enlisted" is one of the most pleasing network comedies to come along in quite some time.
Geoff Stults stars as Pete Hill, who unwillingly returns from combat in Afghanistan to an Army base in Florida. His brothers Derrick and Randy are already there, failing to impress the commander of their rear-detachment unit. Like "Stripes," "M*A*S*H" and countless other war stories, "Enlisted" gets a lot of mileage from the fact that military life forces a lot of very different people to interact with each other on a daily basis. You get the sense that Pete would rather have people shoot at him than deal with the misfits and goofballs in the platoon he's supposed to be leading.
Much of the humor -- which can be broad, subversive, corny and ironic all in one scene -- emerges from characters who are well defined from the get-go. Stults is a very good actor who can do comedy and gravity equally well; he can riff beautifully with the rest of the cast while subtly reminding you that Pete carries psychological scars from his time in combat zones. He may flirt with Jill Perez (Angelique Cabral), the leader of a rival platoon, but there's a wariness that keeps Pete at a distance from his fellow soldiers. That distance and maturity allows him to make laconic observations about his frustrating new job, even though he's occasionally amused by the antics of his brothers and the rest of the platoon.
Chris Lowell plays Derrick, the snarky middle brother, who fortunately is allowed to do much more than sling sarcasm. Like most middle kids, Derrick is the family peacemaker, and when he's not trying to evade work, he spends a lot of time trying to keep his brothers from driving each other crazy. Derrick may be the designated cynic of the group (every platoon on TV or in the movies needs at least one), but if he was uncaring, he might also be unbearable. The good news is that all of the Hills get to be more than one thing, which bodes well for the development of the characters and their relationships with other soldiers at Fort McGee.
I'm honestly excited for viewers to experience Parker Young's performance as Randy Hill, who is the big, beating heart of "Enlisted" (though Young's comedy chops will not be a revelation to anyone who saw him play a dopey, hilariously sincere jock on "Suburgatory"). Whatever Randy loves -- and that list starts with his brothers and the Army -- he loves with dogged sincerity and loopy intensity. As is the case with Chris Pratt's Andy on "Parks and Recreation," Randy's unthinking enthusiasm is both endearing and the source of much comedy. He's thrown himself into Army life even though he gets sappy thinking about the emotional life of the paper target at which he's supposed to be shooting, and a very good episode focuses on Randy's love for "Toy Story 3." His effort to resist his weepy affection for the movie is a thing of beauty.
Rounding out the roster of series regulars are the versatile Keith David as Fort McGee's commander and the game, energetic Cabral as Perez, whose ambition and drive are played for laughs in generous ways but never mocked with cruelty. "Enlisted" is one of those comedies with genuine affection for each of its characters, as demonstrated by the show's exceptionally deep bench of supporting players.
"Enlisted" is essentially a workplace comedy, and it's rare to see a comedy come out of the gate with this many specific -- and amusing -- supporting characters. The members of the platoon aren't on screen merely to set up jokes for the core trio; these goofballs and their camaraderie are funny in their own right. These actors may not get much screen time, but they make the most of what they get, and I look forward to seeing their personalities develop over the course of "Enlisted's" first season.
Between the broad comedy of the prank war in an upcoming episode, the subtle reactions and dry delivery of Pete and Derrick and the loosey-goosey moments of levity provided by the platoon, "Enlisted's" humor has a pleasing variety and density. The show is never content to settle for one kind of comedy, but "Enlisted" never feels tonally jarring or indecisive, nor does it feel frantic or overstuffed. This is simply a comedy with a well thought-out premise and nicely sketched characters; the pilot is solid, and the show only gets better from there.
The show's thoughtful calibration makes sense, considering the backgrounds of its creative team. Creator/executive producer Kevin Biegel came from the warmly surreal and exuberantly goofy "Cougar Town," and one of executive producer Mike Royce's most recent ventures, "Men of a Certain Age," perfected the art of humane, observational comedy. The end result of this inspired collaboration is airing, yes, on a Friday night on Fox.
As I said on this week's Talking TV podcast, I like to think of "Enlisted's" Friday night slot as a protected bunker that can keep it out of the line of fire -- for a very long time, I hope. Isn't anything possible in a world in which "Community" actually could get six seasons and a movie? Maybe I'm as naive as Randy, but I'd like to think so.
Wherever it is on the schedule, I'm not going to complain about the existence of this sweet, silly show. If you'll allow the pun, "Enlisted" could have stepped into a minefield of obvious jokes about the military, but it doesn't beat its chest about two ideas it takes very seriously: that service to one's country is admirable and that network comedies should be funny.
Draft this show into your viewing rotation today.
Ryan McGee and I talked about "Enlisted," "Justified," "Killer Women," "Intelligence," "Community" and "Cougar Town" on this week's Talking TV podcast, which can be found here, on iTunes and below.