Writer Enoh Meyomesse landed in Yaounde, Cameroon, after a trip to Singapore on November 22. As he deplaned, the national police detained him, searched his belongings, and accused him of stealing gold as part of a sophisticated coup d'état against President Paul Biya. A military officer interrogated him in the capital of Yaounde before transferring him to Bertoua, in the east, where he spent 30 days in total darkness in solitary confinement and was allegedly tortured.
The government claimed that Mr. Meyomesse had stolen gold from one of Cameroon's gold fields, used the gold to buy weapons, and planned to use the weapons to overthrow the government with co-conspirators. Except no gold was found in his possession and no weapons were found in his home. He is still in prison.
Cameroon has been ruled by President Paul Biya for 30 years and the country's grim human rights record under his rule is well documented [PDF]. Even by Cameroonian standards, however, the charges against Mr. Meyomesse are sensational. Cameroon is not known for its gold reserves like its neighbors. The U.S. State Department lists the country's top three exports as oil, timber, and cotton, and its most famous cultural export is soccer (Samuel Eto'o is rumored to be the highest paid player in the world, playing for an oil baron on the Caspian Sea). The charges of stealing gold took the public by surprise.
President Biya's decades-long rule has managed to isolate the country from the attention of the human rights community. Major NGOs such as Human Rights Watch and Amnesty International do not maintain permanent offices in Cameroon. The few reports that these organizations have created are quite damning, especially a Reporters Without Borders alert on prison conditions at Kondengui, the facility where Mr. Meyomesse is currently held. This isolation made it possible, even likely, that Mr. Meyomesse would simply disappear in Bertoua prison. The country has not outlawed executions but has imposed a moratorium against them; the last state execution appears to have been for a coup d'état, the very crime for which he is charged.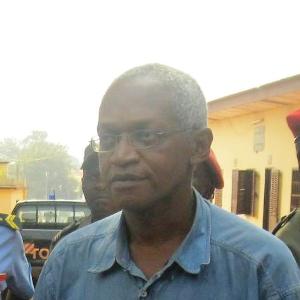 Enoh Meyomesse has published 15 books of poetry and prose and is a founding member of the Cameroon Writers Association. He has also engaged (unsuccessfully) in politics for decades, making him a target for retribution from the regime. In January 2011, he had his passport seized when trying to leave the country to report on the crisis in Cote d'Ivoire. In October 2011, he decided to run for office directly against President Biya in a national election, but the government claimed that he did not properly register and prohibited his candidacy. Biya went on to win a landslide election that U.S. Ambassador Robert Jackson stated was marred by "irregularities and shortcomings."
Unlike fellow writer Bertrand Teyou, who was imprisoned for writing about Biya's wife, it is unclear whether Mr. Meyomesse was targeted for his writing or his political activities, especially since he was arrested less than one month after announcing his candidacy to become president. And he is a risky candidate for human rights campaigners because of the guns he is alleged to have bought with the stolen loot. Patrice Nganang, a professor of cultural theory in the U.S. who has championed Mr. Meyomesse's cause, speculates that the government deliberately filed criminal charges because it had learned from the Teyou affair that libel charges invited international pressure, while criminal charges would dirty Mr. Meyomesse's name and make him unpalatable for advocacy.
Thankfully, human rights protect more than just free expression. Mr. Meyomesse is also entitled to a fair trial and cannot be tortured. The International Covenant on Civil and Political Rights and the Convention Against Torture clearly ban such behavior, and Cameroon has ratified the first instrument and acceded to the second. Mr. Meyomesse did not have access to a lawyer during his time in prison in the east, violating due process, and 30 days of total darkness in solitary confinement constitutes torture.
As far away as we may be, and as isolated as Cameroonian authorities would like us to believe the country may be -- with its multimillion dollar PR campaigns in Europe -- pressure from abroad has already made a difference. Internet Without Borders launched a campaign to help raise funds for Mr. Meyomesse to hire good local counsel. PEN International also released an advocacy alert demanding that he receive a fair trial and condemning the torture. Both campaigns allow you to show your support with a few clicks.
Mr. Meyomesse has been transferred from Bertoua prison to Kondengui in the capital, and he has been moved to a better cell block within the prison. But the prison isn't safe by any means. Mr. Meyomesse now faces a six-month investigation by the government as it attempts to gather evidence, and this may be extended by a further six months by the judge of the military tribunal. He would no doubt hope that we can see through the government smokescreen, and that gold and guns can remain in storybooks and not the courtroom.
Related
Popular in the Community